Almost two dozen people in the Midwest have been hospitalized with severe breathing difficulties linked to vaping, and doctors aren't sure why.
It's unclear exactly what the patients — many of whom are young adults — had been inhaling or what type of devices they were using. Nor do doctors know where they had purchased the devices or e-liquids.
Some patients said they'd used e-cigarette devices to inhale both nicotine and THC, the psychoactive ingredient in marijuana.
"We know there are certain characteristics in common with these cases, but we have not been able to get to the bottom of exactly what aspect of the vaping habit or product or solvent or oil is causing the injury," said Dr. Emily Chapman, chief medical officer for Children's Minnesota, a pediatric health system headquartered in Minneapolis.
Four of the cases have been reported in Minnesota, along with 12 in Wisconsin and six in Illinois.
Chapman told NBC News that the four teens admitted to Children's Minnesota all arrived with what doctors originally thought was a bad respiratory infection, like pneumonia.
But instead of getting better with treatment, they got worse.
"They have progressed to have significant difficulty with their breathing and increasing lung distress," Chapman said. "They've ended up needing our intensive care unit and in some cases assistance with their breathing."
Doctors in Illinois and Wisconsin have faced the same situations.
"All patients reported vaping prior to their hospitalization, but we don't know all the products they used," Andrea Palm of the Wisconsin Department of Health Services told WGBA, the NBC News affiliate in Green Bay, Wisconsin.
You literally don't know what you're inhaling into your body.
One such patient, Dylan Nelson, 26, of Burlington, Wisconsin, started feeling sick after taking a couple of hits from a new vape cartridge. The next morning, he went to the hospital, and his symptoms got progressively worse throughout the day.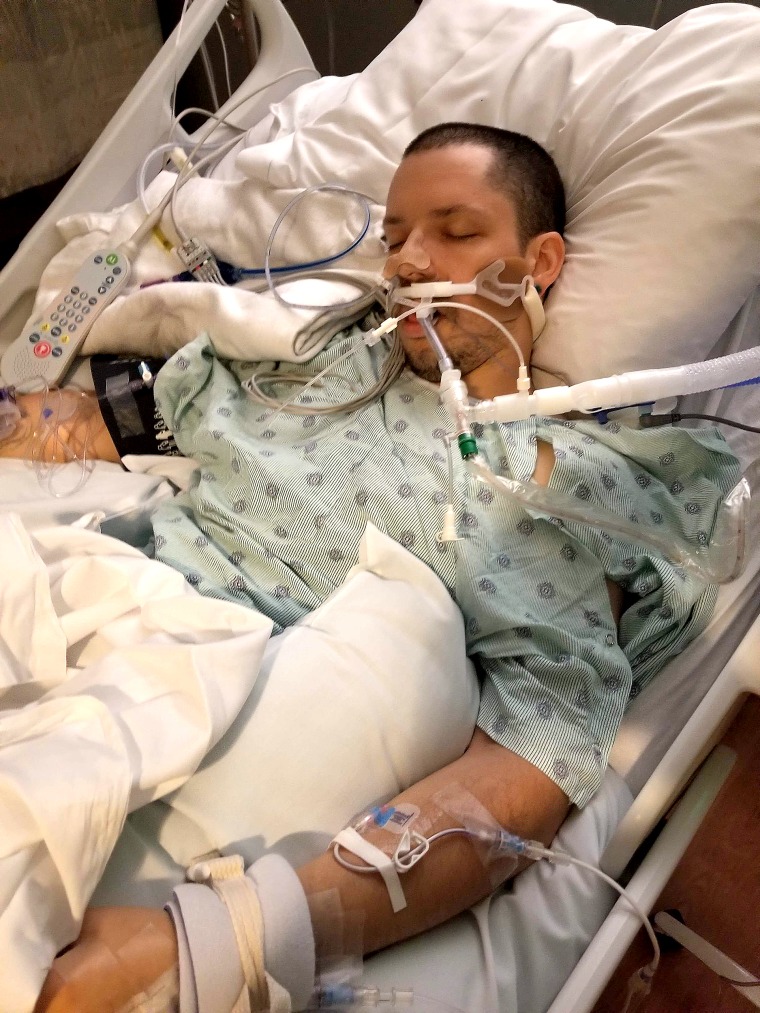 By nightfall, his lungs were filling with fluid and doctors had to put him into a medically induced coma. He has since been discharged from the hospital and is recovering slowly.
His brother, Patrick DeGrave, said that Nelson bought his vape cartridge off the street, not from a reputable shop.
"People will buy them from the states where it is legal and they'll bring them back to states such as Wisconsin where it's not legal," DeGrave said.
"You don't know if you're buying something from a middle man that picked it up from a dispensary or if you're buying it from somebody who has tampered with it and made their own mixture," he said.
"You literally don't know what you're inhaling into your body."
It's unclear whether there was some kind of contamination of the devices or the e-liquids that led to the clusters of cases, including Nelson's. The brand he bought, called Dank Vapes, went out of business several years ago, but the packaging is still floating around.
"Could it be that these particular patients were smoking something in common? Definitely possible. It's also possible that as clusters become evident to physicians, we start to look out for things more," said Dr. Christy Sadreameli, a pediatric pulmonologist at the Johns Hopkins Hospital in Baltimore, and volunteer spokesperson for the American Lung Association.
Sadreameli also pointed out that e-cigarettes are harmful to teenagers' growing bodies — no matter the source.
Teen lungs are not fully developed, which could potentially make them more vulnerable to the chemicals found in e-cigarettes.
"The aerosol has heavy metals and ultrafine toxic particles that penetrate deep into the lungs," Sadreameli said.
Because the Food and Drug Administration does not require e-cigarette manufacturers to list all of their ingredients on product labels, scientists have resorted to taking the devices into the lab to figure out the ingredients.
One recent study from Yale University identified chemicals called acetals in some Juul e-cigarette liquids. Those chemicals, the researchers said, may be especially irritating to the lungs and cause damage when inhaled.
"These incidents raise serious concerns and underscore why the FDA should be reviewing e-cigarettes and determining their health impact before they are allowed on the market," the Campaign for Tobacco-Free Kids wrote in a statement to NBC News.
The Wisconsin Department of Health Services has reached out to the Centers for Disease Control and Prevention to coordinate investigations with states.
Follow NBC HEALTH on Twitter & Facebook.