The Food and Drug Administration is banning a range of flavored e-cigarette products, including fruit and mint, although menthol and tobacco-flavored pods will still be available, federal health officials said Thursday. The decision, a major compromise from the Trump administration's previous promise to ban all flavors, comes amid an epidemic of teen vaping.
The action is targeted against e-cigarette products with disposable cartridges filled with liquid nicotine that appeal most to kids, health officials from the FDA and the Department of Health and Human Services said at a press conference.
Beginning in early February, companies will not be allowed to manufacture, distribute or sell unauthorized flavored cartridge-based e-cigarettes, HHS Secretary Alex Azar said.
The FDA will focus on restricting access to flavored e-cigarettes cartridges and will be monitoring e-cigarette companies that fail to adequately prevent youth access to their products.
"The United States has never seen an epidemic of substance use arise as quickly as our current epidemic of youth use of e-cigarettes," HHS Secretary Alex Azar said in a statement Thursday. Health and Human Services oversees the FDA.
Flavored e-liquids for "open tank" vaping systems that are mixed and sold by vape shops will still be legal, because these e-cigarettes are used mostly by adults, Azar said.
Azar called the new restrictions a "smart, targeted policy that protects our kids without creating unnecessary disruption" for adults who use e-cigarettes as a way to stop smoking traditional cigarettes.
Although government health officials said that cartridge-based tobacco and menthol flavors are much less likely to be used by teens, medical experts are disappointed over the limited ban.
"The Administration's new policy to address the youth e-cigarette epidemic by limiting flavors in some vaping products is a step in the right direction, but does not go far enough," Dr. Patrice Harris, president of the American Medical Association wrote in a statement. "The AMA is disappointed that menthol flavors — one of the most popular — will still be allowed, and that flavored e-liquids­ ­will remain on the market."
"It would have been better if they had banned all flavors, including menthol," said pediatric addiction specialist Dr. Sharon Levy, director of the adolescent substance abuse and addiction program at Boston Children's Hospital. "Because it turns out that although the industry often says that menthol is a flavor meant only for adults, in fact, teenagers use it."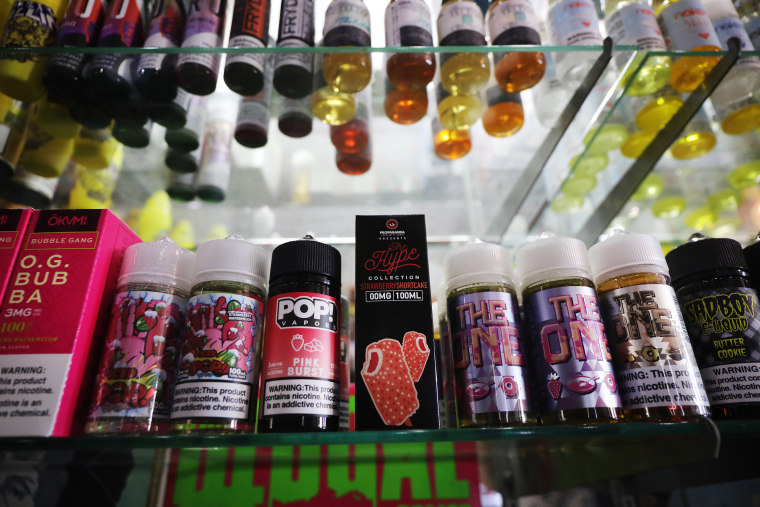 It's also undetermined whether vaping helps adult smokers quit. Almost 41 percent of adult e-cigarette users continue to also smoke cigarettes, according to federal data. And the long-term effects of e-cigarettes are unknown, medical experts say.
In September, the Trump administration said it would seek a ban on all non-tobacco flavored e-cigarettes as a way to curb the epidemic of teen vaping. At the time, President Donald Trump promised "strong rules and regulations", but Thursday's decision indicates pressure from the vaping industry. In November, Trump met with vaping industry representatives along with medical and political officials.
Over 5 million middle and high school students are current users of e-cigarettes,the 2019 National Youth Tobacco Survey found. Almost 1 million use e-cigarettes daily. Of teens who vape, at least 81 percent say flavors are the primary reason they do it, according to a 2013-2014 survey.
Mint flavoring and mango were the preferred choice for teens who vape, according to the study.
The FDA decision comes just after the United States raised the legal age to purchase tobacco, including e-cigarettes, to 21.