The Roanoke, Virginia, anchorman whose girlfriend was one of two co-workers gunned down during a live news broadcast in August 2015 has quit his job to campaign for a seat in the Virginia House of Delegates.
Chris Hurst's decision to end his journalism career last week came after memories of the stunning tragedy were rekindled while covering a story about a workplace shooting in the fall. He thought he would be fine, but found himself sobbing in the same live truck that was used by girlfriend Alison Parker, a cub reporter at WDBJ, and her cameraman, Adam Ward, on the day they were murdered.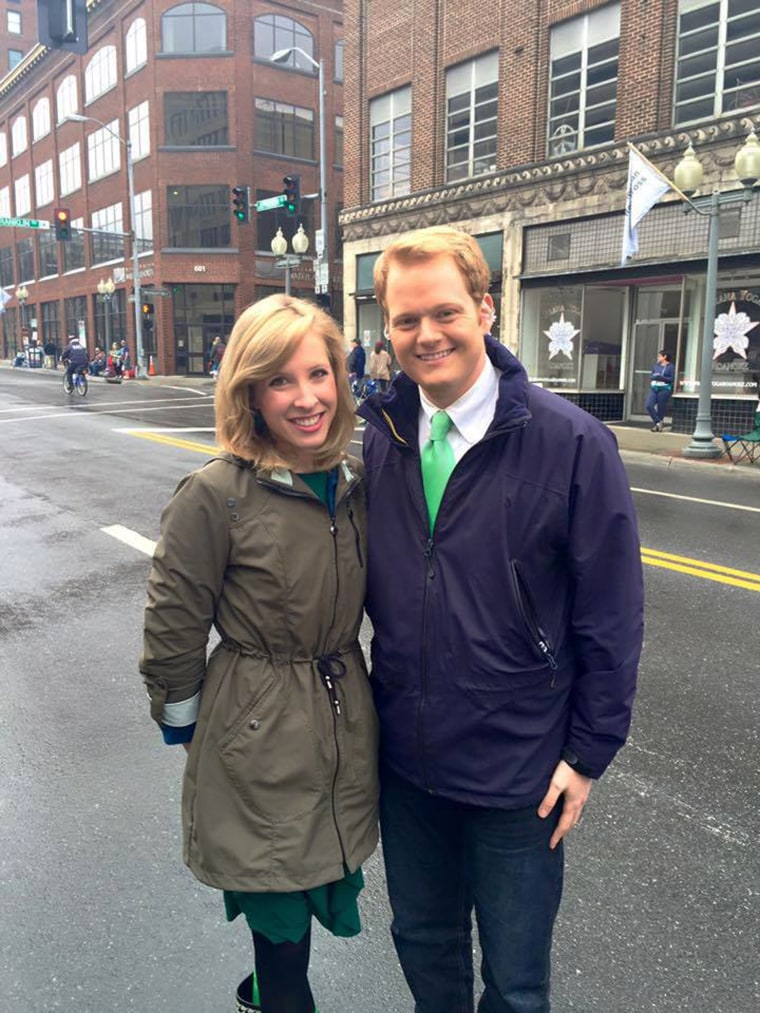 "I started to become a shell of the person that I was because I had to numb myself in order to anchor the news, and I didn't feel that was who I wanted to be," Hurst told NBC News on Tuesday. "I was trying to think of what can I do, where I can stay in this area where the people have given me so much help and strength when I needed it — and public service is a real natural progression."
He will run in the Democratic primary for the 12th District seat currently held by Republican Joseph Yost. The district includes Virginia Tech, Radford University and three counties. His Democratic opponent is a 25-year-old named Andrew Schultz, whose platform includes pushing for a state government that embraces science-based facts.
Related: Virginia TV Station WDBJ Honors 2 Journalists Slain in Live Shooting
Hurst joined WDBJ as a reporter in 2010 and moved into the anchor chair in 2011.
In August 2015, a former employee of the station, Vester Flanagan II, ambushed Parker and Ward as they were in the middle of a broadcast at the local tourism destination of Smith Mountain Lake. Flanagan quickly posted the images of the shooting to his Facebook page — shocking the nation and setting off a major manhunt.
Police say the execution-style attack was premeditated, and Flanagan killed himself hours later as police closed in.
Hurst, who turns 30 in July, had moved in with 24-year-old Parker and gave her a promise ring, hoping they would one day marry.
With his campaign underway, the newbie politician says he'll do exactly what he did as a journalist: listen to people and find out what concerns them. But he admitted it may be hard to express his opinion after maintaining his objectivity for so long.
"It's a bit of [a] hard pivot for me to ... express my opinion, but I will just be honest and investigate the information and gather facts and come to an objective conclusion," Hurst said.
Related: Father of Slain Reporter: Find Way to 'Keep Crazy People From Getting Guns'
He said he's running for office so people don't have to go through the pain of what he endured — and feels strongly about universal background checks for people purchasing guns.
"I think we can have healthy conversations, and the one thing I am interested in is saving lives," he said, adding that he does not want to take firearms away from law-abiding citizens.
On this Valentine's Day, Hurst is committed to this newfound purpose — and isn't worrying about meeting someone new.
"My heart is open, but Alison was a 10 out of a 10, and there were thousands of boxes that she checked off that left me in love with her," he said. "I know that someone else will be put into my life, but that person has not come yet, and that is fine."