London firefighters have launched a public shaming campaign to stem the rise of locals summoning urgent help to remove foreign objects stuck on — or inside — their bodies, but the kinky topic is so taboo in America some top U.S. emergency workers won't discuss the behavior. 
Except in Los Angeles.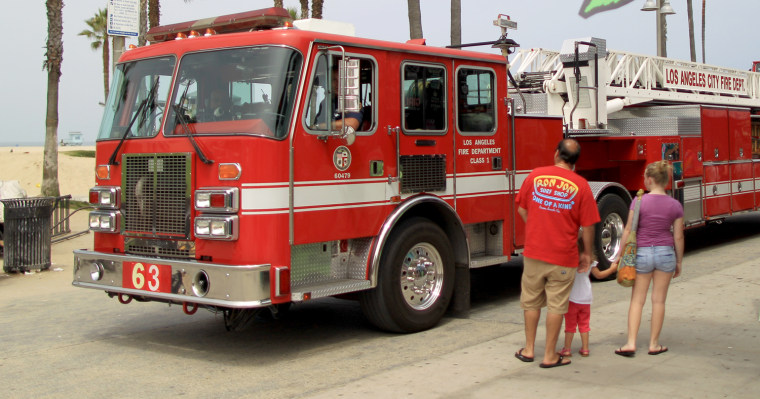 L.A. Fire Department medical director Dr. Marc Eckstein acknowledges that 911 operators do receive a small number of sexually bizarre rescue pleas and do dispatch ambulances, including instances in which they must assist men with heavy steel rings lodged around their private parts. 
In some of those scattered cases, Eckstein said, the firefighters, paramedics or emergency medical technicians use bolt cutters or, when necessary, the blazing torch of a plasma cutter to burn the rings off of the men's penises.
"They have to be careful because the plasma cutters cause a lot of heat and sparks," Eckstein said, adding he could not provide statistics on the number of such calls. He did emphasize, however, that the L.A. Fire Department receives high a number of other types of "inappropriate" 911 calls from local residents that tie up ambulances, fire trucks and personnel — resources that could otherwise be used for people in actual medical trouble. 
When contacted for comment, officials at other emergency agencies struggled to answer if — as in London — they have marked an uptick in the rate of 911 calls or ER visits from Americans with foreign objects wedged into their rectums or folks with sensitive body parts jammed into kitchen appliances or other embarrassing orifices. 
"I don't have any statistics to that kind of claim or inquiry in New York City," said Frank Dwyer, a spokesman for the New York Fire Department. 
A spokeswoman for the National Association of EMS Physicians simply responded to the query with: "I'm just not sure where to go with this."
But in London, fire officials aren't holding their tongues about how they must perform tasks like freeing a man's penis from a vacuum cleaner. 
The London Fire Brigade has launched a public campaign dubbed "Fifty Shades of Red," theorizing that an increase in such randy rescue calls in that city is perhaps propelled by the popularity of the erotic romance novel "Fifty Shades of Grey."  
The campaign simply urges people in London — especially guys — to exercise more common sense before inserting their manhood into gadgets made for cooking or cleaning. The brigade reports that it responded to 416 stuck-body-part calls in 2010-11, another 441 in 2011-12 and 453 in 2012-13. Among those emergency requests for assistance, 79 people were wearing handcuffs they could not remove.
To help fuel the agency's gentle request to just stop doing these things, the brigade has added a dose of public shaming, often taking to Twitter to share some of these ambulance requests from people who have become oddly entangled.  
Like this couple. 
And like this man. 

CBS late night talk show host David Letterman heard about the issue and decided Wednesday to dedicate a top 10 list to "Thoughts Going Through The Mind Of The Guy Who Had Sex With A Toaster." 
"Boy, I mean I can think of maybe a dozen things around the house I'd pick before the toaster, just off the top of my head," Letterman said. "But that's just me. I mean, everybody has different tastes."