/ Source: The Associated Press
The reverse thrusters that should have slowed a Southwest Airlines jetliner before it slid off a runway at Midway Airport and into the street didn't immediately kick in when the pilots tried to deploy them, federal investigators said Saturday after interviewing the crew.
How much of a role that braking equipment played in Thursday's deadly accident wasn't immediately clear, though, and the investigation is continuing.
The plane's flight attendants told investigators that the Boeing 737 didn't appear to slow after it touched down at Midway in a snowstorm Thursday, said Robert Benzon, the National Transportation Safety Board's investigator in charge.
"They all said it was a smooth landing but they could sense a lack of deceleration," Benzon said.
He said the pilots told investigators they began applying the brakes manually as soon as they noticed that the plane wasn't slowing properly. The plane, with 98 passengers aboard, slid through a fence and into street traffic, where it killed a six-year-old boy in a car.
Because of the blowing snow, none of the air traffic controllers actually saw the plane land, but more than 10 cameras have been identified that could provide additional information, including details about the runway conditions, Benzon said.
On Saturday, workers used a crane with a sling to lift the damaged airliner off the city street and into a hangar for further inspections.
Southwest said the captain piloting Thursday's flight has been with the airline for more than 10 years, and the first officer has flown with Southwest for 2½ years. It was the first fatal crash in the airline's 35-year history.
The plane had been landing in a snowstorm when it slid off the end of the 6,500-foot runway, plowed through a fence and struck two cars. Ten people, most of them on the ground, were injured and the boy was killed in a car driven by his father.
The plane's voice and data recorders were sent to Washington for analysis, NTSB member Ellen Engleman Conners said.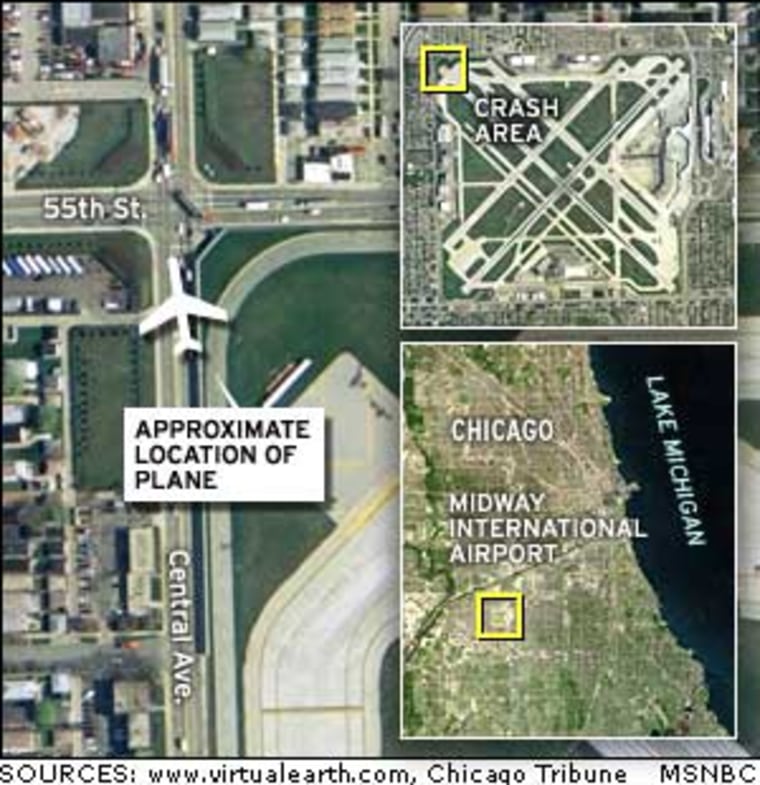 Though the airport had about 7 inches of snow at the time, aviation officials said conditions were acceptable. Southwest chief executive Gary Kelly said on Friday that the plane had recently had a maintenance check and showed no signs of problems.
Midway — built in 1923 and surrounded by houses and businesses — is among nearly 300 U.S. commercial airports without 1,000-foot buffer zones at the ends of runways.
Safety experts suggest the airports guard against accidents by using beds of crushable concrete that can slow an aircraft if it slides off the runway's end.
The crushable concrete beds — called Engineered Material Arresting Systems — are installed at 18 runways at 14 airports. They have stopped dangerous overruns three times since May 1999 at Kennedy Airport in New York.
Chicago Department of Aviation spokeswoman Wendy Abrams could not immediately say whether an arresting system had been considered at Midway.
Some pilots say relatively short runways like Midway's pose a challenge in icy or snowy weather, forcing them to touch down as close as possible to the beginning of the runway to allow more braking time.
"It's not a place you can be a little off," said Richard Ward, a retired United Airlines pilot who occasionally flew into Midway. "You don't have the variable of a long runway to correct any errors."