/ Source: msnbc.com staff and news service reports
The Bush administration secretly required a company in the United Arab Emirates to cooperate with future U.S. investigations before approving its takeover of operations at six American ports, according to documents obtained by The Associated Press. It chose not to impose other, routine restrictions.
As part of the $6.8 billion purchase, state-owned Dubai Ports World agreed to reveal records on demand about "foreign operational direction" of its business at U.S. ports, the documents said. Those records broadly include details about the design, maintenance or operation of ports and equipment.
The administration did not require Dubai Ports to keep copies of business records on U.S. soil, where they would be subject to court orders. It also did not require the company to designate an American citizen to accommodate U.S. government requests. Outside legal experts said such obligations are routinely attached to U.S. approvals of foreign sales in other industries.
Marked 'confidential'
"They're not lax but they're not draconian," said James Lewis, a former U.S. official who worked on such agreements. If officials had predicted the firestorm of criticism over the deal, Lewis said, "they might have made them sound harder."
The conditions involving the sale of London-based Peninsular and Oriental Steam Navigation Co., also known as P&O, were detailed in U.S. documents marked "confidential." Such records are regularly guarded as trade secrets, and it is highly unusual for them to be made public.
The concessions — described previously by the Homeland Security Department as unprecedented among maritime companies — reflect the close relationship between the United States and the United Arab Emirates.
For Bush, an emerging headache
President Bush's marquee issue, the war on terrorism, is being used against him by Democrats and rebelling members of his own party in a donnybrook that may prove to be a major headache in an election year.
In a sign of the growing bipartisan opposition to the pending sale of shipping operations at six major U.S. seaports to a state-owned business in the United Arab Emirates, lawmakers on Wednesday ratcheted up their displeasure with President Bush, some saying that they could override a threatened presidential veto.
On the heels of debacles over government eavesdropping, Katrina recovery and Vice President Cheney's hunting accident, people in both parties are suggesting the port security issue is another case of Bush appearing to be tone deaf to controversy.
The White House said Wednesday that Bush was unaware of the pending sale until the deal already had been approved by his administration.
Bush brushed aside objections by leaders in the Senate and House that the $6.8 billion sale could raise risks of terrorism at American ports. In a forceful defense of his administration's earlier approval of the deal, he pledged Tuesday to veto any bill from Congress that would block the sale of a British company to the Arab firm.
The deal would put Dubai Ports World in charge of major shipping operations in New York, New Jersey, Baltimore, New Orleans, Miami and Philadelphia.
Lawmakers to Bush: 'HELL NO!'
Republican Rep. Peter King and Democratic Sen. Charles Schumer, both of New York, said they will introduce emergency legislation to suspend the ports deal.
"I will fight harder than ever for this legislation, and if it is vetoed I will fight as hard as I can to override it," said King, chairman of the Homeland Security Committee.
Rep. Jim Saxton, R-N.J., also indicated Bush faced a serious struggle. "This deal doesn't pass the national security test," he said. "I think it's a mistake. If necessary, Congress should act independently of the President. Frankly, I think we can override a veto. We have more than enough votes to do it."
"I think somebody dropped the ball. Information should have flowed more freely and more quickly up into the White House. I think it has been mishandled in terms of coming forward with adequate information," said Rep. Vito Fossella, R-N.Y.
Rep. Sue Myrick, R-N.C., expressed the anger of many lawmakers when she sent Bush a one-sentence letter:
"Dear Mr. President:
In regards to selling American ports to the United Arab Emirates, not just NO — but HELL NO!"
Myrick's office said she had been getting a lot of angry constituent phone calls and e-mail.
Kerry questions ties to Snow
Sen. John Kerry sent a letter to Treasury Secretary John Snow, seeking full disclosure on the deal with Dubai Ports World.
"As you know, the CSX rail corporation, where you previously served as chief executive officer, sold its port operations to DP in 2004," wrote Kerry, D-Mass., in a letter. "Moreover, the president's nominee for administrator of the Maritime Administration, David Sanborn, was DP's head of operations for Latin America while this transaction was being reviewed ..."
While House spokesman Scott McClellan dismissed any connection between the deal and David Sanborn of Virginia, a former senior DP World executive whom the White House appointed last month to be the new administrator of the Maritime Administration of the Transportation Department. Sanborn worked as DP World's director of operations for Europe and Latin America.
"My understanding is that he has assured us that he was not involved in the negotiations to purchase this British company," McClellan added.
"In terms of David Sanborn, he was nominated to run the Maritime Administration because of his experience and expertise," the spokesman said. Sanborn is a graduate of the U.S. Merchant Marine Academy. He is an operations professional.
The Atlanta-based law firm Alston & Bird has advised DP World for several months as it worked for clearances for foreign investment in the United States, a source told NBC News. Now former Sen. Bob Dole, special counsel at the firm, has become part of the team working on the Dubai company's case, according to the source, who is close to Dole.
On Tuesday, the office of his wife, Sen. Elizabeth Dole, R-N.C., said she was "deeply concerned" about the Dubai deal.
Administration steps up pressure
The White House and supporters planned a renewed campaign this week to reassure the public the sale was safe.
Fielding questions from reporters, White House press spokesman Scott McClellan reiterated the administration stand on the deal, the first-ever sale involving U.S. port operations to a foreign, state-owned company.
"This was a transaction that was closely scrutinized by the experts — by the counterterrorism experts, by the intelligence community, and those who are responsible for protecting the American people," McClellan said.
"No one in those departments objected to this transaction going forward. ... we believe it should be clear to people that all the national security issues were addressed during this review process that was mandated by Congress. That is our top concern, the safety and security of the American people."
Commerce Secretary Carlos Gutierrez told The Associated Press in an interview: "They are not in charge of security. We are not turning over the security of our ports. When people make statements like that you get an instant emotional reaction."
Snow frets over 'terrible message'
Treasury Secretary Snow said failure to complete the transaction would send the wrong message overseas.
"The implications of failing to approve this would be to tell the world that investments in the United States from certain parts of the world aren't welcome," Snow told reporters Wednesday following a speech in Connecticut to a fuel cell manufacturer. "That sends a terrible message."
The sale — set to be completed in early March — would put DP World in charge of major shipping operations in New York, New Jersey, Baltimore, New Orleans, Miami and Philadelphia. "If there was any chance that this transaction would jeopardize the security of the United States, it would not go forward," Bush said.
Broad opposition
Bush's veto threat sought to quiet a political storm that has united Republican governors and Senate Majority Leader Bill Frist of Tennessee with liberal Democrats, including New York Sens. Hillary Rodham Clinton and Schumer.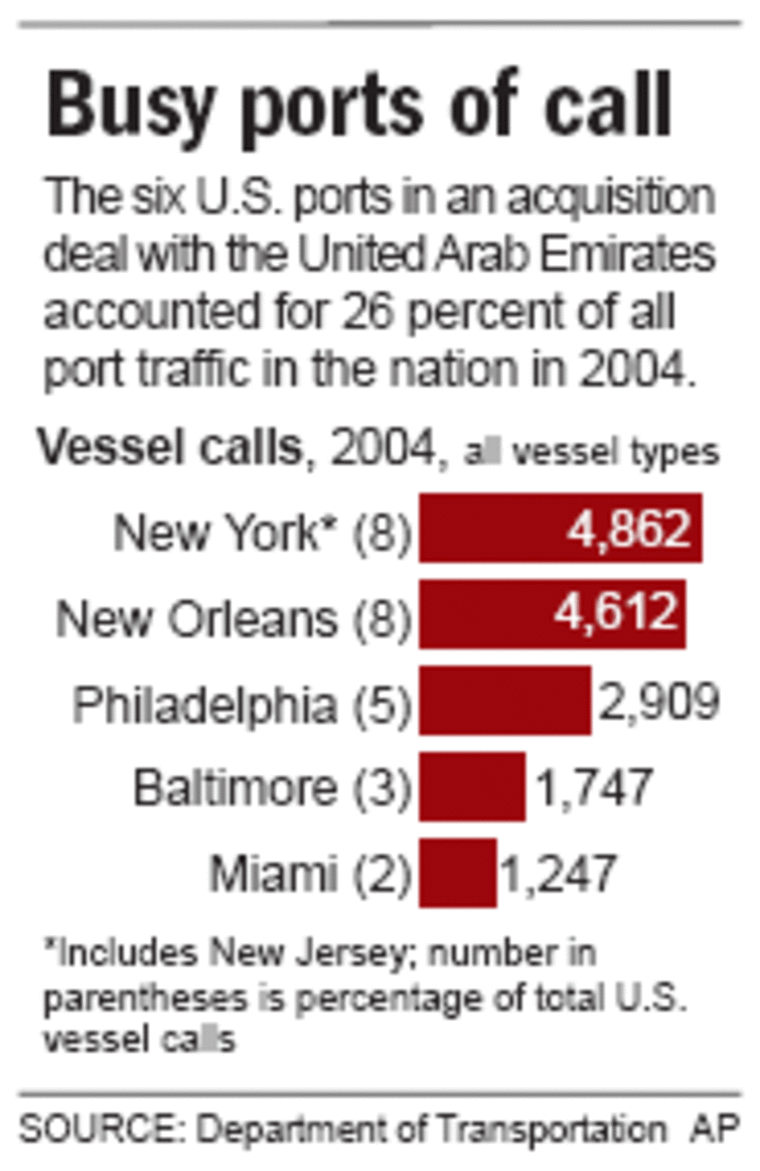 To assuage concerns, the administration disclosed some assurances it negotiated with Dubai Ports. It required mandatory participation in U.S. security programs to stop smuggling and detect illegal shipments of nuclear materials; roughly 33 other port companies participate in these voluntarily. The Coast Guard also said it was nearly finished inspecting Dubai Ports' facilities in the United States.
A senior Homeland Security official, Stewart Baker, said U.S. intelligence agencies were consulted "very early on to actually look at vulnerabilities and threats."
Frist cites 'serious questions'
Frist said Tuesday, before Bush's comments, that he would introduce legislation to put the sale on hold if the White House did not delay the takeover. He said the deal raised "serious questions regarding the safety and security of our homeland.
House Speaker Dennis Hastert, R-Ill., asked the president for a moratorium on the sale until it could be studied further. "We must not allow the possibility of compromising our national security due to lack of review or oversight by the federal government," Hastert said.
Maryland's Republican Gov. Robert Ehrlich, during a tour of Baltimore's port, called the deal an "overly secretive process at the federal level."
Bush said protesting lawmakers should understand that if "they pass a law, I'll deal with it with a veto."
Bush's veto threat didn't stop local efforts to block the deal. New Jersey's governor, Jon S. Corzine, said the state will file lawsuits in federal and state courts opposing the agreement. Corzine, a Democrat, cited a "deep, deep feeling that this is the wrong direction for our nation to take."