/ Source: msnbc.com news services
American journalist Jill Carroll Monday paid an emotional visit to her paper's newsroom and her editor said the U.S. government played a key role in freeing the writer after 82 days as a hostage in Iraq.
On her first full day back in the United States, the 28-year old Christian Science Monitor journalist surprised her colleagues when she dropped by the office.
"Jill's voice broke as she told the staff how she had been overwhelmed by how wonderful the paper had been," David Cook, the paper's Washington bureau chief told reporters.
This was the first time Carroll had seen the Boston-based Monitor's newsroom and met many of the people who edited her stories since she began writing for paper in 2005, Cook said, describing the meeting as an "emotional lovefest".
Carroll was abducted by armed militants in Baghdad on Jan. 7 and has described her captivity as a horrific ordeal in a cave-like room sealed off from the world for months.
Journalist in 'good spirits'
Her captors showed videotapes of Carroll wearing a headscarf, weeping and pleading for her life while they made threats to kill her. But on Monday, Cook said Carroll was in "good spirits" and appeared "well fed."
Monitor Editor Richard Bergenheim for the first time Monday offered a glimpse into the role the U.S. government and military played in freeing their writer.
"During her captivity we remained silent regarding the efforts of many within the U.S. government to secure Jill's release," Bergenheim said in a statement read by Cook.
"As some have assumed the government was lax, I am delighted today to acknowledge how extensive the government's effort was," Bergenheim said. "To note this while she was being held could have disrupted those efforts or endangered her life," he said.
Cook said U.S. Ambassador to Iraq Zalmay Khalilzad "worked on Jill's case with passion."
He declined however to say exactly what the Embassy and others did, saying more details about what happened will be described by Monitor journalists in upcoming stories.
Cook also said Carroll, who has received book offers, wants to tell her story and will do so when she is ready. 
From Baghdad to Boston, via Germany
Carroll left the Ramstein Air Base in southwestern Germany on Saturday after arriving from Balad Air Base in Baghdad. She strongly disavowed statements she had made during her captivity and shortly after her release, saying she had been repeatedly threatened.
Statements made 'under duress'
In a video recorded before she was freed and posted by her captors on an Islamist Web site, Carroll spoke out against the U.S. military presence. On Saturday, she said the recording was made under duress.
"During my last night in captivity, my captors forced me to participate in a propaganda video. They told me I would be released if I cooperated. I was living in a threatening environment, under their control, and wanted to go home alive. So I agreed," she said in a statement.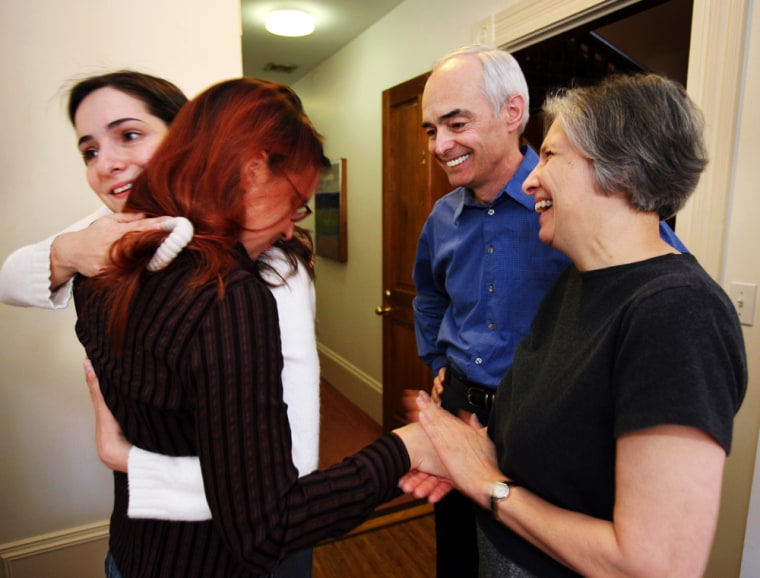 "Things that I was forced to say while captive are now being taken by some as an accurate reflection of my personal views. They are not. The people who kidnapped me and murdered Alan Enwiya are criminals, at best."
She also condemned her captors, although she did not address the war in Iraq. "I will not engage in polemics. But let me be clear: I abhor all who kidnap and murder civilians, and my captors are clearly guilty of both crimes," she said.
Carroll attracted vast sympathy during her ordeal, and a wide variety of groups in the Middle East, including the Islamic militant group Hamas, appealed for her release.
The kidnappers, calling themselves the Revenge Brigades, had demanded the release of all female prisoners in Iraq by Feb. 26 or Carroll would be killed. U.S. officials released some female prisoners at the time, but said it had nothing to do with the demands.