I'm going to make it easy for those of you who usually jump to the end of my column to see whether I like the item in question before they waste their time reading everything I have to say.
For those people, here's the summary: Not only is the new iMac a spectacular example of computer jewelry — but you can now run Windows XP in addition to OS X on it.
I have to admit, it will be very difficult sending this computer back at the end of the test period.
Let's take this step-by-step.  First, the computer: Apple was kind enough to send me one of their new iMacs with a 20-inch wide-screen to play with. It just might be the best personal computer on the market today.
Open the box, plug in the mouse and keyboard and turn it on. The only "set-up" items I had to fiddle with were to set the proper time zone and to add my wireless network information.  The iMac was out of the box, up and running in less than 5 minutes.
Using the new iMac is a breeze. Everything you need to use a computer is presented right there in front of you. With all of the built-in software that comes with the latest version of the Mac OS (version 10.4.x) you are ready to do just about all the tasks most people need to do on their computer.
For the record, the only change I had to make to any program was to make the type face size a little smaller in the Safari browser program so that all the words fit in their proper places on this Web site.  Not bad at all.
As for speed, OS X flies on the 2.0 GHz Intel T500 processor.  It's one of the fastest computers I've played with in a long time. For those keeping count, my test computer came with 1 GB (out of a maximum of 2 GB) of memory and a 240 GB hard drive. There's an available 500 GB hard drive as well. As configured, the test computer would retail for $1,999.
Did I mention that the 20-inch, high-definition color screen is amazing? Actually, what's really amazing is that the entire computer is right behind that beautiful screen — and the enclosure is only and inch and a half deep. That includes the hard drive (inside), DVD slot (on the right) and the stereo speakers (on the bottom).
Pigs fly, hell freezes over ...
As much as I like the latest version of OS X, like many people I need to use Microsoft's Windows XP for work. The site's publishing system, built in-house, is only available in Windows. (MSNBC.com is a joint venture between Microsoft and NBC.) So, before Apple's release of Boot Camp, I was stuck using any number of PCs — some very good, others less so.
While Boot Camp lets you install Windows on a Mac, there are a few caveats. First, it only runs on the new Macs with Intel processors. Second, Apple is calling the program a beta, as in, not 100 percent ready for prime time. If you use it, you become a beta tester for Apple. After installing and using it, I have to say that in my situation you can drop the beta. Boot Camp worked perfectly for me. Finally, Boot Camp doesn't come with Windows; you need to buy a copy of it yourself. And while Boot Camp is free, a full version of Windows XP will set you back around $200.
First you download Boot Camp from Apple's site. You need a blank CD and a bootable CD of Windows XP with Service Pack 2. Older versions of XP, or versions on multiple disks will not work.
When you start up Boot Camp you install some stuff and burn a special Macintosh Drivers CD that you'll use to allow Windows to recognize some of the iMac hardware. You then follow the instructions to partition the hard drive (so that there can be separate, secure places for OS X and for Windows), and then install Windows XP into the new partition. Make sure you create enough room for XP and the Windows programs you wish to use. I made a 100 GB Windows XP partition.
Installing Windows XP Professional via Boot Camp took just under one hour. Installing everything else I need to use Windows (Office, lots of MSNBC stuff and more than 60 system updates) took another two hours or so.
The result is the fastest version of Windows I've ever used.  Please believe me, I'm not exaggerating. Windows XP flies on this machine. To be safe, Apple warns that not all Windows stuff might work as you expect under Boot Camp.  Baloney!  For me, everything works as well — or better — than on my very up-to-date, super-duper Windows laptop.
To change from OS X to Windows or vice versa you have to close down the operating system you're using and re-boot the machine  — holding down the OPTION button until you get a screen with two hard drive icons. Choose OS X or Windows and the machine restarts in that OS.
Remember that part about it being a beta? Some people, it is true, have reported problems with switching back and forth between the operating systems. Apple is looking into it. However, I had absolutely no such problems.
I also have to tell you about some competition for Boot Camp. A new program called Parallels allows you to run OS X and XP (or Linux) at the same time — and switch back and forth between them without rebooting. I'm hoping to try Parallels on this computer soon, actually as soon as I find time to stop working and playing with the iMac just the way it is.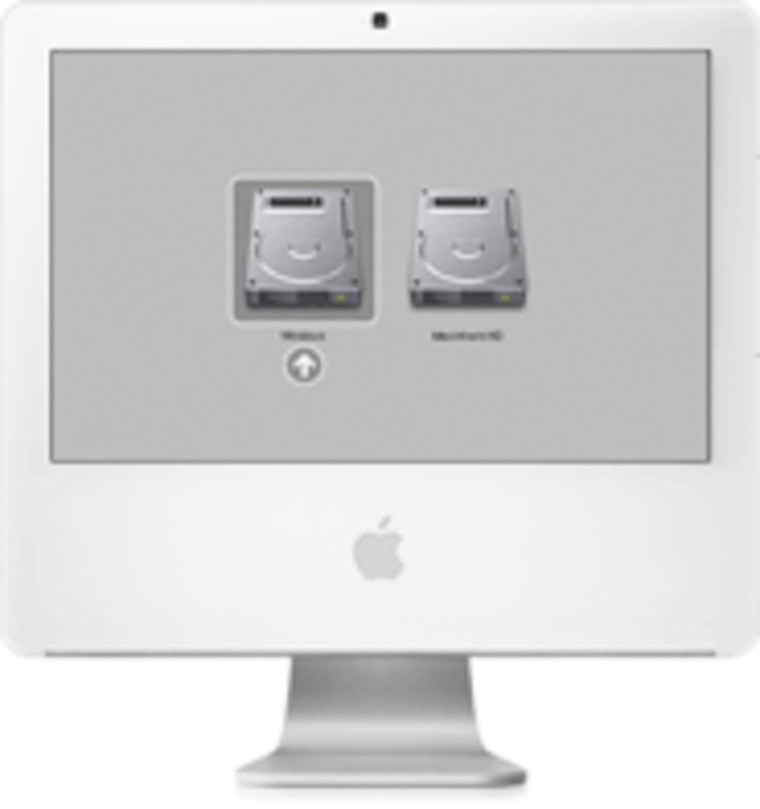 Deserving of special mention is the iMac's standard, wired mouse. When you use it in OS X it's a terrific one-button mouse. And when you navigate with it in Windows it performs as a two-button mouse. Just tap the left side to left click and the right side to right click. That's really cool.
OK, I did find one thing I didn't like about my short time with the iMac — the sound quality. While it's a terrific engineering feat just to get stereo speakers inside such a thin enclosure, they don't measure up to the rest of the hardware.
I've burned more than 2 GB of music onto my iMac's hard drive via iTunes — using Apple's Lossless format for terrific sound quality. The built-in speakers don't do the music justice. I recommend using better-sounding external speakers for music lovers, and leave the internal ones for speech.
I know I'm leaving out descriptions of some of the iMac's wonderful features: Bluetooth, Firewire, mini-DVI, built-in iSight camera, microphone, optical digital audio out, and even a cute little remote control to turn your computer into a jukebox (ask your parents), to name just a few. But part of the fun of a Mac is how easy it is to discover them for yourself.
What you really need to know is if you're in the market for a new Apple computer you should put the new iMac on your short list. Same if you're looking for a new PC. With the advent of Boot Camp — which is also set to be included as part of the next OS X upgrade — Apple is marketing one of the best computers available today. Period.