/ Source: The Associated Press
Without a hint of pretense, John Mackey recently said this to shareholders of his company, Whole Foods Market Inc.: "There aren't many big corporations that we look at and say we want to be like that when we grow up. I think we are grown up, frankly."
That might be an understatement from the co-founder and chief executive, say analysts who marvel at the grocery store chain's annual double-digit revenue boost in an industry where sales are relatively flat.
They also like how the company melds idealism — selling organic food and making environmentally conscious business decisions — with an eye still focused squarely on the bottom line driven by aggressive growth.
Whole Foods accomplishes this undaunted by the emergence of smaller, yet formidable, competitors such as Trader Joe's or Wal-Mart Stores' steady infusion of organic foods into its grocery mix.
"What matters is if you take on a strategy or a philosophy, then create an environment that resonates with your consumer, you'll win," said Canaccord Adams analyst Scott Van Winkle. "What they have found is their customers care about the same things they consider important."
Whole Foods closed its fiscal year in September with $4.7 billion in sales and a $136 million profit. It has stated goals of $12 billion in sales by 2010.
Begun in late 1980 as a quaint Austin neighborhood market with a hippie image, Whole Foods now has 181 stores scattered throughout the U.S., Canada and the United Kingdom. The company went public in 1991 when it had just 10 stores, about 1,100 employees and a stock selling at $4.25 a share. Today, it has 181 stores, nearly 40,000 employees and a stock price trading in the $65 range.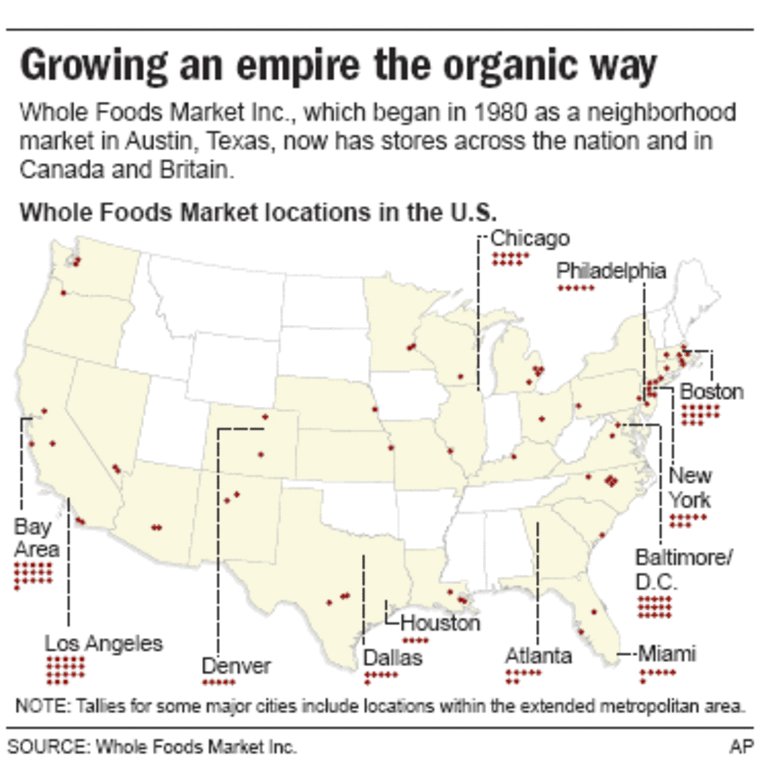 More than 25 years after the first store opened, the company is still unafraid to be different.
It awards stock options to store employees, not just senior executives. That may be just a few options a year, but it comes at a time when grocery companies are closing stores, pulling out of markets and, in some cases, at odds with unions over wages and benefits.
It has a salary cap. Mackey makes no more than 14 times the average company salary, excluding stock awards and options. This meant forfeiting $46,000 of his bonus last year. CEOs earn as much as 600 times the company's average salary, according to Paul Hodgson of The Corporate Library.
The company provides autonomy to the store managers. Rather than take out national or regional ads, Whole Foods provides a $150,000 marketing budget to the store manager who can spend it without corporate oversight.
The decentralized structure and the employee perks are essential toward Whole Foods' empowerment philosophy, and ultimately the kind of success that generates as much as $1 million in weekly sales per store, said chief operating officer Walter Robb.
"I liked coming to work because it was never boring — never boring — and I was bored being retired," said 68-year-old butcher A.J. Kutach. He worked in the company's first market and recently came out of retirement to work in the company's flagship, which opened last year in downtown Austin, a few blocks from where the original store stood.
The first thing that really strikes you upon entering the Austin store may not be the highly publicized size of the building — 80,000 square feet — or its 500-employee work force.
Rather it's the scents competing for your attention: Citrus from the produce section, the lavender from adjacent floral section, and roasting pecans and walnuts.
The also store has islands, much like those found in kitchens, for shoppers to sit down and enjoy a salad, seafood or a barbecue sandwich and draft beer.
Shopper Ann Skok, who spends about 90 minutes per visit, barely got out of the produce section before sitting down to enjoy a beet salad with shrimp.
"I had to have lunch, too, you know, so here I am," she said, wiping her mouth after the final bite, then washing it down with the last sip of white wine.
"Whole Foods have niche in the supermarket space that hasn't been addressed by conventional operators," said Morningstar analyst Mitch Corwin.
"Grocery stores have historically been fairly boring and not a fun place to shop, but now Whole Foods turned that image on its side."
Whole Foods is expanding three ways: buying smaller companies such as seven Wild & Fresh stores it bought in the United Kingdom two years ago; expanding existing stores and building new ones. By next year, the company plans to open as many as 25 stores a year, including its largest, most elaborate offering to come in London.
But the kind of growth and change found throughout the Austin store must be done judiciously, said BB&T Capital Markets analyst Andrew P. Wolf.
"So far they've done a good job of making sure they don't expand into bad locations," Wolf said. "As you accelerate growth, you want to make sure you're not diluting the quality of the stores or the people you hire."
For now, Whole Foods has no peer, but the company must not become complacent, or it could be looking eye to eye with a competitor one day, analysts said.
Wal-Mart is already in the middle of a hard push to stock organic foods. And smaller, somewhat regional operators like Trader Joe's, Wegman Food Markets and Wild Oats Markets remain undaunted by Whole Foods' enormous stores.
Trader Joe's just opened its first New York store in the city's Union Square last month — almost one year to the day that Whole Foods arrived with its third Manhattan store, two blocks away.
The store is about one-third the size of Whole Foods, relies on more private label goods and is less expensive that Whole Foods, which still tries to shed the "Whole Paycheck" image.
Smaller stores such as Trader Joe's remain popular with shoppers lured by a signature items such as Charles Shaw wine, whose familiar name is "Two-Buck Chuck" for its old price of $1.99 a bottle.
"Usually, you have somebody get in your face with competition, but they don't have that," Wolf said. "No matter what, you always, always have to keep an eye on Wal-Mart — always. Even Whole Foods has to."
Whole Foods COO Robb says a letdown is not going to happen.
"If you don't evolve, you will get yourself into a pile of also-rans," he said. "Nobody gives you credit for what you did yesterday.
"That's why there is no complacency here and no arrogance going on. At the end of the day, we'll let our performance and our stores do the talking."