/ Source: The Associated Press
The beachfront promenade along the Gulf of Aqaba was jammed with tourists strolling, shopping or looking for a restaurant or bar for the evening.
Many of those in the Sinai seaside city of Dahab were Egyptian — some celebrating the long Coptic Christian Easter weekend and others marking Shem al-Nessim, an ancient holiday to usher in spring.
The three nearly simultaneous bombings on Monday shattered the evening tranquility, killing at least 23 people and wounding more than 60 a day after Osama bin Laden issued a taped warning against Westerners.
The bombers struck the city in the early evening. Authorities said 18 of the dead were Egyptian and that a Russian and a Swiss were also killed.
The explosions — the third terrorist strike on a Sinai resort in less than two years — hit Dahab at 7:15 p.m. Interior Minister Habib el-Adly said those killed included 20 Egyptians and three foreigners, and that 62 people were wounded.
Later the ministry said the wounded included 42 Egyptians and 17 foreigners — including three Americans — while police put the number of wounded at more than 150. The discrepancies could not be immediately be explained.
"There were just three loud bangs and people rushing around," British tourist Paul McBeath told Sky News. "Everybody is shaken."
Another witness said the Al Capone restaurant, one of the area's most popular spots, was destroyed.
"The tables and chairs have gone, there is nothing left," Joseph Nazir, who owns a safari company in Dahab, told Britain's Press Association. "Everybody is panicking, a lot of people are crying. We will be affected by this for a long, long time."
Haven for tourists
For years, Dahab was a popular, low-key haven for young Western and Israeli backpackers drawn by prime scuba diving and cheap hotels. In recent years, a number of more upscale hotels have been built, including a five-star Hilton resort.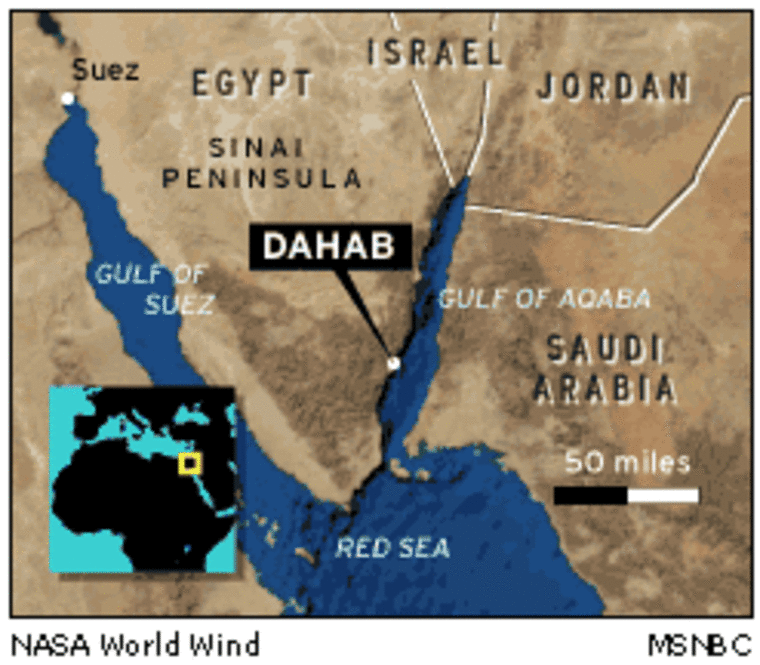 The attack sent a steady stream of cars back to Israel some 65 miles to the north. Israeli authorities said 1,800 of their citizens were in the Sinai at the time of the blasts. However, there were far fewer Israelis vacationing in Sinai than during last week's Passover holiday.
Israel's ambassador in Cairo, Shalom Cohen, said the Israeli government had warned repeatedly against visiting the Sinai.
"Unfortunately, the warnings came true," he told Israel's Channel 10 TV.
President Hosni Mubarak, whose economy is heavily dependent on tourism, called the blasts a "sinful terrorist action."
President Bush also condemned the attacks.
"Today we saw again that the terrorists are willing to try to define the world the way they want to see it," Bush said in Las Vegas.
Foreigners among victims
Police said one Russian and one Swiss were among the dead; el-Adly would not confirm those nationalities.
Terrorist attacks have killed nearly 100 people at several tourist resorts in the Sinai Peninsula in the past two years.
Bombings in the resorts of Taba and Ras Shitan, near the Israeli border, killed 34 people in October 2004. Suicide attackers in July in the resort of Sharm el-Sheik killed at least 64 people, mainly tourists.
Al-Qaida operation?
The Egyptian government has said the militants who carried out the bombings were locals without international connections, but other security agencies have said they suspect al-Qaida.
In Washington, a U.S. counterterrorism official, who spoke on condition of anonymity in compliance with office policy, said it was unclear who was behind Monday's attack.
Officials there have not ruled out al-Qaida involvement, but have no evidence showing that is the case, the official said. Nor do they have any evidence that bin Laden's tape was linked to the attack.
Bruce Hoffman, a RAND terrorism expert, agreed in a telephone interview from Washington. "It's an extraordinarily short turnaround — it's impossible to say at this point."
Hoffman said Egypt was one of the most proficient Middle Eastern countries in dealing with terrorist groups, so this attack showed "how adept and innovative these groups are.
"It may be that the Sinai Peninsula is (Egypt's) Achilles Heel. They've gone up and down the coast and hit the main tourist resorts," Hoffman said.
In his taped warning Sunday, by cutting off funds to the Hamas-led Palestinian government.
Hamas condemns 'criminal' attack
Ghazi Hamad, spokesman for the Hamas-run Palestinian Cabinet, condemned Monday's bombings as a "criminal attack which is against all human values. We denounce the attack, which harmed the Egyptian national security."
By contrast, Hamas had refused to condemn last week's bombing that killed nine people in an Israeli fast-food restaurant.
After Monday's attack, Egyptian television footage showed body parts scattered on the streets, bloodstained pavement and destroyed shops littered with broken glass.
Jamie Gibbs, a Briton, told Sky News that the streets of Dahab were chaotic after the bombings so he and a friend walked back to their rooms along the beach.
"We met a couple of Egyptians we know, and one was crying. He had lost one of his friends — he died," Gibbs said. "And everyone is very upset because of their livelihoods. If the tourists stop coming they're going to be poorer than they already are."