/ Source: msnbc.com news services
Thousands of prisoners have been shaving their heads and chests to donate hair to help mop up the Philippines' worst oil spill, officials said on Wednesday.
The collection was in response to a nationwide drive by the government to amass tons of hair and feathers to absorb more than 50,000 gallons of industrial fuel that leaked from a tanker when it sank off the central island of Guimaras on Aug. 11.
A Japanese salvage ship was expected to arrive later on Wednesday to help determine the exact location and condition of the 998-ton Solar 1 under about 2,100 feet of water, Coast Guard chief Arthur Gosingan said.
The 15,000 inmates at a maximum security prison in southern Manila, including 1,000 on death row, began donating hair on Tuesday as health officials ordered the evacuation of residents of a fishing village on Guimaras due to health risks.
"We're collecting plenty of hair to send to Guimaras to solve the oil spill problem," Vergilio Santos, 42, who is serving a murder sentence at New Bilibid Prison, told Reuters after his head was shaved by a barber.
"This is a contribution even though it's a small part," said Nigel Richard Gatward, a 37-year-old British national convicted of drug smuggling.
"It needs to be stopped," inmate Bongbong Acoleds said of the spill, "and they said it could be stopped by hair."
Hair salons help out, too
About 500 hair salons in metropolitan Manila have also joined the "Stop the Oil Spill" drive by collecting hair clippings from their shops, said Linda Francisco, president of the Salon Owners and Hairdressers Association Inc.
"We target at least 100,000 bags of hair," Francisco said. "We hope it can be a nationwide effort, not only of salons but also of volunteers who could share their time and donations."
She said her group plans to offer free cuts to students, starting with three public schools next week. One high school alone has 8,000 pupils.
The Coast Guard plans to put chicken feathers and human hair in sacks tied to bamboo poles as barriers along the coastlines of affected villages on Guimaras and in nearby Iloilo province.
Residents have been using rice straw in sacks to contain the oil slick, which has affected 46 villages on Guimaras and in Iloilo, as well as a marine reserve.
At least a 10th of the tanker's cargo of 500,000 gallons of bunker oil initially gushed out, polluting beaches and the marine park with black sludge, but there have also been signs of fresh leaks from the sunken ship.
Stench forces evacuation
More than 40,000 people and 120 miles of coastline have been affected by the spill from the tanker, which was chartered by Petron Corp., the country's largest oil refiner.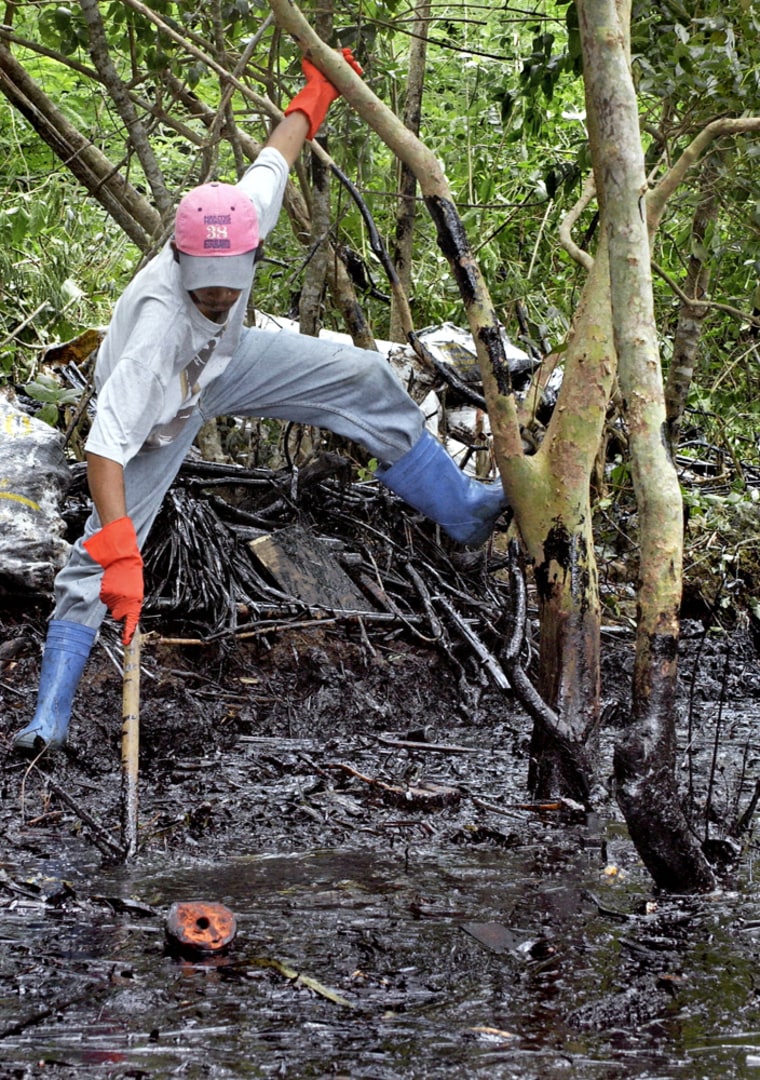 Health officials recommended the evacuation of residents living near the shore in Lapaz village on Guimaras after monitoring showed an increase in air pollution in the area from evaporating oil.
Some 96 families were asked to leave Lapaz on Wednesday, said village head Veronica Ortiz, adding that 24 families fled on Tuesday to stay with relatives elsewhere or in schools converted to temporary shelters in other parts of Guimaras.
"I can no longer stand the stench. It's making me cough," Emiliano Penaflor, 81, said as he gathered a few belongings.
Soldiers, who set up checkpoints in Lapaz, asked journalists to wear masks before entering the village.
"Our tests showed high levels of hydrogen sulfide, benzene and toluene," Health Secretary Francisco Duque said. "Prolonged exposure to these can create health hazards to residents."
Contaminated water could cause skin irritation, he added.
History of the hair idea
Using hair against the spill cropped up at a news conference, when a member of the environmental group Greenpeace pointed to an experiment in the United States that found human hair useful in cleaning up oil.
As the story goes, Alabama hairdresser Phil McCrory was watching coverage of the 1989 Exxon Valdez oil spill in Alaska. Noticing that an otter's fur was saturated with oil, he wonder if hair could help clean up oil.
He collected five pounds of hair from his shop, stuffed it in a pair of his wife's pantyhose, tied the feet together into a ring and put it in his son's wading pool with some oil. With some scientists' help, McCrory learned that hair doesn't exactly soak up the oil, but that oil clings to thousands of tiny scales on hair shafts.
He applied for a patent on the idea in 1993, and got it in 1995.
NASA engineers did some tests in 1998, showing that hair would indeed help clean up oil.
However, marine biologist Rex Sadaba of the University of the Philippines wasn't sold on using hair or even chicken feathers. He says materials like straw may be better since hair takes time to degrade, does not really absorb oil and may not be hygienic.
"I also don't agree with using feathers, because it stinks when it rots, and that will cause additional problems," he said.
Coast Guard Commander Harold Jarder said food and beverage giant San Miguel Corp. sent a ton of chicken feathers to Guimaras and was willing to provide more, but officials have stopped receiving them.
"It's difficult to handle," he said. "And the workers are complaining because of the stench."