/ Source: a href="http://www.washingtonpost.com/wp-srv/front.htm" linktype="External" resizable="true" status="true" scrollbars="true">The Washington Post</a
With protesters massed outside the gates of the stately Hungarian parliament for a fourth straight day, Prime Minister Ferenc Gyurcsany sat in his wood-paneled office inside and tried to explain why he had admitted on tape that his party had done a "boneheaded" job of running the country and that he had lied to voters to win reelection.
Looking weary and with his legs crossed, Gyurcsany said he was merely exaggerating for dramatic effect when he told a private meeting of party loyalists in May that "we lied in the morning, the night and the evening" to the public.
"It's important to emphasize that I did not lie," he said in an interview. "It's like you are arguing with your girlfriend, after four years of living together, saying to her, 'My darling, don't you understand? Our life is nothing! We screwed up our life!' It doesn't mean your four years were nothing. It doesn't mean that you don't like her. It means that you would like to change and improve your relations."
Gyurcsany repeated that he would not resign despite the sometimes violent protests that have rattled Budapest since local news outlets on Sunday broadcast excerpts of a leaked tape recording of his comments, made to a closed meeting of Socialist supporters shortly after he won reelection in April.
Demonstrators have been encouraged by opposition leaders who smell a chance to topple the government. Protests on Monday and Tuesday nights deteriorated into riots that caused hundreds of injuries, the worst political violence in Hungary since Soviet troops brutally ended an uprising against a Communist government in 1956.
According to a transcript of his remarks, Gyurcsany used raw language to confess that he and his party had done a miserable job of governing and had covered up the seriousness of Hungary's economic problems so they could stay in power.
"I almost died while I had to pretend for one and a half years as if we were governing," he is heard saying on the tape. "We screwed it up. Not a bit, but a lot. No other country in Europe has done something as boneheaded as we have."
On Thursday, Gyurcsany did not apologize for his statements, nor did he express any embarrassment or regret. Instead, he said a close reading of his words shows that he is one of the few Hungarian politicians to admit the country's finances are a wreck and to try to do something about it.
'This guy would like to change'
"It just shows one thing: This guy would like to change, and he's the first to admit it," he said in the interview. "You cannot say that there's been anyone else in the Hungarian elite in the last 60 years who was brave enough to pass reform."
For now, there are few signs that the political pressure building against Gyurcsany, 45, a communist bureaucrat turned millionaire, will end anytime soon.
Police used tear gas again early Thursday to disperse demonstrators after about 15,000 people turned out overnight to call on Gyurcsany to quit. The level of violence, however, was far less than the riots of the previous two days.
The main opposition party, the Hungarian Civic Union, said it would cancel a major rally it had scheduled for Saturday, after government officials said they had received bomb threats and could not ensure security for the event.
Although Gyurcsany and his ruling Socialist Party won another four-year term in April, municipal elections are scheduled for Oct. 1, and opposition groups said they expected that protests against the prime minister would continue at least until then.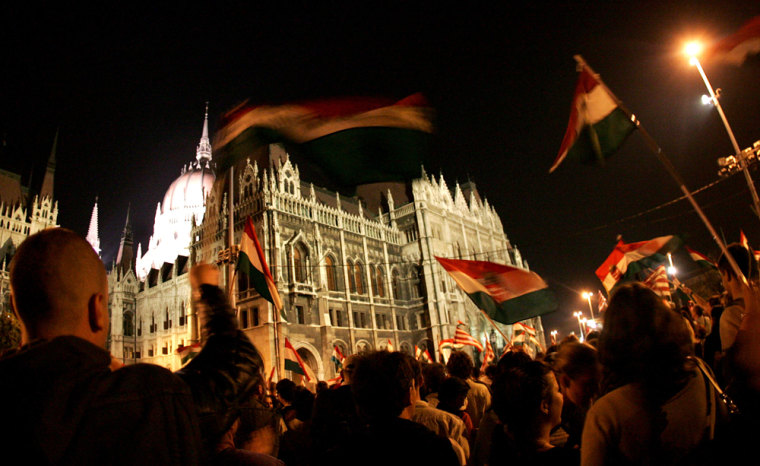 "He's been lying for years and there's no guarantee that he will not lie in the future," said Andras Kelemen, a member of parliament for the Civic Union. "He admitted that he is not fit to be prime minister. And his ministers are not fit for their jobs either. Of course he should resign."
The Civic Union, known as Fidesz, has called for the creation of a new government consisting of independent economic experts. Its leader, Viktor Orban, said the prime minister "should be brought to court" for allegedly falsifying government financial data.
Hungary is struggling to solve deep-seated economic problems that have grown worse since it joined the European Union in 2004. Its budget deficit is projected to reach 10 percent of gross domestic product this year, the highest level in Europe. The fiscal straits have delayed for years Hungary's bid to adopt the euro as its currency, further weakening its prospects in global markets.
During this year's national campaign, Gyurcsany and his party -- as well as their main opposition rivals -- promised to slash taxes and spend more on social programs. But soon after winning reelection, the prime minister began pushing through a series of tax increases and spending cuts, charging Hungarians more to go to the doctor, attend college and receive other benefits.
'It will be tough'
Istvan Stumpf, a political analyst and former government minister who served with the Civic Union opposition, said it's possible that the prime minister could face a revolt from within if the Socialists feel it would be necessary to sacrifice him for the good of the party.
"It will be tough for him to keep his job" if the Civic Union and other opposition parties win the Oct. 1 local elections in a landslide, Stumpf said. "There's a general dissatisfaction with the performance of the prime minister and his inner circle."
But Gyurcsany said he was undaunted and would not waver on his plan for further spending cuts. He noted that he had predicted months ago in his tape-recorded speech that people would take to the streets when they realized he would break his campaign promises.
"There will be conflicts, I can tell you folks," he said in May, according to a transcript of his remarks. "Yes, there will be demonstrations, no doubt about it. One can demonstrate in front of the parliament. Sooner or later, they would get bored and leave for home."