/ Source: The Associated Press
Inflation at the wholesale level plunged at a record pace in October, led by big declines for gasoline and new cars, while retail sales slid for a second straight month.
Wholesale prices fell 1.6 percent in October, tying the record decline set in October 2001, the Labor Department reported Tuesday. Underlying inflation, excluding energy and food, was also well-behaved, falling by 0.9 percent, the biggest retreat in 13 years.
Meanwhile, retail sales dropped by 0.2 percent in October following an even-bigger 0.8 percent fall in September. But much of the weakness in both months came from the big drop in energy prices, which depressed the dollar level of sales at gasoline stations.
Excluding the drop at gasoline stations, retail sales actually rose by 0.4 percent last month, as strength in auto sales offset weakness at department stores and hardware stores.
Analysts said they believed the strength in employment, with the jobless rate at a five-year low of 4.4 percent, meant that consumer spending in the all-important holiday season would be supported by income growth and the fall in gasoline prices, which will give Americans more to spend on other items.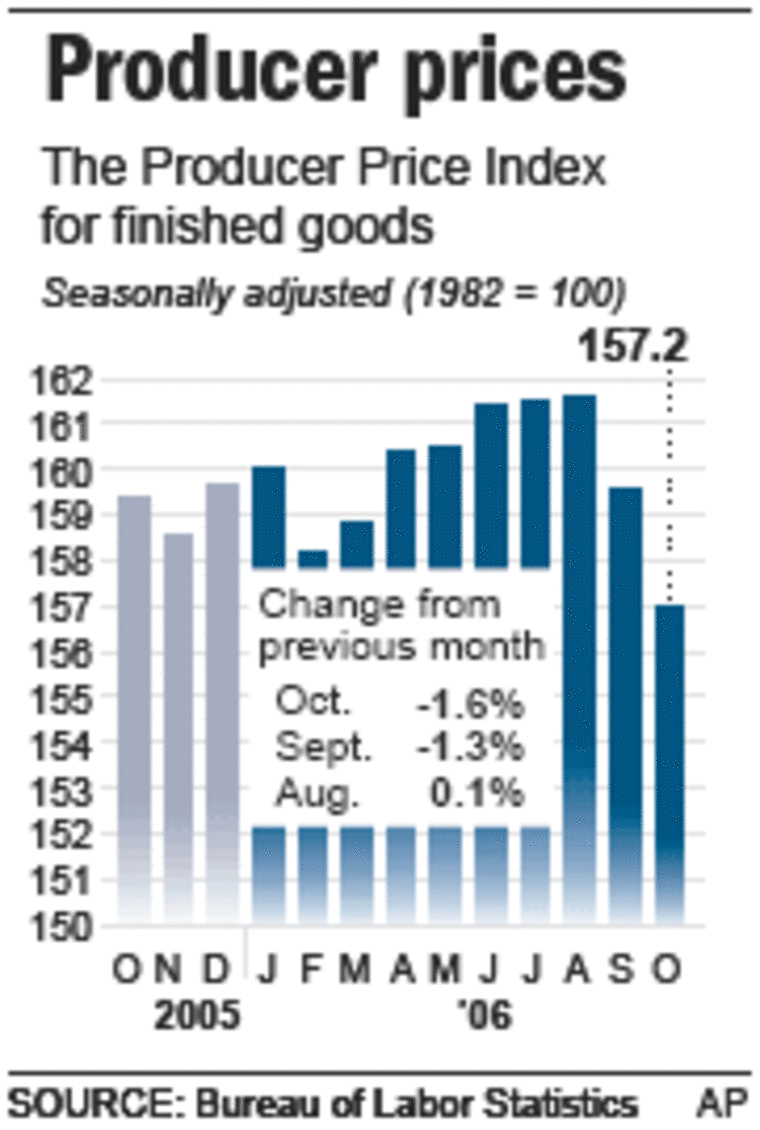 "Despite all the angst about a slowing economy, I don't think Santa will be laying off any reindeer," said Bill Cheney, chief economist at John Hancock Financial Services. "The underlying trend in consumer spending still looks pretty healthy."
Consumer spending, which accounts for two-thirds of economic growth, slowed sharply in the spring as consumers were battered by soaring energy prices, rising interest rates and a cooling housing market.
The overall economy grew at an anemic rates of 2.6 percent in the spring and an even weaker 1.6 percent in the summer. But analysts said there should be a modest rebound in growth in the final three months of this year as falling gasoline prices give consumers a second wind.
After topping $3 per gallon in early August, gasoline prices have fallen by about 80 cents, leaving consumers with more to spend on other items.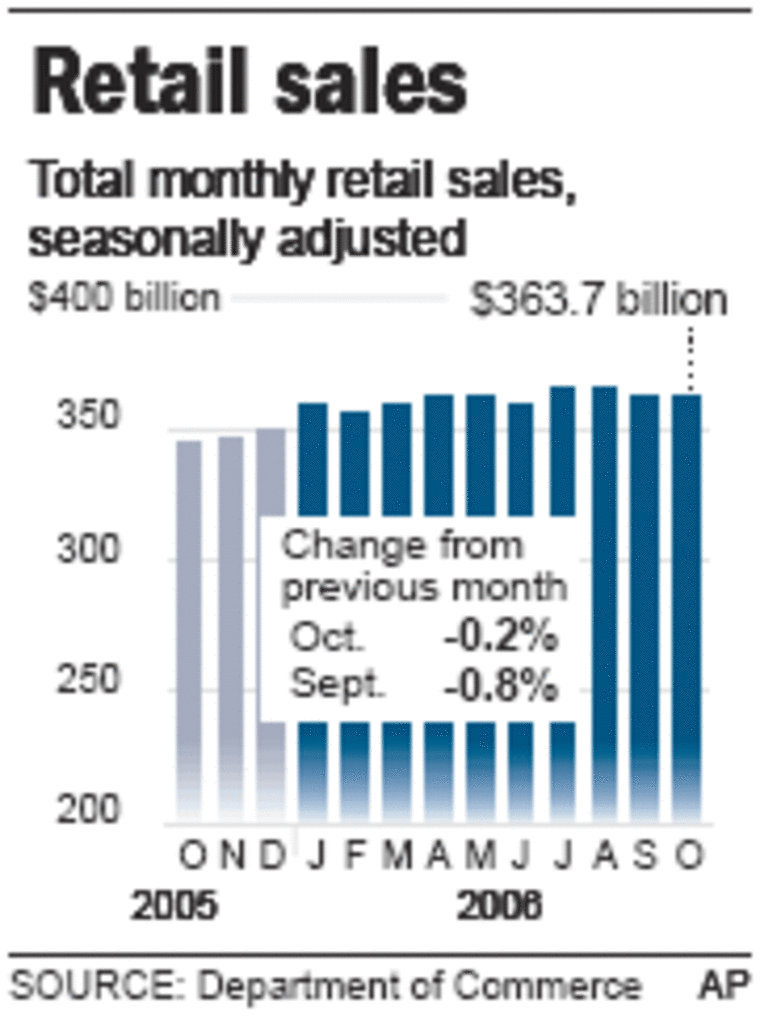 "We expect that lower energy prices and solid personal income growth will spark decent holiday sales," said Douglas Porter, senior economist at BMO Capital Markets.
Many analysts suggested that shoppers could be rewarded with bargains as nervous retailers slash prices to make sure they are not caught with a big overhang of unsold items.
For October, sales at auto dealers rose by 0.6 percent after a 0.7 percent September increase. But sales at department stores fell by 0.3 percent, while sales at specialty clothing stores managed only a tiny 0.1 percent increase.
The big retreat in core prices at the wholesale level was certain to be welcomed at the Federal Reserve, where policymakers are hoping that a string of 17 consecutive rate hikes will slow the economy enough to cause a decline in inflation pressures, which had risen above the Fed's comfort zone.
The central bank has left rates alone since August and analysts believe there will be no change when the Fed meets for the last time this year on Dec. 12.
The good news on inflation and reassuring words from a Fed official helped push the Dow Jones industrial average up by 86.13 points to a new record close at 12,218.01, topping the previous closing high of 12,176.54 set last Wednesday.
William Poole, president of the Fed's St. Louis regional bank, said he believed the Fed had its interest rate policy "about right."
Car and truck prices, which had driven core prices up in September, retreated in October as dealers brought back sales incentives to move a huge backlog of unsold cars. Excluding the fall in car prices, core inflation would still have been modest, rising by 0.1 percent in October.
Energy prices dropped by 5 percent last month following an even larger 8.4 percent fall in September. Gasoline prices were down 7.9 percent while natural gas fell by a record 9.3 percent.
Food costs were down 0.8 percent in October as the price of vegetables, pork, chickens and beef all declined.
Outside of food and energy, the 0.9 percent fall in core inflation was heavily influenced by the swing in auto prices. The category that includes sport utility vehicles fell by a record 9.7 percent while the price of passenger cars was down 2.3 percent.
Computer prices fell by 3.1 percent, the biggest drop since June.
Analysts believe that price pressures eased at the consumer level in October, falling by around 0.3 percent. That report will be released on Thursday.