/ Source: The Associated Press
Doctors treating former Russian spy and fierce Kremlin critic Col. Alexander Litvinenko said Tuesday that test results showed it was unlikely he had been poisoned by the toxic metal thallium and that they were looking at other possible causes.
Dr. John Henry, a clinical toxicologist, had earlier said that Litvinenko had symptoms that were consistent with thallium poisoning as well as some other type of poisoning. He had said it was possible that the thallium was mixed with a second drug; that it was used with a radioactive substance; or that he was poisoned with radioactive thallium.
But London's University College Hospital said: "Based on results we have received today and Mr. Litvinenko's clinical features, thallium poisoning is an unlikely cause of his current condition."
Thallium is a colorless, odorless and water-soluble heavy metal, and can be deadly in doses as tiny as one gram.
'He's holding up'
Litvinenko was under armed guard at the London hospital, the victim of what his friends and fellow dissidents called an assassination attempt by the Russian government. The Kremlin and Russia's security agency have strongly denied any involvement.
Underlining the political sensitivity of the case, Henry lost his temper when reporters asked if his patient was deliberately poisoned. "I'm not a politician, I'm a doctor!" Henry shouted at one point.
Henry said Litvinenko was able to eat and to talk. "At the moment he's not getting better, but he's holding up," he said.
Counterterrorism unit takes over case
The Metropolitan Police said Monday its counterterrorism unit had taken over the investigation.
"It is a very good thing because it is a terrorist attack carried out not by a neighbor but by a professional hit man with all the resources of the trade," said Alex Goldfarb, a friend of Litvinenko. "It should be handled by counterterrorism, that is right."
Henry earlier said it may be too late to determine what poison other than thallium was involved because the substance may have already degraded.
"If it's a radioactive poison with a short half-life, it may have gone. Radioactive thallium degrades very rapidly, so that by now we've missed the chance," Henry said.
Thallium is widely used in hospitals, "but not in massive doses," he said.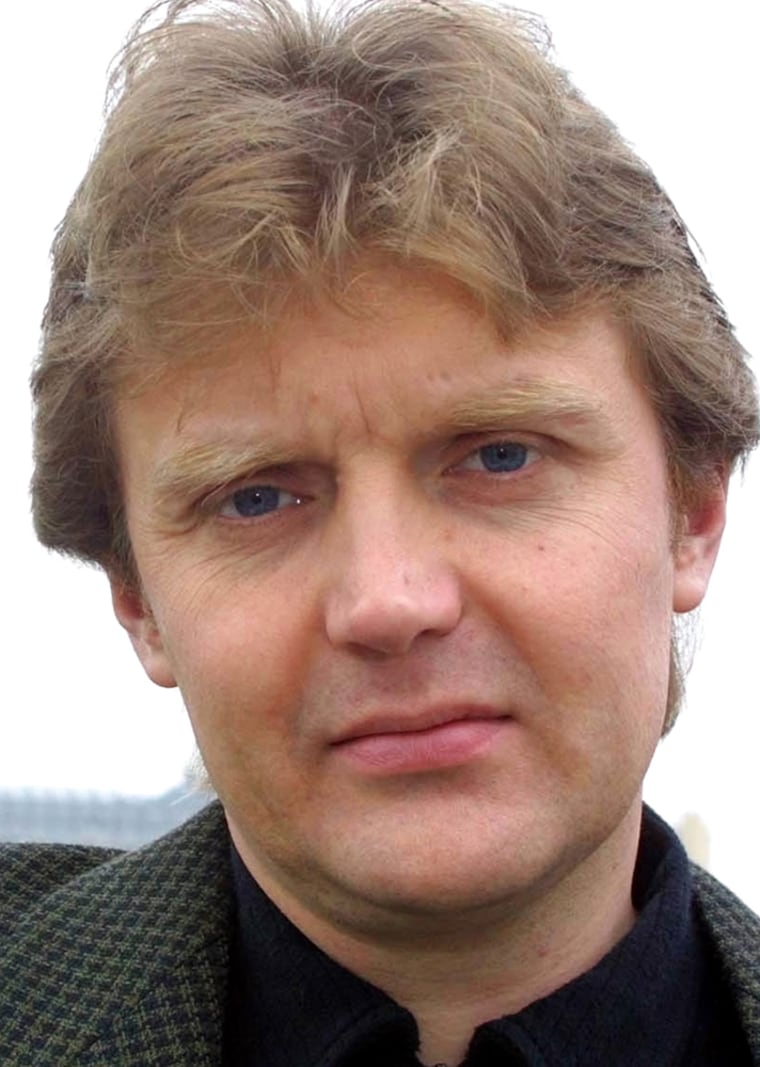 Although refusing to speculate about whether Litvinenko was deliberately poisoned, Henry explained that "poisons can be taken by mouth, they can be injected, they can be inhaled."
"In this case, his symptoms are gastrointestinal to start with. He had gut problems, so the probability is that he swallowed something that was poisonous," Henry said.
"Radioactive thallium adds a new dimension to this case. It means that his bone marrow is at very high risk. And we have to see how his cells recover," he added.
"It's very difficult to treat because you have to rely on the body's natural resilience. He may need a bone marrow transplant to get him better."
"Radioactivity damages cells, and so cells begin to die," Henry added. "The cells that are affected most are in the gut and in the blood, and that is why his blood counts have gone down to zero."
Henry said Monday that Litvinenko's white cell count — generally used as a gauge of the immune system — was down to nearly zero.
Targeted for criticizing FSB?
Litvinenko's supporters claim he was targeted after years of stinging criticism of abuses by the Federal Security Service, or FSB, and most recently his inquiries into the slaying of another government critic, Russian investigative journalist Anna Politkovskaya, who was gunned down Oct. 7 inside her Moscow apartment building.
"Somebody has asked me directly, who is guilty of Anna's death? And I can directly answer you: It is Mr. Putin, president of the Russian Federation," Litvinenko told a videotaped meeting discussing Politkovskaya's death at the Frontline media club in London in October.
Kremlin spokesman Dmitry Peskov dismissed suggestions that Russian intelligence services were involved as "nothing but sheer nonsense."
Litvinenko joined the KGB counterintelligence forces in 1988, and rose to the rank of colonel in the FSB. He began specializing in terrorism and organized crime in 1991, and was transferred to the FSB's most secretive department on criminal organizations in 1997.
Litvinenko quit Russia for Britain six years ago and has been an outspoken critic of the Kremlin ever since.
In 2003 he wrote a book, "The FSB Blows Up Russia," accusing his country's secret service agency of staging apartment-house bombings in 1999 that killed more than 300 people in Russia and sparked the second war in Chechnya.