Documentary producer Hillary Heath took a camera crew to Atmore, Alabama to get a look at life inside a prison where some of America's most violent inmates are housed.
The Doc Block staff asked documentary producer Hillary Heath via e-mail about filming "LOCKUP: Holman Correctional Facility."
Doc Block: Over the years Holman has made a name for itself as a dangerous place to serve time.  How do the inmates describe the prison?
Hillary Heath, LOCKUP Inside producer: Since it opened in the late 1960's, Holman has had a reputation for being the most violent prison in the state.  When I asked inmates to describe the place they used names like "The Slaughterhouse," "Slaughter Pen of the South" and "House of Pain," which all refer to the frequent stabbings that used to occur there.  "The Bottom" and "The Pit" speak to its geographical location in the southernmost part of the state.  As one inmate described it, in Alabama "you can't get any lower than this."
According to both staff and inmates Holman is not nearly as dangerous as it used to be. Since Warden Grantt Culliver's arrival, violence among inmates is down.  But within the prison community reputations die hard.  Holman's deeply southern locale only adds to its mystique. The fact is many of the inmates there are serving lengthy sentences for violent crimes including murder. The potential for violence is still very real.
Today Holman is grossly overcrowded. Originally built to house 500 inmates, the facility now holds 1000 men. The warden told me his biggest challenge is finding enough qualified people willing to work in what is perhaps Alabama's most notorious prison.
Doc Block: The inmates talked about the heat in the prison, mostly in the summer. You were there in mid to late June.  How did it seem to you?
Heath: Warden Culliver invited us to a weekly staff meeting where the main topic of discussion was whether there was adequate ventilation throughout the prison. It was late June, and southern Alabama's 100-degree temperatures had begun to set in.  Air conditioning is a luxury the prison cannot afford. Hundreds of industrial fans run constantly as a means of cooling down the facility. The hum of these fans is clearly audible throughout the documentary.
The hottest place by far was the kitchen where inmate workers sweat it out for hours each day. The kitchen felt like a sauna. Within minutes, we were all covered in sweat. While the 30-cent-an-hour jobs at Holman are highly coveted, I spoke to one kitchen worker who told us he couldn't wait to transfer out.
Doc Block: What were your impressions of the inmates who are members of the Aryan Brotherhood and other hate groups talking about "being able to take over the prison" if they wanted to?  Warden Culliver seems to take it in stride.
Heath: As Warden Culliver pointed out in his interview, white supremacy is far less influential at Holman than at other prisons. This is clearly due to the fact that nearly 70% of the population is African American.
As with most correctional facilities across the U.S., these kinds of groups are an undeniable fact of prison life. I met Steven Parker in segregation where he was serving time for assaulting another prisoner. According to his account, he slit the inmate's jugular vein after a deal over a tattoo went awry. Steven had hoped to add another swastika to his already budding collection. He used racist, anti-Semitic language in our interview.  MSNBC chose to bleep one of his more offensive phrases.
Steven went on to reveal that he'd recently become a "ranking" member of the Southern Brotherhood. He refused to explain his rank or much of anything about the group itself, but confirmed his belief in white supremacy. Steven's back story is important. He is serving life without parole for murdering his stepmother and almost killing his father.  In his interview he spoke a lot about violence. Like most of the guys in segregation, he also expressed frustration over his current situation.  When I asked Steven what he thought his biggest problem was, he answered, "I guess I hate too much."
I also asked him how he remains an active and ranking member of this group from a segregation cell in a predominantly black prison? Steven told me it was simple: through the mail. 
Doc Block: There's a scene in the documentary where a staff member describes what is and isn't allowed to go through the mail.  Some of it can get pretty risqué.  Can you tell us a little more about the rules, and some of the crazy things she sees?
Heath: The mailroom serves as the main communication artery for the entire prison. Anything and everything you can imagine passes though there from greeting cards and letters to legal documents, magazines, newspapers, care packages and other items. There is also plenty of contraband.
Kyra Guyton showed us some of the items in the "reject" pile.  Among them was a letter from Steven Parker addressed to another inmate. The letter contained hateful language and made threats against Warden Culliver and the prison administration.
We watched as Guyton screened hundreds of pieces of incoming mail. She told us that it is not uncommon to find money, drugs and what the prison defines as pornography.  While "Playboy" and "Hustler" are banned, other seemingly racy men's magazines like "Maxim" are approved as long as the images don't reveal a breast's nipple or the outline of genitals. Guyton also explained that even though the June issue of "Maxim" might be approved, July's edition might just as easily be rejected. 
Doc Block: What did you learn about julep, the prison whiskey? How do inmates make it and how do officers track it down? What did it smell like and how strong is it?
Heath: On our last day at Holman we followed several officers as they searched for julep.  The 4th of July is a notorious party weekend at Holman and the staff was pretty confident they would find some. After a 30-minute search an officer found a gallon of the stuff inside one inmate's locker. The mixture resembled raw sewage; brown liquid, with dark chunks floating in. But the smell was not as vile as I'd imagined.  It had an aroma of a combination of prunes and sourdough bread.
Several of the men accused the administration of planting the contraband for the purposes of our camera.  But there is no denying that julep is among the many forms of contraband that can be found at Holman. The recipe for this prison brew is simple: sugar, fruit, yeast and water- all items that can be found within the facility. Let the liquid sit for a few days in the stifling Alabama heat and voila! Julep.



Doc Block: You've produced documentaries in many prisons and so, as a woman, a certain amount of "mouthing off" from male inmates is to be expected.  But you had a particularly icky experience when talking to one man taking a required sex addiction class for violating "Rule 38."  What happened? 
Heath: According to nearly everyone I spoke with, both staff and inmates, rule violation #38 for indecent exposure (simply called a "38") is a major problem at Holman. And it's not just a problem for female officers and visitors but even for male prisoners who are sometimes flashed by fellow inmates. During my two weeks at Holman I never witnessed "38" with my own eyes.  I should also mention that I was never alone inside the gates and was always accompanied by either a male officer or a two-man camera crew.
Any inmate caught committing "38" is required to complete a course on sex addiction. We attended a session where we met several inmates who had recently spent up to 45 days in segregation for committing "38." All were on probation. One man we spoke with was accused of exposing himself to members of a tour group. During class, he openly admitted to having a problem. In an interview later that day, he changed his story, saying he only admitted guilt in order to get off probation.
The conversation took a surreal turn when I asked the inmate to put himself in a woman's position. My question to him was: How would you feel if a man exposed himself to you?  Rather than answer the question, he spoke about his right to fantasize about women from afar as long as it didn't involve indecent exposure. He then proceeded to describe one of those fantasies, using me as an example. That was one question I wish I'd never asked.
Doc Block: You spoke to a couple of inmates who had been on death row.  Their sentences were recently commuted to life without parole.  Why?
Heath: Kenney Loggins is one of many inmates in the state of Alabama to be sentenced to death for a murder he committed as a juvenile. Due to a 2003 Supreme Court ruling, these sentences have been ruled to be unconstitutional. In January, 2006 Kenney's death sentence was commuted to life without parole.
I met Kenney in segregation shortly after his release from Death Row. Before a Death Row inmate can be released into general population, he must first spend roughly 90 days in segregation to determine if he is a threat to himself or others.  At first Kenney refused to speak on camera. Several days later, Kenney finally agreed to an interview, but only on the condition that we not discuss his case.  He is now appealing his sentence of life without parole. The facts behind his murder conviction are heinous.  In 1995, a court found him and three other teens guilty in the death of a 36-year-old woman.  She was tortured and her body badly mutilated. Several of her fingers were cut off and kept as souvenirs.
Because of Kenney's refusal to talk about the murder, we instead discussed his time on Death Row.  He talked about the difficulty of leaving his fellow Death Row inmates behind and even began to cry as he described the loss of a friend who'd been executed. Kenney explained that in some ways he actually preferred being on Death Row to facing the reality of serving life without parole. He went on to speak about his fear, and ambivalence of growing old in prison.
Doc Block: If you watch enough "LOCKUP" you know that inmates, especially the ones with life sentences, don't seem to have trouble getting dates.  Kenney Loggins is no different.  What's his story? And do you have any sense of what these women see in these guys?
Heath: Kenney made mention of a friend who was coming to visit him the following day, and that she may be willing to speak with us. The next morning, we stood by in the visiting room as a young woman named Nadia arrived.  She had come all the way from Montreal just to spend a few hours with Kenney. This was apparently not her first visit to Holman. She told me they met through the mail as pen pals and from that a friendship developed.
Like Kenney, she refused to speak about the murder conviction. She also wanted to make it very clear that she was not Kenney's girlfriend. She said the two were just very close friends. Nadia went on to describe television shows she'd seen about women who'd fallen in love with men in prison. This was not how she wanted to be portrayed in our documentary. To my surprise, Nadia finally agreed to let us videotape her.

In the visiting room, or indoor "visiting yard," rules are strict. Inmates and visitors are allowed a kiss and a hug at the beginning and end of each visit.  We shot their initial embrace and conversation, but Nadia and Kenney were clearly uncomfortable with our camera. We decided to give them some privacy and moved on to another part of the prison.  Hours later, as the visiting period came to an end, we returned to find them holding hands and staring into each other's eyes.
Doc Block: Obviously homosexuality is a reality behind bars even with the straight inmates who are looking for a sexual connection or outlet. You got to see firsthand an unusual pair -- Precious and Marquise,  a "husband and wife" couple. Marquise said he prefers women but he's in prison and this is how he deals with it. How did this scenario affect you? What surprised you the most?
Heath: One area we focused on was dorm life. As we entered Dorm Two, I noticed an inmate sewing a hem into a pair of shorts. His bunk and surrounding area were exceptionally tidy; shoes were neatly lined up and fresh laundry hung from the bed frame. He introduced himself to me as Precious.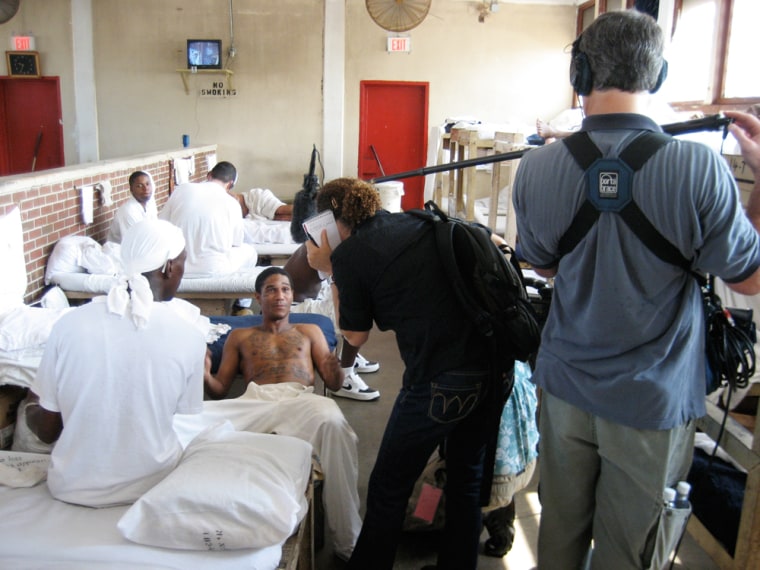 As I began to interview Precious about domestic life at Holman, I realized that this bunk was, in fact, not his but that of another inmate. Enter Marquise. Marquise sat back and listened as Precious explained their relationship. Precious is the "wife" and Marquise is the "husband" and for the past five years they've shared just about everything.  Precious is in charge of all things domestic. He does the laundry, makes coffee and puts together makeshift meals in the dorm microwave.  When I asked about Marquise's role and whether he provided protection, Precious said he had no problem defending himself.  Precious is nine years older than Marquise, and by his account, it was love at first sight when he first spotted the younger inmate.
When I asked Marquise if he was gay, he told me no, that, in fact, he likes women.  But he also explained to me that in prison, Precious is a woman. He added that he would eventually like to get married to a real woman and become a father.  They both went on to speak candidly about sex, love and relationships. It began to feel like we were taping a segment for a daytime talk show. Several times during our conversation I had to remind myself that I was on the inside of a maximum-security prison. Salacious details aside, it was easy to tell that these two men care a great deal for each other. I'm not sure what will happen with their relationship; Marquise's release date is 2010, and he may even be eligible for parole before then.  Precious is serving a life sentence.