/ Source: The Associated Press
Police pursuing the killer of five prostitutes arrested a second suspect Tuesday and seized a dark blue Ford that a neighbor in Ipswich's red-light district said the 48-year-old man had repeatedly cleaned.
A one-time auxiliary police constable arrested Monday in a village outside Ipswich remains in custody. A court gave police permission to hold the 37-year-old supermarket clerk and part-time taxi driver for an additional 36 hours while officers scoured his back yard on hands and knees for possible clues.
Detective Chief Superintendent Stewart Gull said both men were suspects in the murders of Tania Nicol, Anneli Alderton, Paula Clennell, Gemma Adams and Annette Nicholls. Their naked bodies were found dumped in rural areas of eastern England around Ipswich, 70 miles northeast of London, over a 10-day period beginning Dec. 2.
The two have not been charged or formally identified.
Forklift driver under suspicion
The British Broadcasting Corp., Britain's Press Association and Sky News identified the second suspect as Steve Wright. BBC reported he worked as a forklift driver and had lived in the area since September.
Neighbors said he could often be seen outside his home washing his dark blue Ford Mondeo.
"He was always cleaning that Mondeo both inside and out," said David Welton, 43, who lived next door to the man on London Road in Ipswich.
Joe Franey, 50, another resident, said the man and his female partner moved to the area recently. He said he heard police banging on the door of a home two doors away at about 5 a.m.
"We saw him being led out, he was dressed," Franey said. "He seemed quite composed, quite normal," he added. "We see them around and said good morning and good evening but they didn't mix at all."
Women still living in fear
Helena Assancao, who lives nearby, said she was not reassured by the arrests.
"I know he (the killer) has only targeted prostitutes, but he could look more widely. You never know," the 43-year-old Assancao said, adding that she had stopped going out alone after dark.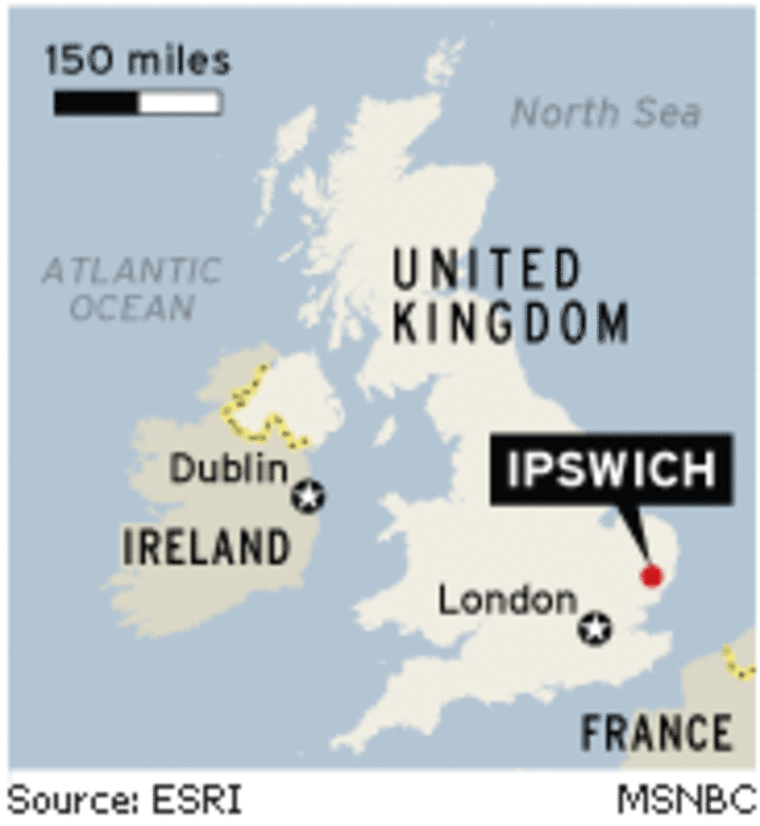 The suspect arrested Monday in Trimley St. Martin, eight miles southeast of Ipswich, was identified in news reports as Tom Stephens, 37, a supermarket clerk, part-time taxi driver and a former unpaid auxiliary police constable.
He had been quoted as telling the Sunday Mirror newspaper that he was innocent, but that he knew all five of the victims and had been interviewed by police.
"I don't have alibis for some of the times (of the killings), actually I'm not entirely sure I have tight alibis for any of the times. But I'm not worried about being charged. I'm innocent," the Sunday Mirror quoted him as saying.
Police in white overalls, hoods and face masks were seen in the garden of the home in Trimley St. Martin, at times on hands and knees probing the grass with gloved fingers.
Three of the bodies were found near the main road and the rail line between Ipswich and Trimley; the two others were discovered near the same road in areas south and southwest of Ipswich.
Clennell, 24, died of compression to her neck, and Alderton, 24, was strangled. Post-mortem examinations of the bodies of Nicol, 19, Nicholls, 29, and Adams, 25, reached no conclusion on the cause of their deaths.
An inquest into the death of Adams was opened and adjourned last week. Coroners' inquests into the other deaths were set to begin Wednesday.