/ Source: msnbc.com staff and news service reports
A resurgent El Nino and persistently high levels of greenhouse gases are likely to make 2007 the world's hottest year since recordkeeping began in the mid-1800s, Britain's weather agency said Thursday.
The Meteorological Office calculated a 60 percent probability that 2007 would break the record set in 1998, which was 1.20 degrees Fahrenheit over the long-term average.
"This new information represents another warning that climate change is happening around the world," agency consultant Katie Hopkins said in a statement.
The reason for the forecast is mostly due to El Nino, a cyclical warming trend now under way in the Pacific Ocean. The event occurs irregularly — the last one happened in 2002 — and typically leads to increased temperatures worldwide.
While this year's El Nino is not as strong as it was in 1997 and 1998, its combination with the steady increase of temperatures due to global warming from human activity and greenhouse gases like carbon dioxide may be enough to break the Earth's temperature record, said Phil Jones, the director of climate research at the University of East Anglia.
'Over the top' easy to reach
"Because of the warming due to greenhouse gases, even a moderate warming event is enough to push the global temperatures over the top," he said.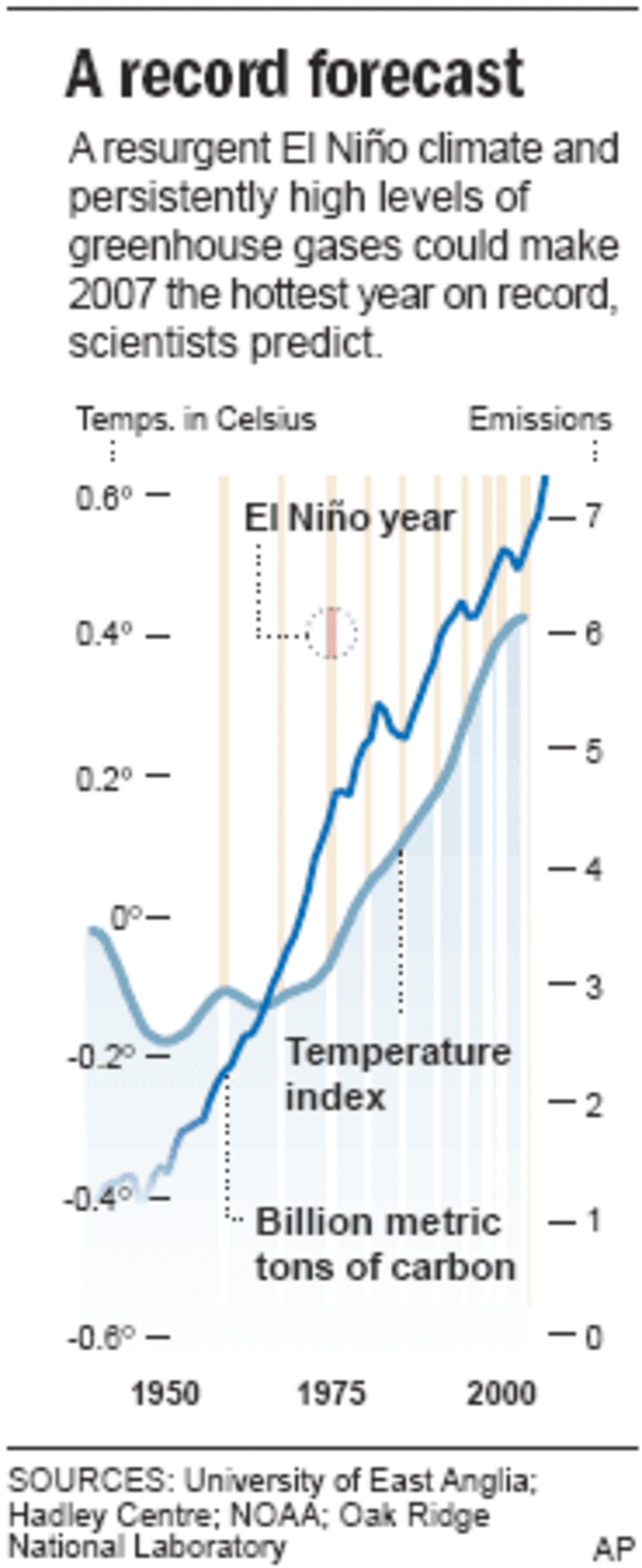 "El Nino is an independent variable," he said. "But the underlying trends in the warming of the Earth is almost certainly due to the release of carbon dioxide into the atmosphere."
El Nino can sometimes lead to milder weather, such as in the in the northeastern United States or the Atlantic Ocean, which is likely to see fewer hurricanes this year. However, it can also increase the severity of weather-related disasters, such as typhoons in the Philippines or drought in southern Africa and Australia, a country that is already suffering through its longest dry spell on record.
The world's 10 warmest years have all occurred since 1994 in a temperature record dating back a century and a half, according to the United Nations' weather agency. 2006 is set to be the sixth warmest on record globally.
Britain's weather agency said its annual reports have been "remarkably accurate" over the last seven years. "This startling forecast (for 2007) follows hard on the heels of news that 2006 was the warmest year on record across the UK," it added.
Temperature trend
In 2001, a U.N. report by hundreds of experts concluded that global temperatures will rise by between 2.5-10 degrees F this century due mainly to carbon emissions from burning fossil fuels for power and transport.
Experts say this will cause melting at the polar ice caps, sea levels to rise and weather patterns to change, bringing floods, famines and violent storms — and putting millions of lives at risk.
Former World Bank chief economist Nicholas Stern, acting as an adviser to British Prime Minister Tony Blair, said in October that urgent action on global warming was vital and that delay would multiply the cost by up to 20 times.
The Kyoto Protocol is the only global action plan to curb carbon emissions. But it expires in 2012, is rejected by the world's biggest carbon emitter — the United States — and does not bind booming economies like China and India.
Backed by Britain, which has pushed climate change high up the world agenda, pressure is building for the Group of 8 industrial nations, which meet in Germany in June, to set out a framework for discussions to take global action beyond Kyoto.