/ Source: Forbes Traveler.com
Gretchen Bleiler is a self-described terrain park snob. "When I say a halfpipe is perfect, I mean perfect," said the 25-year-old snowboarder from Aspen, Colo.
But if anyone deserves to be discerning it is Bleiler, a silver medalist at the 2006 Winter Olympic Games in Torino, Italy, in the halfpipe event.
Bleiler, who's snowboarded since age 11, spends hundreds of hours a year carving turns on halfpipe walls, sliding rails and hitting jumps. She's essentially an on-snow stuntwoman, flying high, grabbing her board, and spinning through the air for show in terrain parks across the country.
Terrain parks -- designated areas at downhill resorts with jumps, rails, halfpipes and other features -- have become ubiquitous at North American ski resorts. Setups vary, but most terrain parks include a litany of objects, ramps and obstacles to jump, slide, ride and grind.
But not all terrain parks are created equal.
Bleiler, for example, spends much of her winter in the terrain parks at Snowmass, Colo., near her home town. Snowmass -- a giant alpine resort with 4,406 feet of vertical rise -- has her favorite terrain parks on the planet. "There is no other place where you could ride a perfectly cut competition halfpipe all to yourself," she said.
So, to compile a list of the continent's best terrain parks, we asked 10 professional snowboarders to pick their favorite places to ride. Their choices, which range from sunny Californian resorts to a little-known ski hill in New Jersey, represent a spread of opinions on snow quality, terrain creativity and local attitude.
Minutiae like jump geometry and jib availability -- the finer details of the parks -- were also important to our group of pros.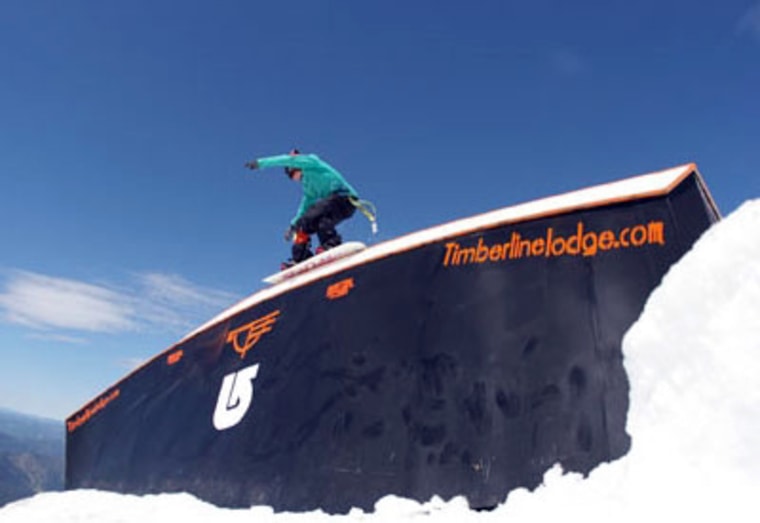 "Mammoth Mountain's halfpipe is steeper than most, letting you generate as much speed as you want to push the envelope for amplitude," said Rob Kingwill, a 31-year-old professional snowboarder and coach from Jackson, Wyo.
California's Mammoth Mountain -- Kingwill's No. 1 pick -- has consistently sunny weather and a laid-back SoCal-influenced vibe. Kingwill, who like every athlete in this survey has ridden all over the country, numerically listed the three main reasons why Mammoth earned his top spot:
The resort is meticulous with grooming and creating well-built terrain designed to maximize safety as well as "huck factor."
Mammoth has three terrain parks on its huge mountain face, and all are given "massive amounts" of attention by a skilled park staff.
Mammoth has an incredibly long season, from October to June some years.
Other riders did not get so scientific. When asked why he chose California's Northstar-at-Tahoe as his favorite resort, pro rider Jeremy Jones responded: "It's fun dude! What else can you say, really?"
Elaborating a bit, Jones -- who is a 30-year-old from Park City, Utah -- said Northstar-at-Tahoe has some of the most unique terrain park features in the country, including street-inspired stunts. "My favorites are the huge staircase rail setups," he said.
In total, the surveyed snowboarders picked eight top resorts to form the list. Superlatives including "wicked," "sick," "gnarly" and "rad" were of course peppered liberally in their descriptions of these pipes, rails, ramps, jibs and jumps.