/ Source: msnbc.com contributor
With next-generation video games now topping out at $60 at retail (and some special editions uncomfortably pushing the $70 barrier), bargain gaming is now more desirable than ever.
But even as wallets recover from the holiday season, owners of any of the three new consoles don't have to replay their games over and over until the next batch of big hits. They can to turn to each console's downloadable gaming shop — the Nintendo Wii's Virtual Console, the PlayStation 3's PlayStation Store, or the Xbox 360's Live Arcade — to find inexpensive games to play.
Value is everywhere, and for once, paying less-than-premium doesn't mean sub-par gaming. The priciest games on the Virtual Console, for example, is "Super Mario 64" (the classic Nintendo 64 launch game that ushered in 3D gaming), for $10. Some Live Arcade games, such as a port of the PlayStation Portable hit puzzler "Lumines," can poke above $12. But smaller games can be had for around the three-to-five-dollar mark.
But with each service offering games at roughly the same prices, the quality of the content is king. How do each of these game services stack up against each other?
PlayStation Store
The PS3's PlayStation Store is not nearly as stocked as the Xbox Live Arcade or the Virtual Console just yet. The service offers only a handful of games, such as "Blast Factor" at $9.99. None of the current offerings are particular stand-outs, but Midway has promised six arcade classics including "Mortal Kombat II" and "Joust" for release later this year.
But what sets the store apart from the other services is the ability to download classic PSone games, such as "Jumping Flash" and "Tekken 2" for $5.99. The catch? You cannot actually play them on the PS3. You can only download these games for transfer to the PSP.
Unfortunately, downloading games from the PlayStation Store is a pain. Unlike the Xbox 360, which can download content in the background while you play any non-online game, the PlayStation Store cannot be minimized.
Downloading large games, such as a free 625MB "Gran Turismo HD" demo took a whopping six hours to finish. And that was when it finally did finish. The first attempt flashed an error message at the three hour mark, prompting us to start all over. By the time the game was up and running, the PS3 had sat, unplayed, for ten hours. There's appointment gaming and then there's appointment gaming.
Xbox Live Arcade
The Xbox Live Arcade service, thanks to the Xbox 360's year-long head start, is much easier to use and offers a great deal more content, such as familiar classic arcade hits like "Frogger," "Gauntlet" and "Ms. Pac-Man." These are good to see, but far more interesting are the original games developed specifically for the service, such as goofy brawler "Small Arms" and the top-down action-shooter "Assault Heroes." All of these games have downloadable demos for trial use, making purchasing decisions easier. Microsoft updates the games every Wednesday.
The biggest downside is that the Live Arcade doesn't use real world money to make transactions. Instead, you must purchase Microsoft Points with your real world money in clusters of points that never quite match up with the game prices. For example, you can buy a cluster of 1,000 points for $12.50. But Assault Heroes costs 800 points, leaving you with a surplus of 200. There are customization goodies like gamer pictures and themes you can buy with the surplus, but to buy another game, you'll have to buy another cluster of points.
Nintendo's Virtual Console
Nintendo's Virtual Console for the Wii is something of a different beast. The store design is incredibly spartan, but its white-washed interface grants access to three console generations worth of gaming. (So far, no original games have been released for the service.)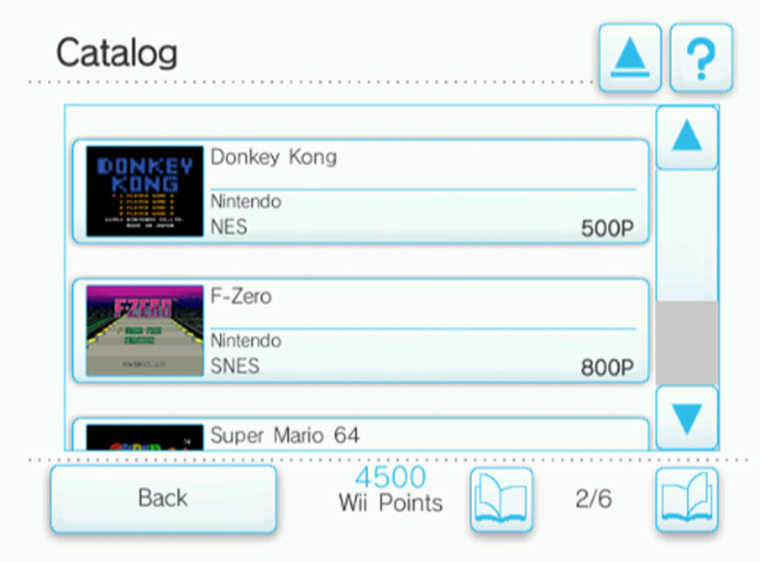 Gamers can download scads of classic videogames from generations past, including original Nintendo Entertainment System (NES), Super NES, Sega Genesis, TurboGrafx-16 (a failed competitor to the Genesis and SNES), and the N64. This is an excellent way for hardcore fans to rediscover childhood favorites and for casual gamers to get their hands on less complex (but not necessarily less exciting) video games.
Pricing on Virtual Console is done via a point system, like the Live Arcade, but there is no hard equation for prices. One point equals one penny, so a 500 point NES game like Super Mario Bros. is only $5.
Nintendo updates the Virtual Console every Monday with at least two or three games, often spread over different consoles. The TurboGrafx-16 games are perhaps the most intriguing, as most are a mystery to gamers beyond the small cult that still celebrates the console to this day. "Bonk's Adventure," "Dungeon Explorer" and "Military Madness" (600 points each) are great places to get acquainted with the Turbo's legacy.
Genesis games "Toe Jam & Earl" and "Gunstar Heroes" (800 points) are also solid titles. The  weakest of the bunch are the NES games, like "Baseball" and "Urban Champion," which are too shallow to really get into, even when played through nostalgia-tinged glasses. (Now, if Nintendo brought out "Kid Icarus" — a cult fave that has not been re-released over and over like, say, "Donkey Kong" — that would be a different story.) Upcoming games include "Excite Bike," "Mario Kart 64," and "Comix Zone."
As much fun as strolling down memory lane can be, we hope to see some original fare on Virtual Console. The inventiveness of the casual PC-gaming scene and the original Xbox Live Arcade games proves there is good fun to be had in less-than-hardcore games at less-than-hardcore prices.