/ Source: The Associated Press
Wholesale prices moderated in December while industrial production rebounded, just the results the Federal Reserve is hoping to achieve to keep the economic expansion on track.
The Federal Reserve reported Wednesday that industrial production rose by 0.4 percent last month following two months of 0.1 percent declines. The increase reflected higher output at factories.
Meanwhile, the Labor Department said that its Producer Price Index rose by 0.9 percent in December. That was down sharply from a 2 percent jump in November.
The combination of a rebounding economy and moderating inflation is what the Fed has been hoping to achieve with its two-year campaign to raise interest rates as a way to slow growth enough to keep inflation at bay.
In its latest survey of business conditions around the country, the Fed said Wednesday that the economy was expanding at a modest pace at the beginning of the year in spite of a severe slowdown in housing activity and sluggish auto sales.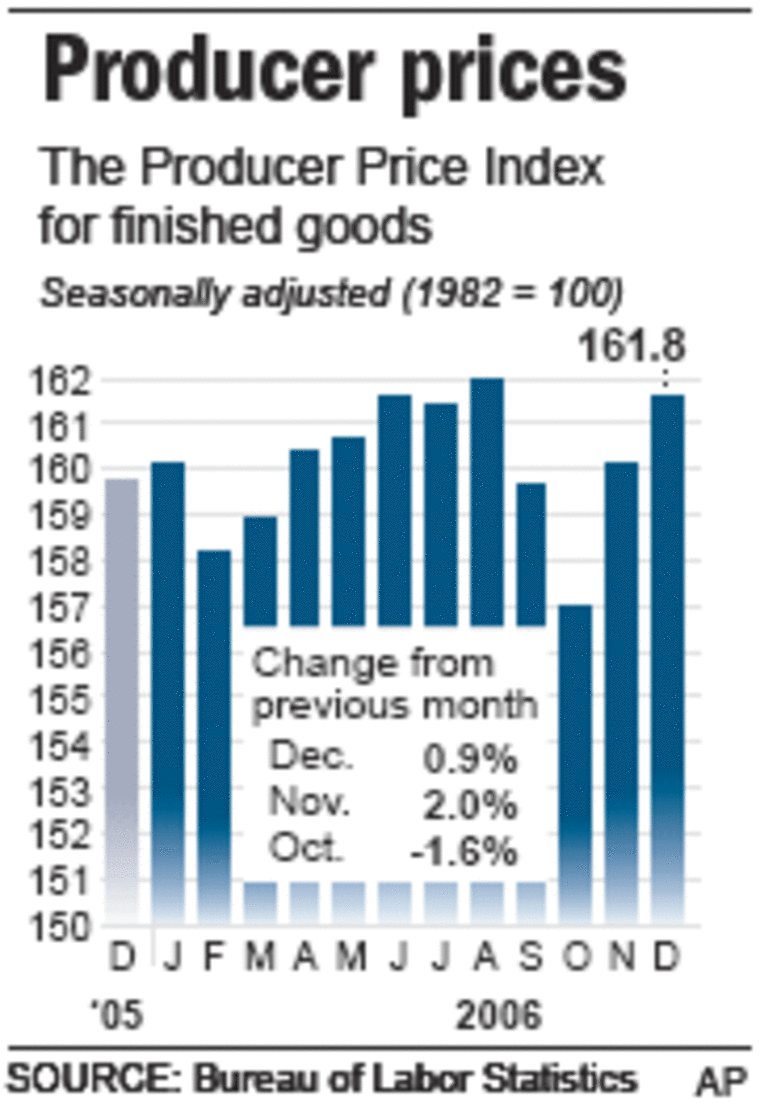 The Fed's beige book, which will help formulate interest rate policy when officials meet on Jan. 30-31, found prices increasing only moderately, helped by an easing in energy costs.
For the whole year, wholesale prices were up just 1.1 percent, down sharply from the 5.4 percent surge in 2005, reflecting a slowdown in energy costs. The PPI measures cost pressures before they get to the consumer.
Gasoline prices surged to record levels above $3 per gallon last summer, but energy prices have since moderated a bit and that helped to cap the rise in inflation in 2006. For 2006, energy costs were down by 2 percent after having soared by 23.9 percent in 2005.
The 0.4 percent rise in industrial production reflected a 0.7 percent advance in output at the nation's factories and a 0.8 percent rise in the category that includes oil drilling. That helped to offset a 2.6 percent drop in utility output, a decline that reflected the unseasonably mild weather in December.
The overall wholesale price increase of 1.1 percent in 2006 was the smallest advance since prices actually fell by 1.6 percent in the recession year of 2001.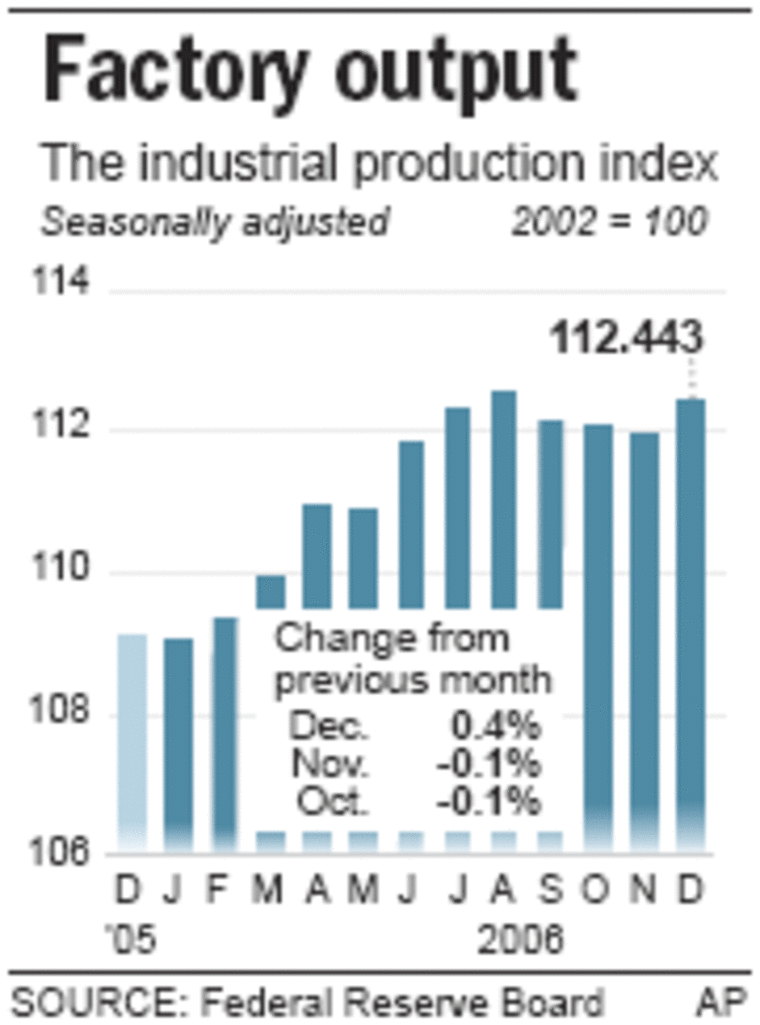 The Federal Reserve pushed interest rates up at 17 consecutive meetings over two years in an effort to slow economic growth enough to restrain inflation pressures.
While there had been fears that the central bank had overdone the credit-tightening, recent upbeat reports indicate the economy will achieve the hoped-for soft landing rather than a more severe outcome such as a recession.
For December, energy costs were up 2.5 percent after an even bigger 6.1 percent rise November. But with global oil prices falling to 19-month lows, analysts believe further declines in energy are on the way.
Wholesale gasoline prices rose by 7.1 percent while home heating oil costs were up 4 percent and natural gas intended for home use was up 0.7 percent.
Food costs rose by 1.7 percent in December, the biggest increase since October 2003, reflecting higher costs for fruits and vegetables, chicken and fish. Analysts said food costs are likely headed even higher in coming months, reflecting damage to citrus crops from the recent winter storms.
Excluding volatile food and energy, the core rate of inflation edged up just 0.2 percent in December, far below the 1.3 percent November surge which had been caused by a huge jump in the cost of new cars and trucks.
In December, new car prices fell by 0.2 percent while light truck prices, a category that includes sport utility vehicles, rose by 0.7 percent.
Core inflation showed an increase of 2 percent for all of 2006, up slightly from a 1.7 percent increase for all of 2005.