/ Source: The Associated Press
Canadians and U.S. border-state officials are concerned that rules requiring passports for Americans and other travelers entering the United States will hurt commerce and tourism.
Now, air travelers who are citizens of Canada, Mexico and Bermuda, as well as U.S. citizens returning home, must with few exceptions display passports to enter the United States.
The new rule brings them under the same rules that apply to all other travelers worldwide.
Canadian Minister of Public Safety Stockwell Day has made clear that Canada considers this first phase affecting only air travelers to be reasonable. However, Canada is worried that rules about land and sea, which will take effect sometime between January 2008 and June 2009, could clog land borders and disrupt trade.
"We need to ensure that we do not build walls between us," Canadian officials recently wrote. Day and Homeland Security Secretary Michael Chertoff plan to meet on Thursday.
Sens. Patrick Leahy, D-Vt., and Ted Stevens, R-Alaska, whose states border Canada, pushed through legislation last year to postpone implementation of the land and sea phase of the law until alternatives can be developed.
Rep. Louise Slaughter, D-N.Y., has also expressed concern that the land and sea portion was being rushed, saying it appears the Bush administration is "moving full-steam ahead with a misguided policy."
Until now, citizens traveling in the Western Hemisphere usually needed to display little more than a birth certificate or driver's license to cross U.S. borders.
The new rules were mandated by Congress in 2004 following the terrorist attacks of Sept. 11, 2001, and were recommended by the 9/11 Commission.
The only acceptable alternatives to the official passport will be a document carried by U.S. merchant mariners; the NEXUS Air card issued to some U.S. and Canadian frequent travelers; and active duty members of the U.S. Armed Forces.
The bigger hurdle is scheduled to begin as soon as January 2008, when passports will be required for travelers by land and sea — a much larger category of people.
Homeland Security Department spokesman Jarrod Agen said "we're looking at alternatives." He said department officials have been meeting with Canadians and border community officials to determine how best to provide some flexibility to the law's requirements.
Agen added that a so-called PASS Card has been discussed as a cheaper and more convenient alternative to the passport. The card would be about the size of a credit card and likely cost considerably less than a passport, but it wouldn't replace the passport for travel to most of the world.
There are 70,000 Canadian "snowbirds" in the United States, mostly in Florida, and concern has been expressed that some may have arrived without their passports.
Starting next week, those traveling by air would be required to produce passports when leaving the U.S.
A Homeland Security official told reporters Tuesday that Customs and Border Protection officers have been given guidance to use a "phased approach" and their own discretion.
The main point, said Robert Jacksta, head of traveler security and facilitation, is to be able to identify and certify the citizenship of everyone crossing the nation's borders.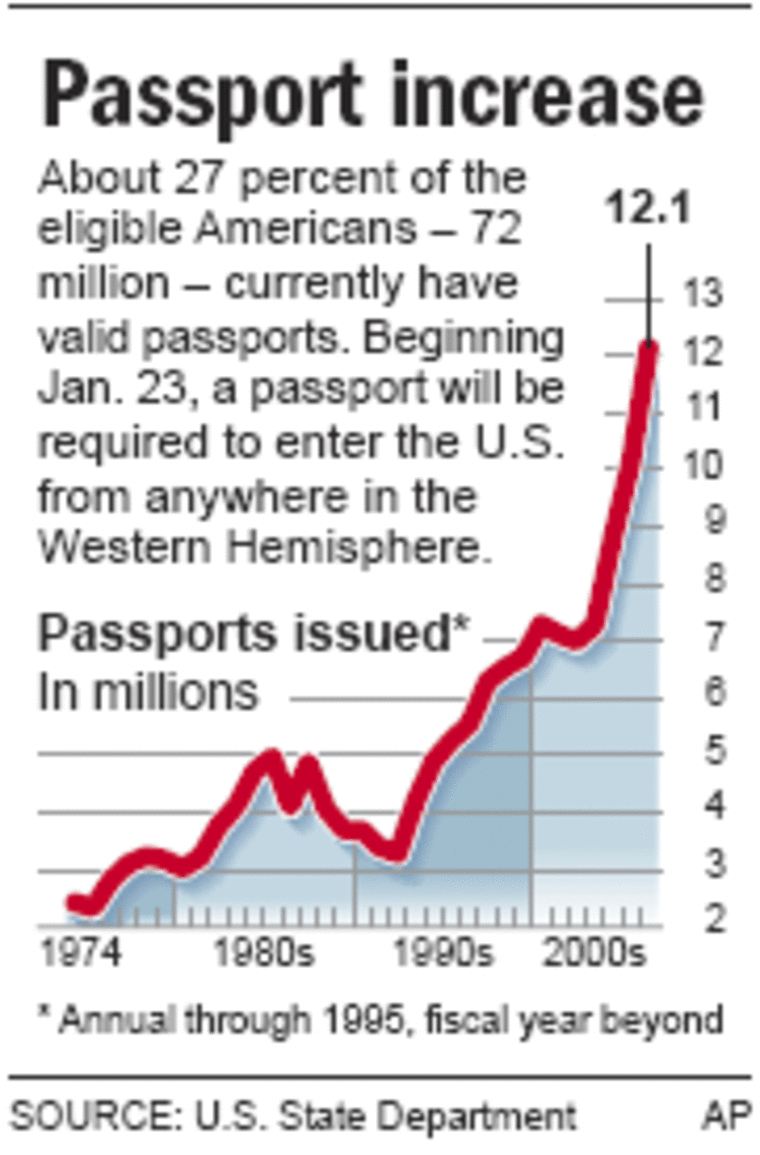 He said 98 percent of people flying out of the U.S. have the proper documentation, adding that "for the most part people are in compliance because of the requirements of other governments."
State Department official Frank Moss added that the government is implementing the policy "in an intelligent and humane fashion."
The two officials told reporters that their agencies have been conducting extensive outreach in the past two months and have seen the percentages of travelers holding passports steadily increasing. Last week that compliance rate had reached 96 percent for Canadians, 99 percent for Mexican travelers, and about 90 percent for returning U.S. citizens.
Currently about 73 million U.S. citizens, less than a third of the population, hold valid passports. The cost of a new passport for an adult is $97, and for children $82.
Jacksta said business travelers usually travel by air, and "most business travelers have passports."
The new rules do not apply to U.S. territories such as Puerto Rico and the U.S. Virgin Islands. Tourism officials from those locations expecting a windfall from U.S. vacationers who don't want to bother with a passport.
In other Caribbean nations, fears of economic damage have led to advertising campaigns encouraging Americans to sign up for passports, and in some cases granting discounts to those who hold them.