/ Source: The Associated Press
Sales of existing homes fell in December, closing out a year in which demand for homes slumped by the largest amount in 17 years.
The National Association of Realtors reported that sales of existing homes were down 0.8 percent last month, a bigger decline than had been expected. For the year, sales fell by 8.4 percent, the biggest annual decline since 1989, when existing home sales fell by 14.8 percent.
The sales figure underscored the sharp contraction that is going on in the once high-flying housing market, which before last year had set sales records for five straight years.
Even with the sharp drop in sales last year, the median price of an existing home sold in 2006 managed to rise a slight 1.1 percent. But that was far below the double-digit gains during the boom years. The median home price had risen by 12.4 percent in 2005.
After a five-year boom, housing slowed significantly last year, which has caused ripple effects throughout the economy with rising job layoffs in construction and other housing-related industries.
But economists said they believe the low point for housing has been reached and they are forecasting a slow rebound in 2007. Because of that optimism, analysts don't believe the slump in housing will drag the overall economy into a recession.
The 0.8 percent drop in sales in December came after two straight months of improving sales, the first back-to-back sales gains since the spring of 2005.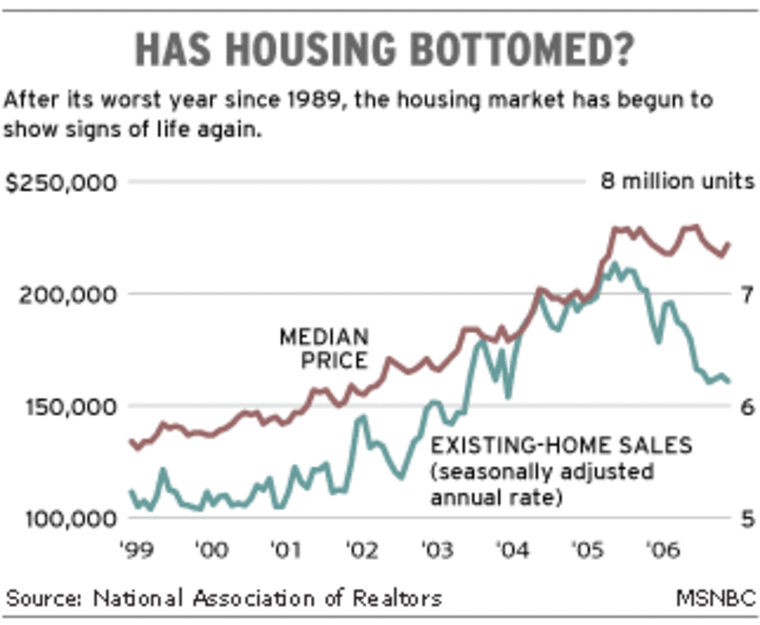 David Lereah, chief economist for the Realtors, said that even with the December setback, he still believes that sales of existing homes have hit bottom and will start to gradually improve.
He said that in 2005, 40 percent of the market represented purchases of second homes and investors buying homes looking to resell them for quick profits.
He said that speculators had now left the market and that should leave sales at a more sustainable level.
"With fingers and toes crossed, it appears that we have hit bottom in the existing home market," he said.
Economists believe that while growth has slowed because of the steep downturn in housing, they expect the United States will be able to avoid an outright recession.