/ Source: The Associated Press
A cutback in production and the planned shutdown of a sprawling steel plant just outside Beijing promises cleaner air for the 2008 Olympics.
Beijing's biggest steel company, and one of its largest polluters, announced plans Friday to cut production by about one third by the end of the year, and end all production in Beijing by 2010.
The landmark plant located about 12 miles west of central Beijing — complete with a dozen towering smokestacks — has been in the process of cutting back production and relocating with Chinese officials under pressure to clean Beijing's polluted air before the Olympics.
Zhu Jimin, president of the state-owned Shougang Group, said the company would cut steel production by four million tons by the end of 2007, down from 12.48 million tons in 2006. He said all steel production at the Beijing plant would end by 2010.
"This will make new contributions toward Beijing holding the Olympics,'' Zhu said. "The company has made a great effort in environmental protection.''
Promised emission cuts
Zhu said the plant cutback would reduce some pollutants by up to 77 percent by the end of 2008. He said those cuts, measured against levels in 2006, would include: Carbon Dioxide emissions down by 77 percent, dust by 59 percent and smoke by 57 percent.
The shuttering of the plant ends a chapter in Beijing's industrial history.
It was opened in 1919 and, under communist central planning, became one of China's largest steel plants. Its huge smokestacks, that now are reviled for their soot, were once regarded as monuments to China's modernization.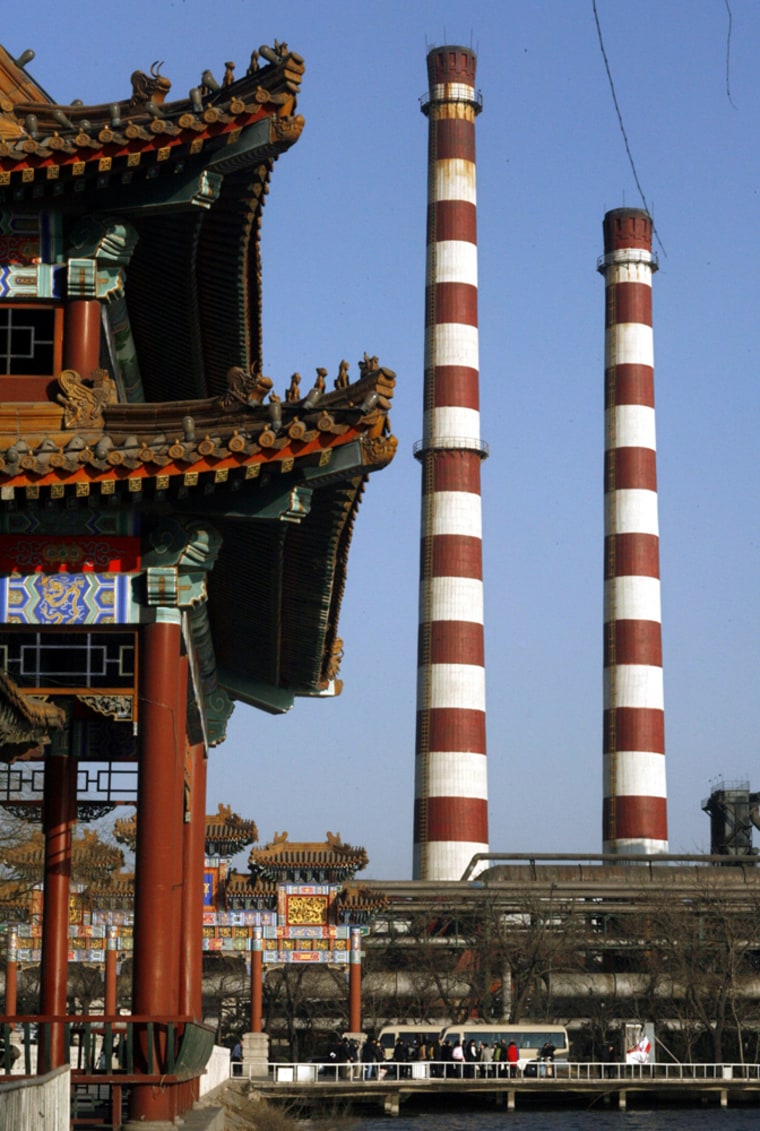 Shougang employed 82,500 workers at the end of 2006. A new facility is under construction about 140 miles east of Beijing on an island off the Chinese coast. The new plant will begin operating in 2010 with a capacity of 9.7 million tons.
Like most state-run industry, Shougang once provided cradle-to-grave benefits, and ran schools and clinics for its workforce. Those obligations became a liability under market reforms and in the 1990s Shougang began laying off workers by the thousands and shutting down production lines.
The plant also became embroiled in one of Beijing's biggest corruption scandals, a bribery scandal that contributed to the downfall of the city's Communist Party boss.
Olympic official upbeat
The dismantling of Shougang has been a centerpiece of the city's efforts to clean up for the 2008 Olympics.
Hein Verbruggen, the International Olympic Committee's coordinator for the 2008 Games, said Beijing's clean up would have far-reaching impacts.
"What they will do for the environment is not just for the games,'' Verbruggen said Thursday in Lausanne, Switzerland. "They delivered what they have promised. We are absolutely convinced there will be an important legacy after the games in terms of environment.''
Yan Wenhui, the manager of Shougang's Blast Furnace No. 3, said that facility had produced 31 million tons on steel since it was opened. But it will be closed, joining Blast Furnace No. 5, which was recently shuttered.
"In order to guarantee a smooth opening for the Olympic Games, this furnace will have to come to a stop by the end of this year,'' Yan told reporters.
Officials said plans were also underway to relocate a coke-making plant and several chemical factories.