/ Source: The Associated Press
Eighteen months after Hurricane Katrina, Stella Chambers' modest red-brick house had finally been repaired, and she was waiting for one last utility hookup to move back in. But the 85-year-old woman never made it.
A tornado tore through her neighborhood in the city's Gentilly neighborhood before daybreak Tuesday, flattening her house, ripping apart the front-yard FEMA trailer in which she was living, and killing her.
At least 29 people were injured, including Chambers' daughter, Gail, as the twister heaped more misery on neighborhoods still trying to recover from Katrina. The storm destroyed at least 50 FEMA trailers and dozens of homes, and damaged many others — many of which were in various states of repair.
"We were trying to get my mother back in the house. Now there is nothing to repair," said Mervin Pollard, whose 81-year-old mother's Katrina-flooded home was reduced to a pile of lumber Tuesday. "How do you start over again when you are already trying to do that?"
Echoes of Katrina
Firefighters went door to door, once again searching for victims of a storm. They spray-painted bright orange rectangles on the buildings and trailers and, as with the circles searchers used after Hurricane Katrina, they listed the date of the search and whether bodies were found.
"Some of these houses still have the circle on them from the last search," resident Patrick Clementine said. "Now we're doing it again."
Gov. Kathleen Blanco became teary-eyed as she talked to residents of the suburb of Westwego whose homes were destroyed.
"It's incredible. It just looks like pick-up sticks," she said. "People's lives just torn asunder again."
Blanco issued a disaster declaration, making the area eligible for aid. She said the state would send in National Guard troops for security.
Adding insult to injury
The tornado hop-scotched a 10-mile path from the west bank of the Mississippi River to the shore of Lake Pontchartrain, striking some neighborhoods that had been hard hit by Katrina and have been slow to recover.
In Gentilly, there are vast stretches of abandoned, gutted houses, dotted by trailers and occasional reoccupied dwellings. Some abandoned houses collapsed in the twister's winds.
Blood covered Gail Chambers' face and was running down her side when she banged on the door for help at about 3:30 a.m., said neighbor Hellean Lewis.
"She was crying and screaming, 'Help me! I can't find my mother!"' Lewis said. Searchers found Stella Chambers, crying for her daughter and clinging to life in the rubble. She died at a hospital, where her daughter was listed in stable condition.
There was no immediate estimate of the cost of the damage.
About 21,000 electricity customers in the New Orleans area lost power.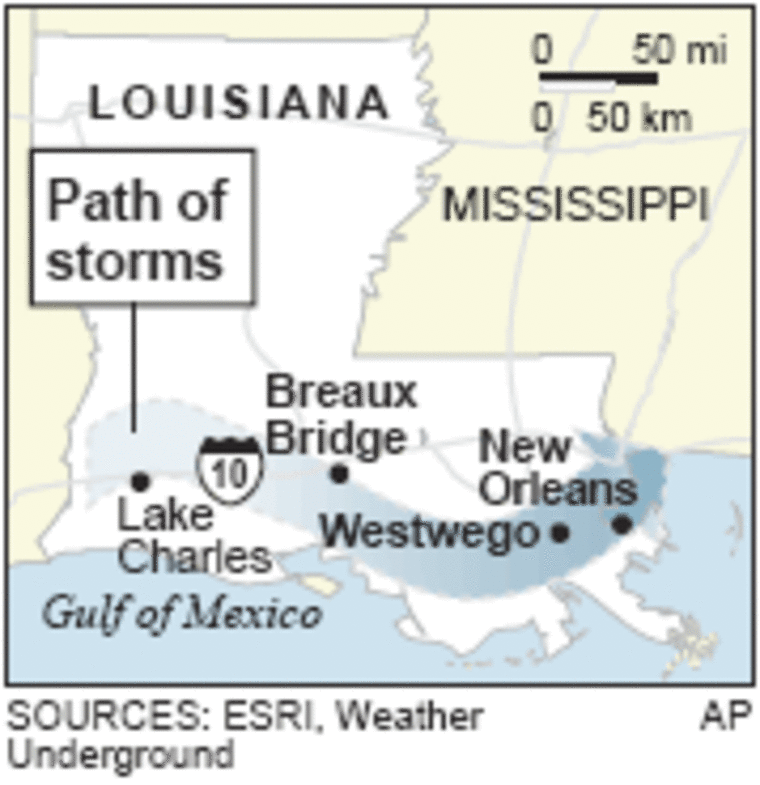 Federal Emergency Management Agency teams began inspecting neighborhoods and said it would provide hotel rooms and trailers for people whose FEMA trailers were unusable. The American Red Cross said 90 people were in shelters late Monday afternoon.
Some storm victims faced the prospect of once again having to find temporary shelter and do battle with insurance companies.
'I don't want to live any more'
Kamal Namazi, 49, figured the storm did $175,000 in dents, broken windows and other damage to the 18 new and used cars on his lot in Westwego. The car lot was hit by a tornado in 2004. Katrina tore off the roof of his Metairie home and left a foot of water inside.
"Right now, I don't want to live any more," he said. "I don't want to be in this world."
The storm ripped the roof from the 51-room hotel next to Namazi's lot. Owner Stella Lin said 36 rooms were occupied but only minor injuries were reported.
"Some of the people there at the hotel were still living there from Katrina," Westwego Fire Chief Keith Bouvier said.
Lin said her insurance covered only a tiny fraction of her hurricane losses, and she got that after a "really, really, really big fight."
"Now I have to fight them again," she said.