/ Source: Forbes Traveler.com
You're soaking in an oak barrel bath treated with Pinot Noir, your face covered with a Merlot grape seed wrap. Therapists splash you clean with cool fresh grape water, then massage your back with a grape masher. Soon you'll be sitting down to a Michelin Star dinner, drinking wine made from the vineyard outside and retiring to a room in a luxury hotel.
It sounds like an oenophile's fantasy, but this is no wine-induced dream. Spa-goers the world over are now exfoliating with crushed cabernet scrubs and soaking in tubs of wine-tinted water. And increasingly, they're doing it at a wine spa hotel.
It's no surprise as to why this trend is taking off. Recent studies suggesting that the French suffer less heart disease due to a regular intake of wine confirmed what most oenophiles have long suspected: Wine not only tastes good; it's good for you. But the rejuvenative qualities in a bottle of Bordeaux or a carafe of Cabernet tell only half the story. Grapes, grape seeds and grape vines happen to contain some of the nature's most powerful antioxidants, helping to account for the hottest new trend in the global spa industry — wine and grape-based treatments known as vinotherapy.
Indeed, it's rare to find a spa these days that doesn't feature some kind of vinotherapy. Luxe resorts such as The Inn at Camelback in Arizona and the Shore Club in Miami are offering wine treatments using Olavie's Le Vin range of oils made from Chardonnay grape seed. Across Europe, spas are using ISHI Elements — creams and oils from Chianti, Chardonnay and Pinot grapes sourced from organic vines in Tuscany. And New York City's first entirely wine therapy-based spa, Delluva Vinotherapy Day Spa, opened in Tribeca in January 2007, featuring TheraVINE products derived from the Pinotage grape in South Africa.
While wine spa treatments are one thing, traveling to wine country to have them is the ultimate vinotherapy experience. In recent years chic wine spa hotels and luxury vinotherapy resorts have sprung up on vineyards and wine estates all over the world.
"What can be better than getting a Merlot face wrap while gazing out on a view of beautiful rolling vineyards in Sonoma or Spain?" asks Mary Blackmon, founder of the directory Spa-addicts.com. "When your treatment becomes an extension of the environment you're in, that's when you're really immersing yourself in the experience."
Fittingly, the origins of vinotherapy and wine spa resorts can be traced back to France. It was in 1993 on her family's vineyard in Bordeaux that Mathilde Thomas and her husband Bertrand met the eminent pharmacologist Dr. Joseph Vercauteren, who discovered back in 1970 that grape seeds were rich in the antioxidant polyphenol. Using grape products harvested on their Château Smith Haut Lafitte estate, the Thomas' created the Caudalie skin care line in 1995, used by the likes of Madonna and Isabelle Adjani. Then in 1999, they trademarked the name Caudalie Vinothérapie when they opened the world's first vinotherapy hotel, Les Sources de Caudalie, on the estate. Today, treatments there include the Pulp Friction massage, a cult favorite using fresh grapes that are crushed over the body.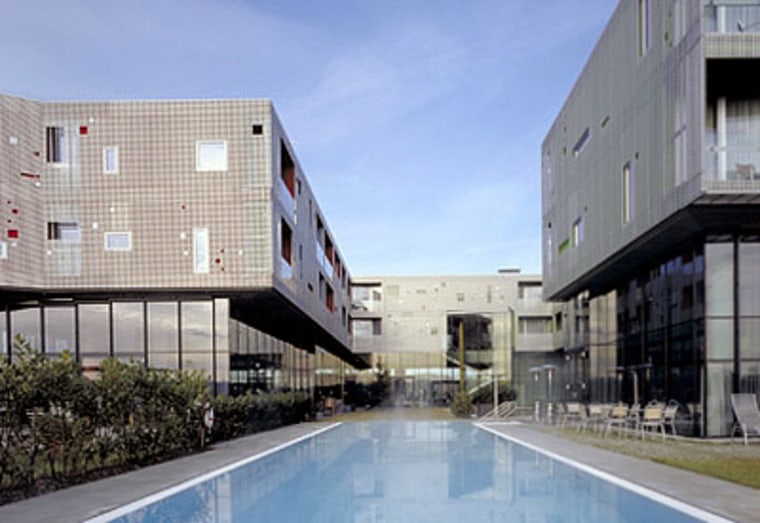 It says something for the success of the concept that Les Sources de Caudalie is no longer the most famous Caudalie Vinothérapie spa. That honor now goes to the surreal Frank Ghery-designed $100 million titanium-clad Marqués de Riscal Hotel, opened in Spain's Rioja wine country in 2006. You'll find 43 rooms, a restaurant helmed by Michelin Star chef Francisco Paniego and a state-of-the-art Caudalie Vinothérapie Spa with hot tubs shaped like oak barrels for that Red Vine Bath.
Given that she created the wine therapy concept, Mathilde Thomas seems surprisingly unruffled by the new wave of rival wine cosmetics companies and spas. "On the contrary," she said. "It makes me feel proud to see how quickly wine therapy has grown."
The trend has spread to America's wine country, too. One of the classiest wine hotels in the U.S. is Kenwood Inn and Spa, a 30-room, Mediterranean-style boutique villa surrounded by vineyards in the Sonoma Valley, and specializing in such soothing therapies as the Sauvignon Massage. "In Hawaii you can get a hot lava rock massage, in Sonoma it makes sense to do wine-based treatments," says Kenwood Inn Spa Director Debra Burquez. "There's something about doing wine tastings in the day and getting a soothing vine bath at night that makes visiting here so special."
But Mathilde Thomas does warn spa-goers that not all wine spas are the real thing. Contrary to some perceptions, drinking wine during a treatment is not encouraged. "You should drink water of course. Only afterwards you can drink wine over a good meal."
As for bathing in wine a la Cleopatra as some spas suggest, that's a complete no-no. "Bathing in wine is definitely not good for you," said Thomas. "You should bathe in spring water treated with the extract of red vines, which is good for the circulation and the skin."
Sounds like fine advice to us. She's French, after all.