/ Source: The Associated Press
A 12-year-old Boy Scout whose favorite book was about a youngster lost in the wilderness now has his own harrowing survival tale to tell after rescuers found him Tuesday, dehydrated and disoriented from four days in the wooded mountains of North Carolina.
A rescue dog picked up Michael Auberry's scent less than a mile from the campsite where he had wandered away from his troop Saturday. The boy's father speculated that he was simply homesick and wanted to hitchhike home. The disappearance touched off an intensive search involving bloodhounds, heat-seeking helicopters and dozens of volunteers on foot.
"He saw the helicopters and heard people calling him, but he yelled back and they didn't hear him," said his father, Kent Auberry. "He's very tired. He's very dehydrated. But he came through this in unbelievable fashion."
With tears in his eyes, Auberry added: "To have our son back is a tremendous blessing."
It was not immediately clear exactly how the boy was able to survive or whether he put any of his Scout wilderness training to use. A few hours after an emotional reunion, Kent Auberry said he still didn't know much about his son's ordeal, mostly because he decided not to ask too many questions.
"What he tells us is he was on the move," Auberry said. "He slept in tree branches. He curled up under rocks."
Michael had worn two jackets, one of them fleece, and was believed to have a mess kit and potato chips with him when he disappeared. He told the rescue team he had been drinking water from streams, and lost his hat and glasses in the woods.
Searchers spotted Michael walking along a stream before he saw them.
"They called his name. He didn't respond.... Once they said, 'We're here to rescue you,' the first thing he said is he wanted a helicopter ride out of there," said Blue Ridge Parkway ranger David Bauer.
Found in good health
Aside from a few cuts and scratches, Michael was in good health and could walk and talk. Because he had been without food and water, he was carried on a stretcher to a nearby road and then taken to see his parents. "A lot of tears, a lot of hugs," said Tina White, spokeswoman for the National Park Service.
Later, Michael went by ambulance to a medical center. Along the way, he received IV fluids to help him rehydrate and told his father he wanted to sleep, said ambulance driver Bud Lane.
Hours earlier, the boy's father had talked about one of Michael's favorite books when he was younger, a story titled "Hatchet" about a boy whose plane crashes in the Alaskan wilderness, and how the boy survives on his own.
"I think he's got some of that book in his mind," said Kent Auberry, whose son had camped overnight several times. "They do a great job in the Scouts of educating the kids of what to beware of and tips. I'm hopeful that Michael has taken those to heart."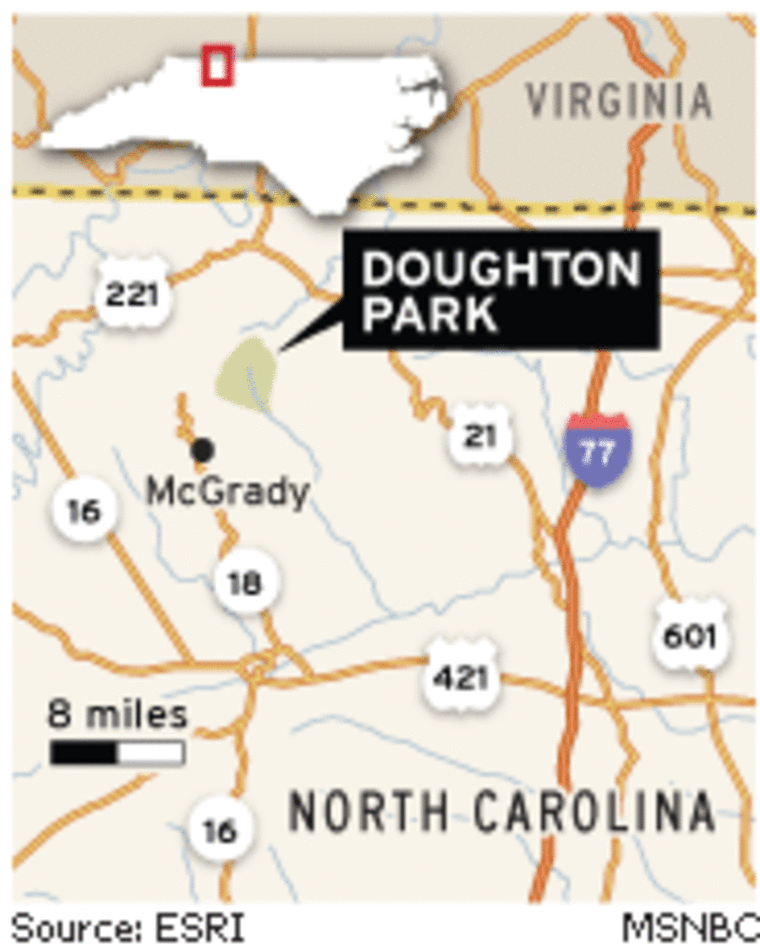 Bauer said as many as 100 people searched for Auberry on Tuesday, including Misha Marshall, whose dog Gandalf picked up the boy's scent.
The black 2-year-old Shiloh Shepherd "popped his head three times" — and there was Michael, she said.
"He was a little dazed," Marshall said. "You are totally overwhelmed. You at first don't believe he's the person you're looking for."
Searchers gave the boy granola bars, crackers and water. At a nearby hospital after his rescue, he ate chicken fingers and asked for cookies.
"The whole family has got to get some sleep," Kent Auberry said. "Tomorrow will take care of itself."
Authorities had said Michael probably wandered into the woods to explore, but Kent Auberry said he was homesick because some of his friends didn't come on the camping trip.
"He was homesick," Kent Auberry said. "He started walking. He thought he'd walk to the road and hitchhike home."
Searchers found his mess kit within a mile of the camp site a few hours after he disappeared.
"Michael wasn't real sure he was being rescued," Bauer said. "He was very tired, very hungry. ... He wasn't necessarily looking to be rescued, he was looking for his Boy Scout troop."