/ Source: msnbc.com contributor
I try never to talk about myself in this space, but now I have to confess something: I've long had a crush on another man's wife.
That man is Lasse Hallstrom (for you film buffs, he is the director of the new movie "The Hoax," starring Richard Gere) and his wife is actress Lena Olin. You may know her as Irina Derevko, the evil (or was she good?) mother of Jennifer Garner's character on the TV show "Alias."
While many guys undoubtedly were ogling Garner in her wig du jour and latex minidress, I was all about Olin. Garner is awfully pretty of course, but Lena (may I call you Lena?) who is over 50, is a lot like Stacy's mom. As the song says, she's got it goin' on. 
I am not alone. As part of People's "Most Beautiful People" list for 2007, released Wednesday, the magazine also published a list of "Beauties at Every Age." While the expected cast of twentysomethings is represented, Iman, Lorraine Bracco, Susan Sarandon, Isabella Rossellini, Jane Seymour and several other women are all over 50. 
Outward beauty is just part of the story, though, as the recent worship-fest over Helen Mirren proves. She was named one of People's most beautiful. And did you see the "60 Minutes" profile before the Oscars? Morley Safer was a smitten schoolboy. Did you see the number performed by Will Ferrell, Jack Black and John C. Reilly during the show? They wanted to take sexagenarian Mirren home, and I don't think they were completely kidding.
'I'd still go there'
Mirren is more than an attractive older woman. She has, well, oomph, a certain presence that defies age. Sophia Loren has this, too, and she is over 70. As "Lost" actor Josh Holloway commented in the March issue of ELLE magazine, "I saw Sophia Loren in a restaurant a couple of years ago and I thought, 'Wow, I'd still go there.'"
Go out on the vast online universe and you will see many, many lists of over-40 hotties. One of the most popular porn genres online is "MILF," which stands for Mother I'd Like to … ahem. There is even a growing "GILF" category, the "G" standing for grandmother. During my travels for the America Unzipped series on MSNBC.com, I met a few MILFs (one had left a job at Wal-Mart to become a full-time online MILF) and some of their fans. Men have told me they admire not only the women's looks, but a sense that the women have a confident sexual power and know how to use it.
But men are not just attracted by the obviousness of porn. Diane Lane, Halle Berry, Rene Russo, Pam Grier, Geena Davis, Sigourney Weaver, Meryl Streep, Ellen Barkin, Catherine Keener, the list of "older" women men admire goes on and on and we aren't attracted in spite of their age, we are attracted because of their age. (Goldie Hawn or Kate Hudson? Kate's a beauty, but, oh, Goldie.)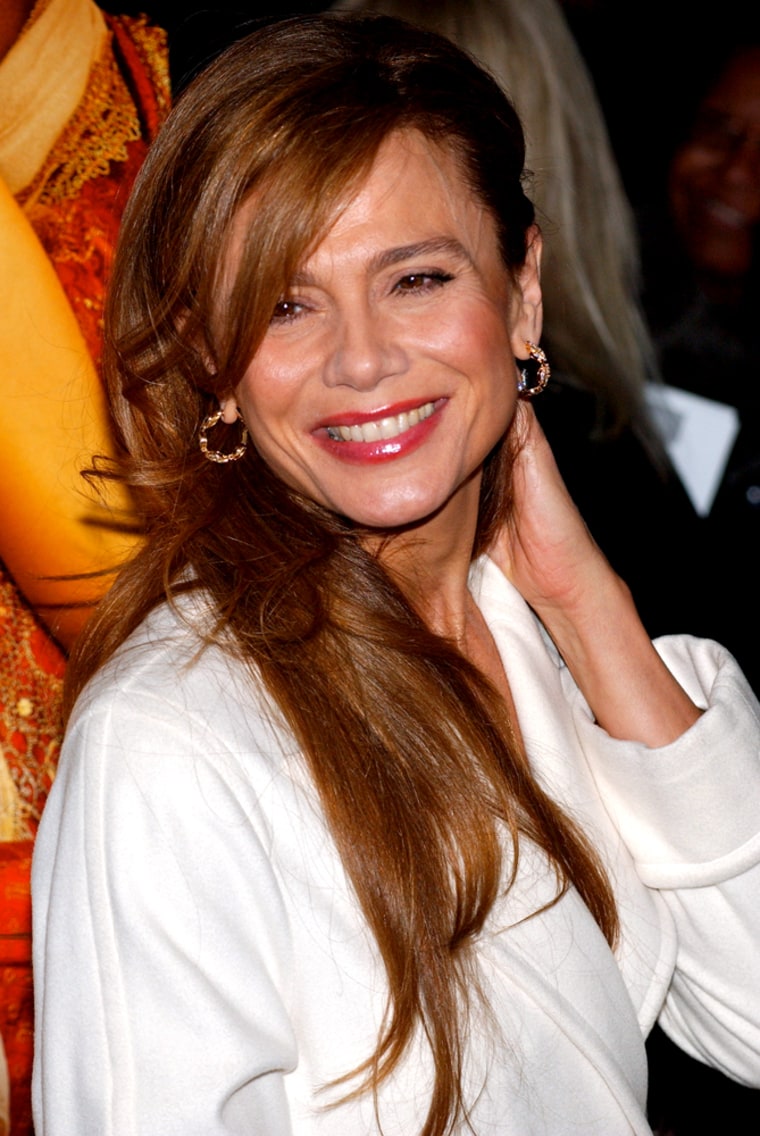 My own wife (yes, Lena, I'm sorry, it's true; call me, I can explain) who is, let's just say, somewhere over 30, has encountered this. While sitting in our car at the curb of a school, two high-school boys walked by, looked in and said "Whoa!" and then gave her a thumbs-up. 
Punks.
Is this trend for real? Yes, says Lois Joy Johnson, fashion and beauty director for More magazine. "There is a big secret that women are discovering after 50, which is that you can become more irresistible than ever without even trying," she says. "It has to do with confidence ... You are not holding back. You are relaxed, comfortable in your own skin. That is so refreshing."
Think a second. Can you possibly take Paris Hilton seriously? Or Lindsay Lohan or Britney Spears or Jessica Simpson?
I hear objections. Yes, Brian, but don't men salivate over Simpson's breasts? And how about Donald Trump, who trades the old model wife in for a new model the way other people trade in cars? To which I say, sure, guys like looking at Simpson's breasts. I do.
But could you see Simpson as part of the gang in the new "Ocean's 13"? Of course not. Barkin will be playing the smart babe, the kind of woman men want to hang with after we've looked at her breasts.
And yes, some men do trade in for young wives, often for complicated reasons, sometimes for ego. But there is no question that there is a new appreciation for the sexual allure of older women.
"I have definitely experienced that," fashion model Cindy Joseph, 56, tells me. After spending 23 years as a makeup artist, she was discovered by an agent in New York the very morning she had the last bit of colored hair clipped off her silvery mane. Now she is famous for it, in ads and catalogs for brands like Eileen Fisher. "I was approached on an airplane in Australia by a surfer about 25 years old who said, 'You rock! You are so amazing,'" she recalls.
Not your mother's middle-aged hang-ups
This is happening now, she speculates, because women hitting their 40s, 50s and 60s are not following the path of their mothers. Sexually speaking, "my mother's generation felt dried up and done at 50," Joseph says, because society told them they were. "Women are no longer accepting that. They are feeling more sexual and sensual than ever." So they project that enthusiasm and men drink it up. 
Joy Kozar, an assistant professor of marketing at Kansas State University who studies consumer behavior and the portrayal of older adults in media, agrees with Joseph to a point, but she thinks we are just beginning to see the shift.
Men have long been permitted to age and still be thought sexy. Sean Connery and George Clooney may be the most famous examples. This is just now starting for women, Kozar says. "I think it is sad that we are just now coming into a time when we are getting rid of this stereotypical notion that just because you age, you are indifferent or unconcerned with appearance or attractiveness. I think that we are starting to have this tremendous demographic shift in the U.S. and there really is a redefinition of what it means to be old."
Granted, there are plenty of aids available today that allow us to age more gracefully. Botox and more nuanced plastic surgeries can help turn back the hands of time. But it's not really just about looks, anyway.
For example, not every woman looks like Lena Olin, and not every woman wants or should expect to. While older women may not have the beauty of their 20s, that's not what people see when they watch Helen Mirren being interviewed. They see a saucy, smart, brash, funny woman. 
That is attractive to men no matter our age. As Joseph points out, "men have no fear of ownership or possession. There is no, 'Now we have to get married and have kids.' There have already been kids, so now you can enjoy pleasure. There are no rules."
Benjamin Franklin, wise in so many ways, knew all this more than 200 years ago.
In his famous "Old Mistresses Apologue," a letter ostensibly written to a younger man who wanted to avoid marriage, Franklin advised a turn to older women for sexual comfort "because as they have more Knowledge of the World and their Minds are better stor'd with Observations, their Conversation is more improving and more lastingly agreable … " And as far as old Ben — who was, let's face it, a rake — was concerned, an older woman could provide sexual pleasure at least on a par with younger women, and probably more.
More magazine's Johnson says something that rings true; that for all the beauty and freshness of younger women, many still have fears. Fear drives them to compete with each other and with the men in their lives for power, control, love.
When men admire an older woman, they see somebody free of all that. They see a friend, companion and a sexy adventurer.
Brian Alexander is a California-based writer who covers sex, relationships and health. Alexander, also a Glamour contributing editor, recently traveled around the country to find out how Americans get sexual satisfaction for the MSNBC.com special report