/ Source: The Associated Press
Wrigley, Cadbury, Mars and Nestle: It's hard to mistake the dominant presence of Western candies, gum and chocolates over Asian, and even traditional Chinese herbal candies, on display at the 7-Eleven store in downtown Beijing.
"Sales of Western candies and chocolates are much better," store manager Wang Peng said. "Dove and Nestle are the most popular here."
Most people in China prefer fruit as a dessert. But tastes are changing — driven partly by the desire of young people to adopt some Western customs — so many corner stores in bigger cities such as Beijing and Shanghai now carry chocolate bars.
Now, America's leading candymaker, The Hershey Co., is seeking to join its top competitors on more candy shelves in places like India and China as it makes a bid to expand its global presence.
In India, it already sells Hershey's chocolate syrup. In China, it also sells the syrup and a few of its chocolate products, but barely registers any market share.
Hershey has the largest stake in the world's largest candy market, the United States. But the fastest growth in the $137 billion global confectionery market is occurring in countries where people don't eat as much chocolate as Europeans or Americans. Confectionery sales are projected to grow more than 5 percent annually in the next five years in India and more than 6 percent in China, with growth in chocolate sales alone in China approaching 10 percent annually over that period.
For the Pennsylvania-based Hershey, that means looking for ways to cater to different tastes, such as offering its Reese's cups with almonds and hazelnut. It also means playing catch-up: With a head start of a decade or more, Hershey's top competitors have accumulated solid market shares while learning important lessons in areas ranging from distribution to pricing.
The century-old Hershey, synonymous with chocolate in the United States but relatively unknown abroad, must learn how to get products to shelves in countries where most shoppers buy from small family-owned grocers and street vendors.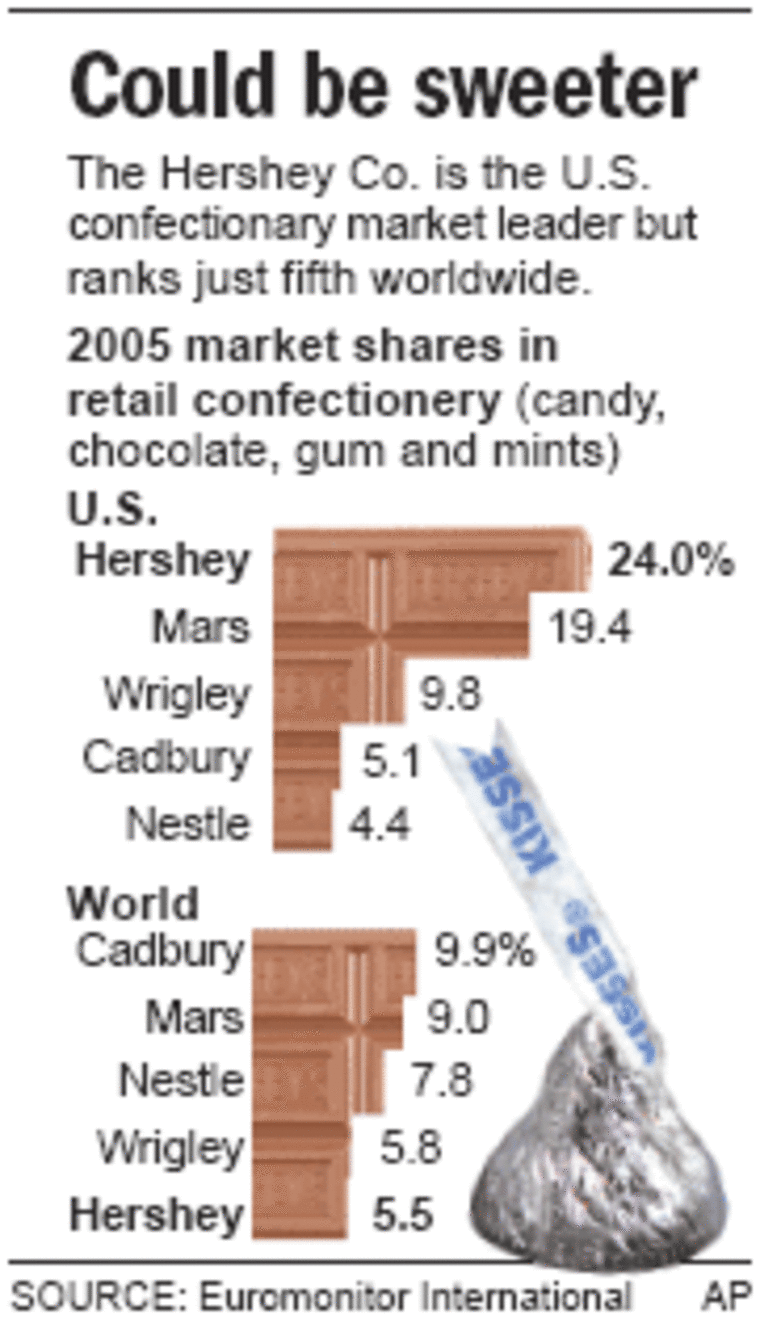 Hershey is promising to quickly capitalize on cheaper labor and materials by making products in China and India for the first time. But because the company will be unable to trade on its iconic status, analysts say it shouldn't expect to reap much profit from its expansion any time soon.
Major competitors — Wm. Wrigley Jr. Co., Nestle SA, Mars Inc. and Cadbury Schweppes PLC — have been heavily involved in the developing world since the 1990s, if not for decades longer.
London-based Cadbury Schweppes is the world's largest candy company by retail market share, according to Euromonitor International Inc. After nearly six decades of selling chocolate in India, it has five factories there and is India's leading candymaker.
America's second-biggest candy company, McLean, Va.-based Mars, rushed into Eastern Europe when the Iron Curtain fell. Amid the economic chaos in the former Soviet Union, the Snickers bar became one of Russia's top brands, according to data from Euromonitor.
Chicago-based Wrigley, which opened a factory in China in 1993, complained to American trade officials several years ago that the Chinese were violating the company's copyrights by selling pirated gum in the city of Guangzhou and driving the same distribution routes with lookalike trucks. Still, Wrigley's has nearly one-tenth of the confectionery market in China, Euromonitor data show.
Swiss food giant Nestle began distributing its candy in India in 1991 and built its first plant there in 1995. Varieties of its top brand there, the Munch bar, sell for the equivalent of 12 cents and a nickel, and helped the company learn a powerful lesson in a country where one in three people live on less than a dollar a day, said Stewart Dryburgh, the general manager of chocolate and confectionery for Nestle India.
"There's a huge market out there still to be tapped into if you make the product accessible from a price point," Dryburgh said.
To cut its labor costs and secure established distribution routes, Hershey has struck joint ventures with two companies — Godrej Industries Ltd. in India and South Korea's Lotte Confectionery Co., which has a factory in Shanghai.
In countries like China and India, retail distribution routes run like spider webs among tiny family-run groceries and street vendors where most people buy their food. The giant retail chains and merchandise warehouses that are Hershey's biggest customers in the United States are just starting to establish footholds.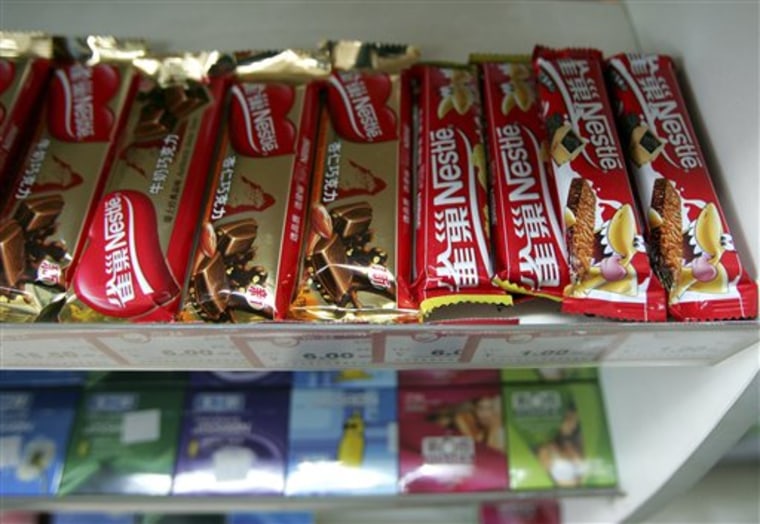 Late to the competition, Hershey's chairman and chief executive, Richard H. Lenny, defended the company's timing.
"India's and China's markets for chocolate are just beginning to show explosive growth," Lenny told The Associated Press after the company's April 17 annual shareholder meeting. "We view now as the time."
The company sees the establishment of local manufacturing and distribution presences as its biggest hurdle in places like China and India, Lenny said, having already worked to adapt flavors to match cultures. For instance, it introduced green tea Kisses in China last year.
But analysts said finding the right flavors to meet local tastes remains a major challenge.
"That's the first thing you've got to get over," said Leonard Teitelbaum, a Wall Street investment adviser who tracked the candy industry for about three decades as a Merrill Lynch analyst.
For those who succeed, the rewards could be sweet: Candy and chocolate sales are expected to grow much faster in developing nations than in the world's largest markets like Western Europe and the United States.
With annual sales of $28 billion, the U.S. retail market for candy, chocolate, gum and mints is projected by Euromonitor to grow at less than 2 percent a year.
"It's already hard to get Americans to eat that much more (candy) and they're already eating a lot and they're only getting older," said John McMillin, a Prudential Equity Group analyst.
It helps that stores and retailers in China have been promoting holidays like Valentine's Day to build sales, tapping into the appeal of Western culture.
The manager of the 7-Eleven in downtown Beijing said that when Valentine's Day approaches, "everyone at that time wants to grab a box of chocolate, no matter what brand."
Even though China, India and other developing countries have much lower candy consumption rates, they have a higher proportion of some of the biggest candy consumers — children and teenagers.
Chen Jingo's son is one of them, she said as she picked up a Ferrero Rocher chocolate from the 7-Eleven in Beijing.
"He loves it," she said. "But I like Dove more."