/ Source: The Associated Press
Firefighters made progress Wednesday against a wildfire blazing over Dante's View in the brush-covered hills behind the city's iconic Griffith Observatory. Animals at the nearby Los Angeles Zoo were moved indoors, and dozens of homes were evacuated.
The 800-acre blaze in sprawling Griffith Park was just one firefighters were battling across the nation. A wildfire in northern Minnesota had already destroyed 40 homes and buildings, and brush fires in Georgia and northern Florida have charred more than 200 square miles.
Griffith Park is a mix of wilderness, cultural sites, horse and hiking trails and recreational facilities set on more than 4,000 acres in the hills between Hollywood and the San Fernando Valley.
The threat to homes south of the park, where the fire erupted Tuesday afternoon, had eased and many of the hundreds of residents evacuated overnight were allowed to return Wednesday. However, fire officials warned that conditions could change.
"The canyons and those erratic winds are dangerous," fire Capt. Carlos Calvillo said.
Most of the Los Angeles Zoo's 1,200 animals were moved into holding quarters.
"So far the animals are faring fine," said Jason Jacobs, director of marketing and public relations for the zoo.
The fire destroyed Dante's View, a trailside terraced garden on Mount Hollywood, City Councilman Tom LaBonge said.
"This is a very sad night for Los Angeles," he said.
Blaze an apparent accident
The fire appeared to have been accidental, said Battalion chief John Miller, who oversees arson investigations.
On the East Coast, a wildfire in northern Florida's Bradford County had forced the evacuation of about 250 homes, said Annaleasa Winter, a state forestry spokeswoman. That fire had blackened 16,000 to 18,000 acres and was 20 percent contained.
Florida Gov. Charlie Crist said more than 200 fires that had charred a total of 78 square miles were active Wednesday in his state.
In southeastern Georgia, state officials issued a mandatory evacuation Wednesday for an area including the town of Moniac, saying that by early Thursday it may be in the path of a 107,000-acre blaze in the Okefenokee National Wildlife Refuge, the largest blaze in Georgia history.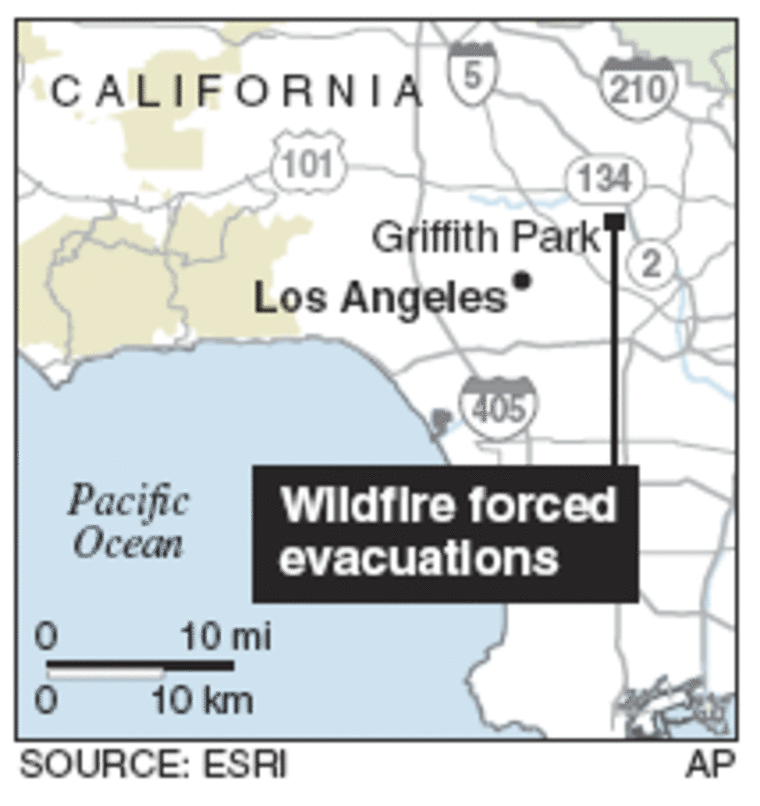 Another fire that started in Georgia crossed into Florida on Tuesday and threatened Taylor, a town with one store and no cell phone coverage, but Baker County Sheriff Joey Dobson said Wednesday that the wind appeared to have moved the blaze past the town.
Destructive Midwest fire
In the upper Midwest, a wildfire near the Canadian border in northeastern Minnesota had blazed across more than 34 square miles, adding more than 8 square miles since Tuesday, authorities said. It had destroyed 45 buildings, including multimillion-dollar homes, and firefighters said it was just 5 percent contained.
More than 100 people had been removed from homes in the path of the fire, and the Cook County Sheriff expanded the mandatory evacuation Wednesday farther down the scenic Gunflint Trail roadway.
Authorities said they believe it started at a campsite just outside the protected Boundary Waters Canoe Area.