Traveling for a business trip and forgot your cellphone charger? Need to print out a presentation for your morning meeting at 11 p.m. only to discover the business center at your hotel closed at 10? How about trying to work in your hotel lounge but getting no Internet connection?
We know you try to be productive when you're on the road. Unfortunately, hotels don't always cooperate.
Thankfully, that's changing. Think 24-hour business centers, free wireless in public spaces, and laptop and MP3 plug-ins to high-definition TVs.
"Hotels are now beginning to make sure they accommodate the tech needs of business travelers," says Joe Brancatelli, founder of the business travel site Joe Sent Me. "Five years ago, you wouldn't build a business-travel hotel without a two-line phone in the room, but who needs that anymore?"
Few people, apparently. Travelers, he adds, now want high-speed Internet access and the ability to talk on their cellphones.
If you get reception, that is. A common complaint among business travelers is that their cellphones don't work in all areas of their hotel. Not so at the Mandarin Oriental in New York. There, guests are assured of uninterrupted cell service, thanks to technology from an Innerwireless Distributed Antenna System, a system installed in the core of the hotel that allows for uninterrupted and universal cellular coverage. And if you forget your cellphone charger, you can tap the hotel concierge for a replacement.
No one needs to tell you that when you're working late to meet a deadline, nothing can be more infuriating than a business center that shuts down early. Hotel Indigo, a boutique hotel run by the Intercontinental Hotel Group, offers 24-hour business centers with free computer access in its 10 properties, including those in Atlanta, Chicago and Dallas. There's also free wireless throughout the hotel.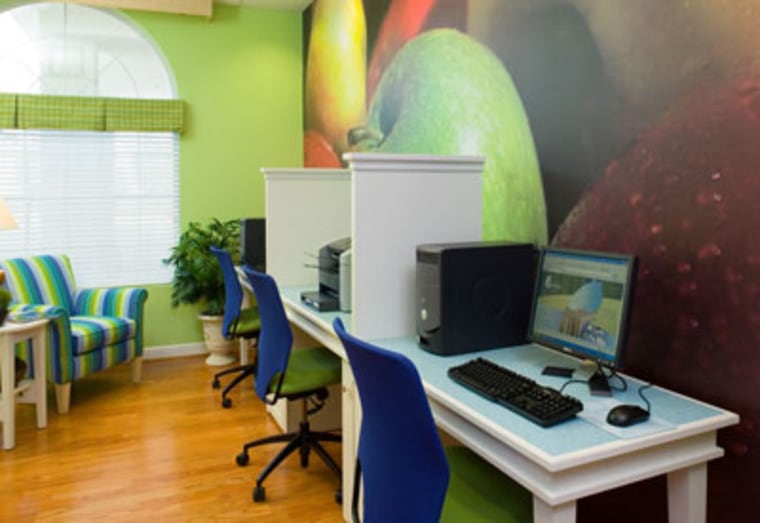 "What we offer is in line with what guests are telling us they want," says Jim Anhut, senior vice president of brand development for IHG. Specifically, "technology that travelers need to facilitate their business needs on the road rather than additional gadgets they won't use or already have."
Service (and we don't mean the cellular kind) is also improving. The St. Regis Hotel in New York has equipped its "butlers" with wireless devices such as BlackBerrys. Guests stuck in meetings can now e-mail their butlers, instructing them, perhaps, to change the evening's dinner reservations or retrieve a fax.
The downside to these improvements? You can no longer use the excuse that your hotel's lack of technology is the reason you didn't get your work done.