/ Source: The Associated Press
Saboteur bombers destroyed the two minarets of Samarra's Askariya Shiite shrine early Wednesday, site of a 2006 bombing that shattered its famous Golden Dome and unleashed a wave of retaliatory sectarian violence that still bloodies Iraq. Sunni extremists of al-Qaida were quickly blamed.
U.S. Defense Secretary Robert Gates, when asked Wednesday how concerned he was about the possibly the bombing could set off more sectarian violence, said that "I think we have to be concerned, given what happened 15 months ago after the mosque was bombed the first time."
"This would appear to be yet another effort by al-Qaida to try and prevent political reconciliation in Baghdad, in Iraq — to try and stoke sectarian violence," he said. "And my hope is that their intentions are so clear that people will refrain from violence because they understand that would just be carrying out what al-Qaida wants."
The repeat assault on a revered Shiite shrine immediately stirred fears of a new explosion of intra-Muslim bloodshed, and prompted the 30-member bloc of radical Shiite cleric Muqtada al-Sadr to suspend its membership in Iraq's parliament, threatening a deepened political crisis.
To try to ward off an upsurge in Iraq's unending violence, Prime Minister Nouri al-Maliki quickly imposed an indefinite curfew on vehicle traffic and large gatherings in Baghdad—at first set for 3 p.m. Wednesday, later delayed to 6 p.m.
Before the curfew took hold, arsonists set fire to a Sunni mosque in western Baghdad, police said.
The White House said U.S. officials in Iraq will use lessons from last year's bombing to try to contain any new wave of violence.
"It has all the marks of al-Qaida," said presidential spokesman Tony Snow, "in the sense that it seems clearly an attempt to inflame sectarian tensions. ... They're literally trying to blow up Iraqi democracy."
It wasn't clear how the attackers evaded the Askariya shrine's guard force to mount the stunning operation, detonating the blasts around 9 a.m., and bringing down the two slender golden minarets that flanked the dome's ruins at the century-old mosque. No casualties were reported in the attack.
Members of 'terrorist group' detained
Policemen at the shrine were subsequently detained and will be questioned as part of the investigation, al-Maliki said. Later, the Interior Ministry said members of "a terrorist group" had been arrested and were being interrogated. The statement did not elaborate.
In addition to ordering the curfew, al-Maliki's office said, the Iraqi leader met with U.S. Iraq commander Gen. David Petraeus and U.S. Ambassador Ryan Crocker to ask that American reinforcements be sent into Samarra, 60 miles north of Baghdad, and U.S. troops here in the capital be put on heightened alert.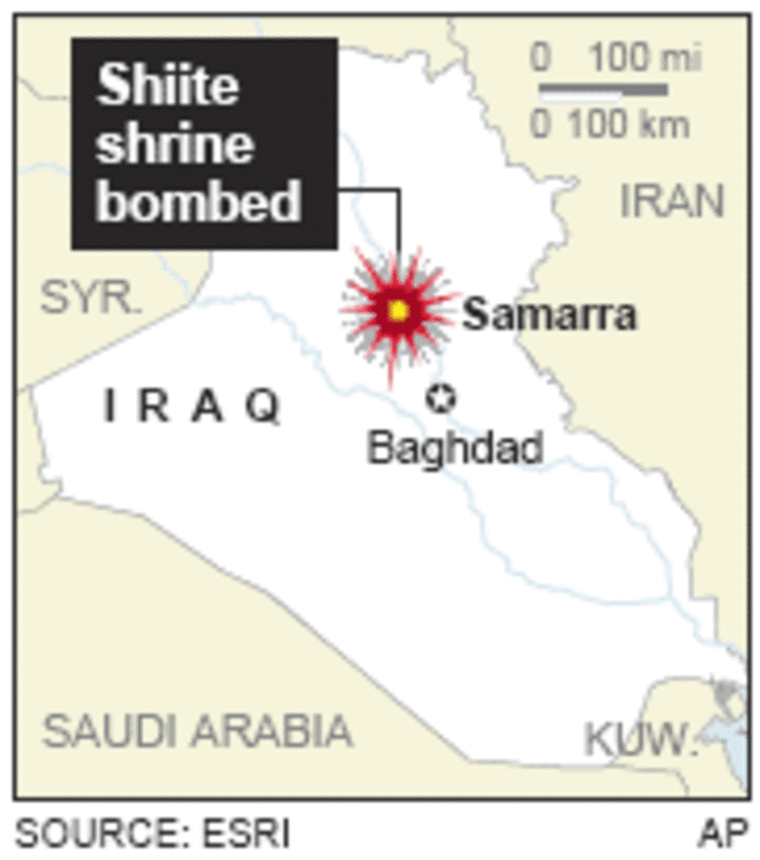 A few hundred U.S. soldiers are stationed around Samarra to provide security, though they rarely enter the shrine's perimeter and leave protection of the mosque to Iraqi forces.
The U.S. command had no immediate comment on military moves. Crocker and Petraeus later released a statement calling the attack and "act of desperation" and "a deliberate attempt by al-Qaida to sow dissent and inflame sectarian strife among the people of Iraq."
U.S. military spokesman Lt. Col. Christopher Garver said the command was "obviously very concerned about this and our primary goal is to prevent any violence of the kind that broke out after the last bombing."
Al-Maliki later, in a nationally televised address, said he had ordered security forces to beef up protection of religious shrines and mosques across Iraq. The Shiite prime minister also warned against reprisal sectarian attacks.
An official close to the prime minister, citing intelligence reports and speaking on condition of anonymity, said Wednesday's bombing was likely the work of al-Qaida, whose militants have recently moved into Samarra from surrounding areas.
'I couldn't see the minarets anymore'
The powerful blasts shook the town, sending a cloud of dust billowing into the air, said Imad Nagi, a storeowner yards from the shrine. "After the dust settled, I couldn't see the minarets anymore. So, I closed the shop quickly and went home."
Another resident, Abdul-Khali Mohammed, predicted violence in the capital: "The Shiite militias now will seize this opportunity to kill Sunni families in Baghdad."
Police in the shrine area began firing into the air to keep people away, witnesses said, and Iraqi army and police reinforcements poured in. The Interior Ministry said a national police force was ordered to move immediately to Samarra, said an Interior Ministry official.
There was almost no movement in the city by mid-afternoon, witnesses said.
In western Baghdad, however, Shiite militiamen carrying light weapons fanned out across Jihad, a mixed neighborhood in western Baghdad, police said. No violence was immediately reported.
In the neighboring Baiyaa area, smoke spewed from the windows of the Sunni Khudair al-Janabi mosque, which was about 75 percent gutted by flames, police and witnesses said. Police said insurgents pulled up in two cars, doused the mosque with gas and kerosine and fled. A sole guard escaped, and the mosque was empty.
The reaction was swift in Shiite-dominated southern Iraq. Black banners were hoisted outside the Najaf residence of radical cleric al-Sadr, who called for a three-day mourning period and peaceful demonstrations to mark the minarets' destruction and criticized the government for not doing enough to protect the site.
'The only enemy of Iraq'
He also said the U.S. occupation is "the only enemy of Iraq" and "that's why everyone must demand its departure," or a timetable for its departure.
Later, in Baghdad, the 30-member Sadrist bloc in parliament issued a statement saying they were suspending their membership in parliament in reaction to the attack, and will stay away from the 275-seat house until the government takes "realistic" steps to rebuild the Askariya shrine.
The action by the Sadrists, whose support for al-Maliki has recently waned, is likely to weaken the Shiite-dominated government and delay adoption of a series of laws needed to build national reconciliation in Iraq.
Iraq's top Shiite cleric, Grand Ayatollah Ali al-Sistani, released a statement calling on "believers to exercise self-restraint and avoid any vengeful act that would target innocent people or the holy places of others."
In neighboring Shiite Iran, which has been accused of funding and arming Shiite militias in Iraq, President Mahmoud Ahmadinejad blamed U.S. forces for failing to prevent the mosque attack, and threatened to halt regional cooperation to stop Iraq's spiraling violence.
The al-Maliki aide and other officials spoke on condition of anonymity, either because of the sensitivity of the matter or because they were not authorized to share the information.
Last year's surge in execution-style killings, largely blamed on Shiite militias, had begun to decline in Baghdad in February, at the start of a major U.S.-Iraqi security push to pacify Baghdad, but violence has been on the rise elsewhere in Iraq and the Baghdad numbers have begun to rise again.
'Precarious'
A United Nations report warned earlier this week that the "situation in Iraq remains precarious."
The Askariya shrine's dome was destroyed on Feb. 22, 2006, in a bombing blamed on Sunni Muslim militants believed linked to al-Qaida. The mosque compound and minarets had remained intact but closed after that bombing.
The Askariya mosque contains the tombs of the 10th and 11th imams—Ali al-Hadi, who died in 868, and his son Hassan al-Askari, who died in 874. Both are descendants of the Prophet Muhammad, and Shiites consider them to be among his successors.
The shrine also is near the place where the 12th imam, Mohammed al-Mahdi, disappeared. Al-Mahdi, known as the "hidden imam," was the son and grandson of the two imams buried in the Askariya shrine. Shiites believe he will return to Earth restore justice to humanity.
After last year's bombing, the mosque was guarded by about 60 Federal Protection Service forces and 25 local Iraqi police who kept watch on the perimeter, according to Samarra city officials.
In the immediate aftermath of that bombing, U.S. officials and others had promised to help rebuild the landmark dome, completed in 1905, but no rebuilding has begun.
Lingering effects
Iraq has been plagued by violence since the war started in 2003, but the carefully orchestrated 2006 explosion, in which suspected al-Qaida assailants wearing uniforms set off two bombs, touched a nerve. The bombing unleashed Shiite militias, who ignored appeals for calm and instead attacked Sunni clerics and mosques. Nearly 140 people were killed the next day.
In other violence Wednesday, a suicide bomber blew himself up at a police station near the Iranian border, killing five Iraqi policemen and wounding 10, the town's mayor said. In the western city of Ramadi, a suicide bomber killed four policemen at a checkpoint, police said.
In northern Iraq, militants blew up part of a bridge in the country's fourth bridge attack in as many days, police said.
The bombing targeted the Zikaytoon overpass southwest of Kirkuk, 290 kilometers (180 miles) north of Baghdad. The attackers planted explosives under the bridge, and the blast went off around 6 a.m., said police Brig. Sarhat Qader. No one was injured, Qader said.
The state-owned al-Sabah newspaper reported its editor-in-chief, Flayeh Wadi Mijdab, had been kidnapped. Unknown gunmen ambushed Mijdab in eastern Baghdad on Wednesday morning as he was heading to work, police said. His 25-year-old son and driver were left behind, police added.