It has been six weeks since the British parents of now 4-year-old Madeleine McCann left her and her 2-year-old twin brother and sister alone to sleep in a resort hotel bedroom while the parents ate dinner in a restaurant located about the distance of a football field from the children's bedroom.  Gerry and Kate McCann, both medical doctors, have told authorities that all three children were put to bed and that they "frequently" checked on the status of their children while they, the parents, were dining.  Gerry McCann says they last checked on the three infants at 9:00 PM and when he and his wife returned to the room at 9:45 PM, the patio door to the apartment was found standing open and a window was also open.  The twins were in their bed, and young Madeleine was missing.  She has not been seen since.

Many people have commented on the inappropriateness of leaving three children ages three and younger alone in a room, especially when baby sitters were available at the resort.  Forty-five minutes between checks does not meet my definition of "frequently" checking on young children in a strange environment, and police have questioned the parents regarding any possible role they may have had in their daughter's disappearance.  This is something akin to the questioning of John and Patsy in the murder of their young daughter, Jon Benet Ramsey, over 11 years ago, although the McCanns do not currently have the so-called "cloud of suspicion" over them that the Ramseys experienced.

Portuguese police, eventually supported by UK investigators, have a number of potential theories to explain Madeleine's disappearance, including the possibility she was kidnapped by either an international pedophilia network or an illegal adoption group.  By this, police suggest their opinion that were she to have been the victim of a stranger abduction, she would likely have been targeted by a group that may have identified and stalked her as a specific victim for a sexually related crime against a child, or that she may have been targeted, and again possibly pre-selected, as someone to kidnap and sell to a family seeking a particular kind of child to "adopt."  Alleged sightings of Madeleine have led police across Portugal into Spain, Switzerland and Morocco, plus other locations where a child that looked like Madeleine was observed, or in one case, where a telephone intercept picked up individuals speaking in Arabic talking about "the little blond girl," a German man and a ferry boat.

Initially police centered their attention on another citizen of the UK, in that case 33-year-old, one-eyed Robert Murat, who lived with his mother in a villa next to the resort from which Madeleine disappeared.  Murat came to the attention of investigators due to his identifying himself to media as the chief language interpreter between Madeleine's family, the media and the police, along with his statement that he had a daughter that looked like Madeleine who was in the care of his divorced wife.  Murat's home, vehicles, cell phone and computers were subsequently searched by police and his mother, his current girlfriend and his girlfriend's former husband have also been interviewed.  One media report indicated that Murat had child pornography and images related to bestiality on his computer, and that he had telephonic contact within an hour of Madeleine's disappearance with 22-year-old Sergey Malinka, a person Murat identified as a friend and IT person.  Coincidentally Malinka has also been identified as a convicted sex offender.

The crime scene investigation inside of the room from which Madeleine disappeared has yielded unidentified DNA.  Attempts to match the DNA to Madeleine's parents or to Murat have been unsuccessful to date, but again, it is a hotel room that has been used by other resort guests in the past.  Many other local residents and known kidnappers and pedophiles have also been looked at as potential suspects, but nothing has been found to date to lead to Madeleine.  Even a multimillion dollar reward for her return and almost 100 million hits on Web sites devoted to her disappearance have failed to produce anything other than dead end leads.  


As in any high profile missing person or kidnapping case, the kooks and wackos come out by the dozens, to include many self-proclaimed clairvoyants, psychics, and others claiming special powers and abilities to find Madeleine.  My experience is that the vast majority of such people are misguided at best, and fakes, frauds, cheats and liars at worst.  Interesting, of course, is the fact that the hoards of physics are providing different information -- evidently there is no "psychic clearing house" on the psychic friends' network to screen such paranormal fodder.

The latest information concerning this case came in the form of a letter, written in Dutch, to a Dutch newspaper providing information, to include detailed maps and directions, that when followed, would allegedly lead to Madeleine's body.  Unlike the case of the fact less information coming from the dozens of self-professed psychics, police were taking this information much more seriously.  This was due in part to the similarity between this recent letter and one received by the same newspaper last year, one that identified the location where the bodies of two missing Belgian girls, ages 7 and 10, presumed kidnapped in June of 2006, would be found.  Following information in that letter, the bodies of the missing girls were, in fact, located.  In such matters police look for similarity in phraseology, and found it in both letters through the duplicate use of the phrase "the presumable hiding place."  Authorities also noted the similarities between the handwriting found in the two letters, and in both cases the enclosed maps suggesting the body disposal sites were printed from the same Internet Web site.  In the current letter related to Madeleine, the indicated disposal site is close to the location of the resort hotel from which she disappeared. 

The problem here, like in the case of once suspected 1996 Olympic Park bomber Richard Jewell (noting that Eric Rudolph was eventually convicted of the bombing), is that the media came in droves to the indicated body disposal site, one where the letter indicated that Madeleine's body would be found "north of the road under branches and rocks, six to seven metres off the road."  Members of the media not only trampled all over the potential crime scene, but even brought their own search dogs in their quest to be first to find Madeleine or some clue related to her disappearance.

Police ultimately called off their search, either believing that the letter to be a sophisticated hoax perpetrated by someone with access to the letter from a year ago, or they have simply left the area, hoping the media will follow suit and leave, with the police then returning to complete their search unabated by the presence of the competing media.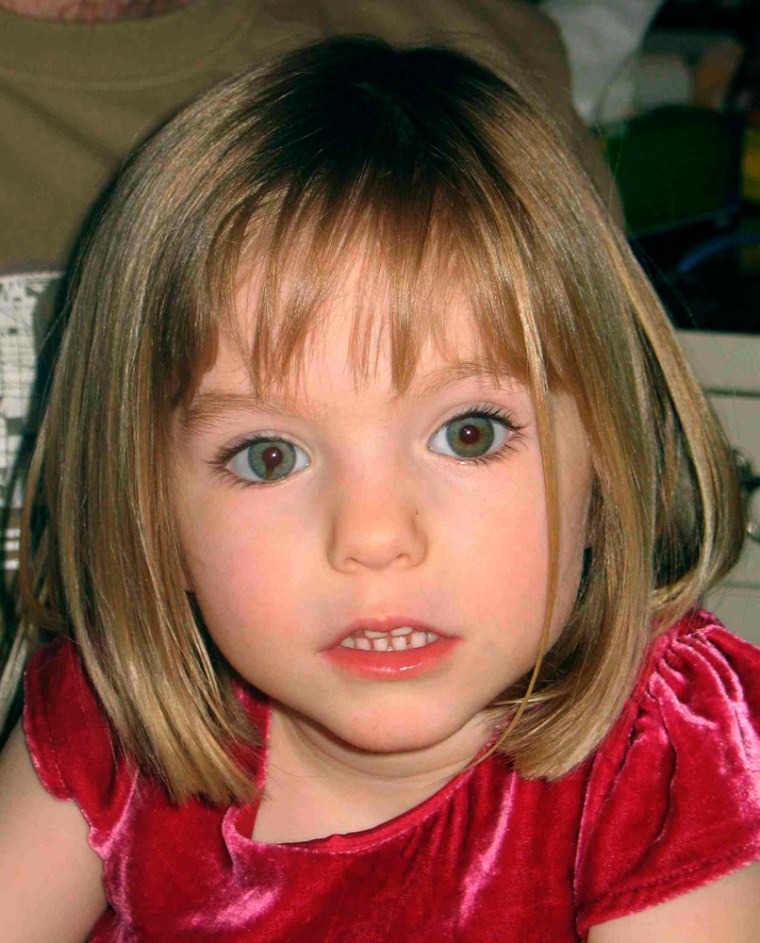 Should Madeleine have been the victim of kidnappers who have either kept, sold or otherwise passed her on to others, she is highly recognizable by the coloboma in her right eye, i.e., a dark line, something like the hour hand on a clock, that completely splits her iris at the 7 o'clock position.  You can change the color of her hair, you can change her clothing, but it would be almost impossible to alter the coloboma, something that the millions of Internet and television viewers know to look for in the right eye of any four-year-old girl that even remotely resembles Madeleine.

In the meantime Madeleine's parents will continue to seek help in recovering their daughter, this knowing full well that their leaving their daughter alone in that hotel room obviously contributed to the ability of an unknown kidnapper to steal their child.  I don't know how I could ever stand such a responsibility, but for now, they must keep focused on their ultimate goal, getting Madeleine back.  There will be plenty of time in the future for self incrimination.

Clint Van Zandt is a former FBI Agent, behavioral profiler and hostage negotiator as well as an MSNBC Analyst. His web site www.LiveSecure.org provides readers with the opportunity to obtain free security related information as well as a free copy of Clint's DVD, "Protecting Children from Predators," a valuable source of information as our children enter the summer months.