/ Source: The Associated Press
Sales of existing homes fell in June for a fourth consecutive month, further evidence that housing troubles are far from over.
The National Association of Realtors reported Wednesday that sales of existing homes dropped by 3.8 percent in June to a seasonally adjusted annual rate of 5.75 million units. That is the slowest sales pace since November 2002 and the decline was about twice what had been expected.
The median price of an existing home edged up to $230,100, 0.3 percent more than a year ago. The median is the point where half the homes sold for more and half for less.
It was the first price gain in 11 months. Analysts, however, said they were looking for prices to fall further because of the large number of unsold homes.
For June, the median price of a single-family home rose by 0.1 percent and the price of a condominium increased by 2.6 percent when compared with a year ago.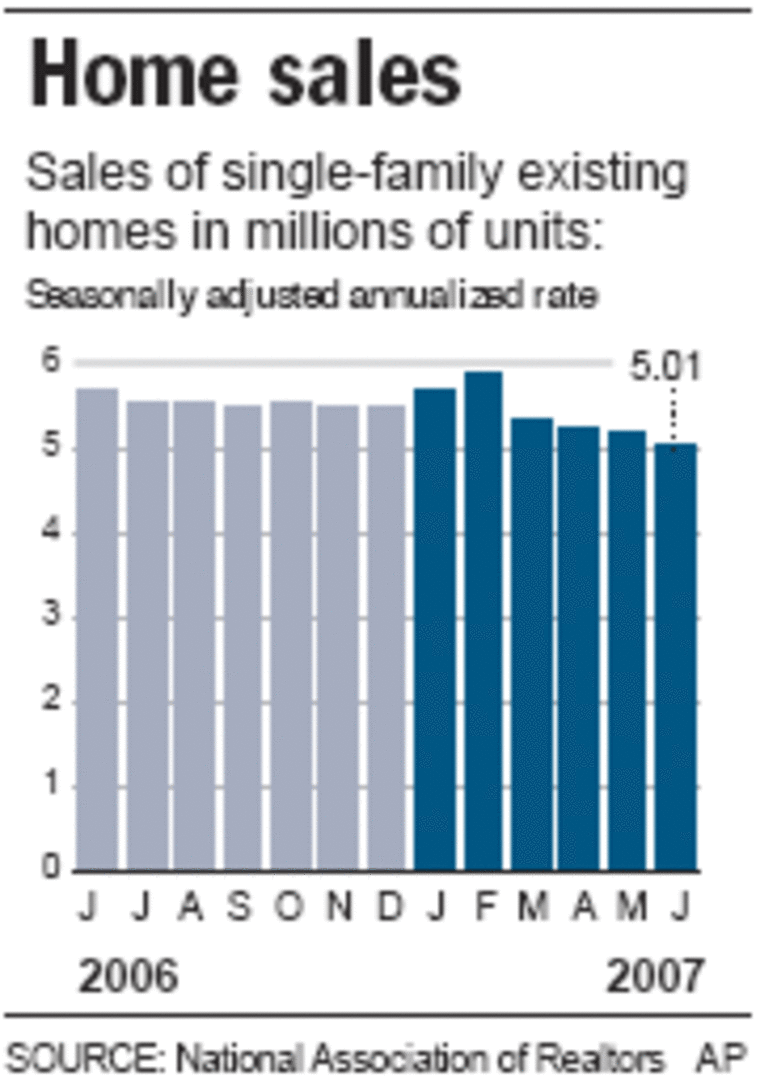 "With inventories still way out of line, unless prices fall a lot more, the housing market will not turn around any time soon," said Joel Naroff, chief economist at Naroff Economic Advisors.
On Wall Street, the Dow Jones industrial average, after a huge sell-off on Tuesday, rose 68.12 points Wednesday to close at 13,785.07.
In a separate report Wednesday, the Federal Reserve said the economy expanded in June and early July. But most Fed regions reported further declines in residential construction and real estate activity.
Fed Chairman Ben Bernanke, told Congress last week that he expected housing to be a less severe drag on growth in the coming months. Many private economists are not as optimistic. They note that existing home sales fell at an annual rate of 28 percent from April through June, the steepest in the downturn.
"Housing is contracting at an accelerating pace, taking out with a vengeance the brief stabilization at the turn of the year," said Ian Shepherdson, chief economist at High Frequency Economics, a private forecasting firm.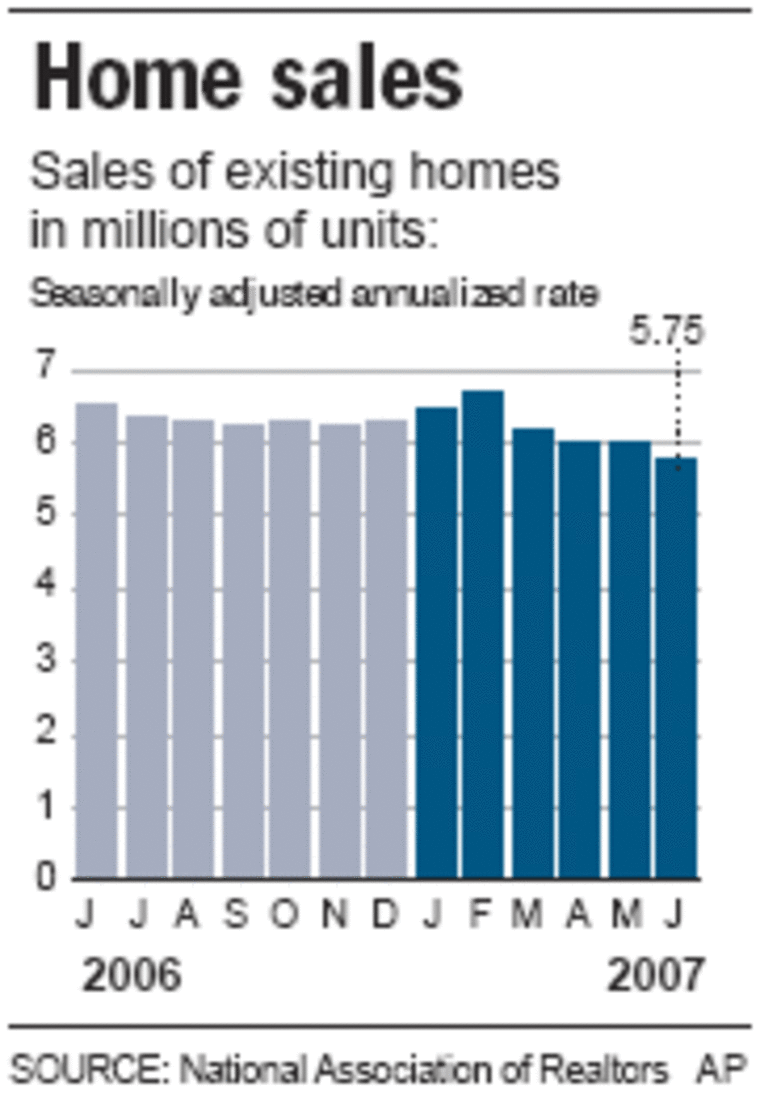 The housing slump follows five boom years when sales of new and existing homes set records and home prices soared at double-digit rates. Since late 2005, sales have slumped as mortgage rates rose and prospective buyers balked at selling prices.
Those problems have worsened in recent months because of troubles in the subprime mortgage market, which offered loans to buyers with spotty credit histories. Rising mortgage defaults are dumping more homes onto an oversupplied market.
Countrywide Financial, one of the largest mortgage lenders, reported a sharp decline in second-quarter profits because of an increasing number of loans going bad. That sent jitters through financial markets and led to a 226-point drop in the Dow Jones industrial average Tuesday. Investors are worried that the subprime lending market problems could drag down the economy.
Sen. Charles Schumer, presiding over a hearing of the Joint Economic Committee, said the default figures were "staggering and getting worse." The New York Democrat cited a forecast that as many as 2.4 million families may lose their homes because of the subprime crisis and that one in five subprime loans that originated in 2005 and 2006 are expected to go bad.
"These shocking figures are the result of widespread, systemic, irresponsible underwriting practices by too many unscrupulous brokers and lenders," he said. The committee heard from residents of a Cleveland suburb hit hard by foreclosures.
The declines in existing home sales in June covered all parts of the country. Sales fell by 7.3 percent in the Northeast, 6.8 percent in the West, 2.8 percent in the Midwest and 1.7 percent in the South.
David Seiders, chief economist of the National Association of Home Builders, said the unexpected weakness in recent months had caused him to shave his forecast for housing construction this year. It now shows a fall of 23 percent after a 14 percent drop in 2006.
Seiders said he sees only a 2 percent rise in 2008 and the weakness lasting longer than in previous housing dips.
The supply of unsold homes did drop by 4.2 percent in June, to 4.2 million units. That level, however, still was seen as a drag on the market. Some analysts said part of the decline occurred because disappointed owners pulled their homes off the market or opted to rent rather than sell.
"It appears that some buyers are looking for more signs of stability before they have enough confidence to make an offer," said Lawrence Yun, senior economist for the Realtors.
The Realtors are forecasting that sales of existing homes will fall by 5.6 percent this year and prices will drop by 1.4 percent. That would be the first annual price decline based on records that the Realtors have kept for more than four decades.