/ Source: The Associated Press
Dozens of Muslim protesters led by three lawmakers attacked an exiled Bangladeshi writer at the release of her book in southern India on Thursday, calling her "anti-Islam," and telling her to go back to her country.
About 100 people burst into the Press Club in Hyderabad, shouting insults at Taslima Nasrin and ransacking the place, throwing chairs in the air and overturning tables.
Organizers pushed them back, and Nasrin escaped unhurt. In the melee, one of the protesters slapped her, witnesses said.
The protesters belonged to the Majlis-e-Ittehadul Muslimeen political party in Andhra Pradesh state. Police detained nearly all the 100 protesters, including the three lawmakers, said N. Madhusudan Reddy, the deputy commissioner.
Denies promoting changes to QuranNasrin fled Bangladesh in 1994 when Islamic extremists threatened to kill her after an Indian newspaper quoted her as saying changes must be made to the Islamic holy book, the Quran, to give women more rights.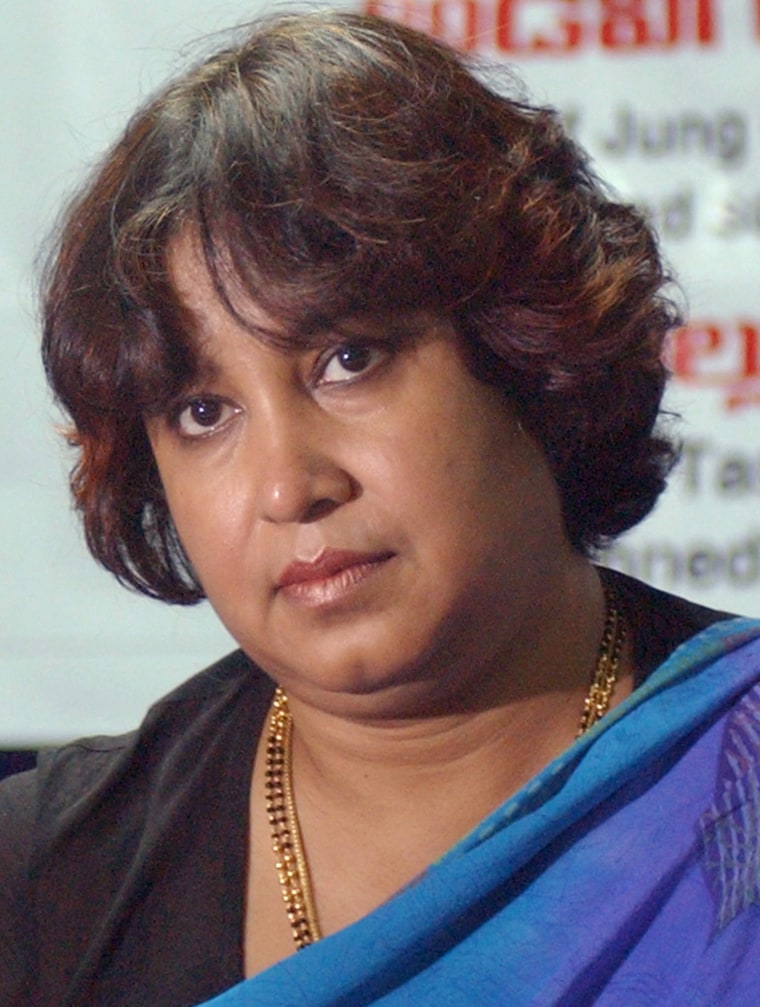 She has vehemently denied making the comments but still faces death threats from Islamic hard-liners in Bangladesh, where one of her books is banned.
"Our protest is against Taslima Nasrin because of her writings ridiculing Islam. We want the Indian government to send her back to Bangladesh," said Ahmad Pasha Quadri, one of the lawmakers.
Nasrin was in Hyderabad for the launch of her book "Shodh," or "Getting Even," in the local Teulgu language.
After fleeing Bangladesh, Nasrin lived in Sweden for several years and eventually moved to India. She has lived in Calcutta for the last two years and has applied for Indian citizenship or permanent residency status.
In 2004, the Bangladeshi government banned her Bengali-language book "Shei Shab Andhakar," or "Those Dark Days," for what it said were objectionable comments about Islam and the Prophet Muhammad.