Finally airborne after being grounded by red tape for more than a year, Virgin America is attracting advance bookings at a higher rate than the airline forecast prior to its inaugural service, according to CEO Fred Reid.
Virgin America's desire to set a new standard for U.S. domestic air travel at prices that are attractive to customers is producing advance bookings at levels that are promising and are "slightly exceeding" Virgin America's forecasts, he said.
The San Francisco-based airline is pinning its hopes of long-term success on high in-flight service standards, affordable pricing and a personal approach. Virgin America aims to offer its customers "amazing in-flight entertainment, great meal service and good wine," said Reid.
In-flight service in Virgin America's new Airbus A320s includes self-service mini-bars, live DISH satellite television, Internet access, movies, games and an on-board chat feature that enables passengers simultaneously to display television shows and a chat room on their seatback screens. The carrier calls its proprietary in-flight entertainment system "Red."
Like any airline, Virgin America has attracted service complaints. But they have been minor so far, said Reid. Some passengers have complained that the keyboard that allows seat-to-seat text chat is much too small, but Virgin America's decision to provide the feature has generally been applauded.
"I don't think we have any palpable weaknesses yet," said Reid. "We are suffering some growth pain — we have a few kinks to iron out in our in-flight entertainment service, some of the onboard systems and the food ordering. (But) everything is largely working well."
Virgin America intends to remain people-focused, said Reid. "We want to treat our guests the way we want to be treated. The people of Virgin America are by far our most important asset." The airline's major "strengths are the people, the attention to detail, the design, (and) the innovation in the product."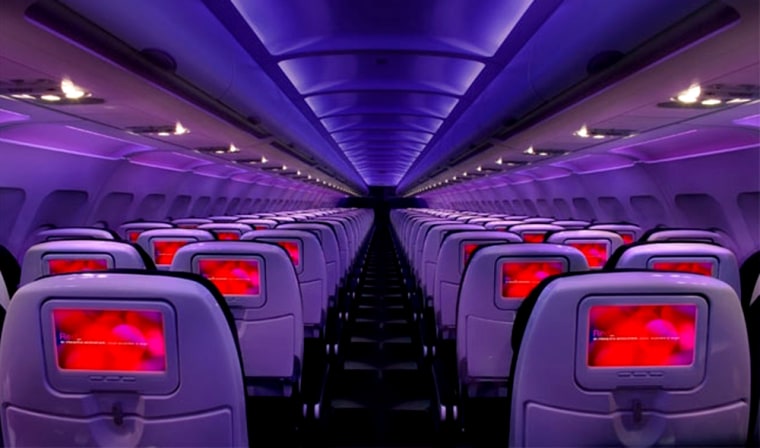 Another big plus is a jovial working atmosphere in Virgin America's workplaces and aircraft cabins, said Reid. He attributes this to Virgin America's "roots in rock music. Obviously not every flight is a party … we are very, very respectful of what people want to do. But we are trying to be a little bit festive and entertaining."
That said, the takeoff run to Virgin America's inauguration was anything but pleasurable for the airline's founders. Virgin America's inaugural services to San Francisco International Airport from Los Angeles and New York JFK on Aug. 8 represented the end of a grueling three-year gestation period that many in the air transport business thought it wouldn't survive.
Throughout those years, potential competitors — Continental Airlines in particular — repeatedly petitioned the U.S. Department of Transportation (DOT) to deny Virgin America permission to operate.
Continental complained that Virgin America's proposed ownership structure would allow foreigners (in the form of Sir Richard Branson's Virgin Group) a level of operational and financial control greater than the 25 percent allowed under U.S. law. The DOT determined there was enough substance in the allegations to deny Virgin America an operating license unless it made substantial changes.
Among other changes, the DOT required that Reid step down as Virgin America's CEO a few months after the airline inaugurated service. This condition remains and Reid will soon make way for a new CEO.
Although Virgin America ultimately was successful in taking to the skies, its inaugural flights immediately gave the carrier a taste of how difficult it can be to do business in the United States' crowded skies.
Hoping its first two flights would land simultaneously on San Francisco International Airport's parallel runways, Virgin America had to abandon the plan when bad weather prevented its flight from New York JFK from taking off on time. The inbound flight from Los Angeles landed on time, but the flight from New York landed nearly an hour late.
Nevertheless, the launch celebrations went ahead onboard and on the ground. Branson flew on the Virgin America A320 from New York and the two flights arrived to a red-carpet reception in San Francisco, along with cheering from a crowd of hundreds.
San Francisco Mayor Gavin Newsom commemorated the event by declaring Aug. 8 "Virgin America Day," to highlight the impact he expected Virgin America to have on the city.
The new airline has started small. It now operates five daily roundtrips between San Francisco and Los Angeles. Three daily roundtrips also operate between San Francisco and New York, with Virgin America introducing a fourth on September 9.
Later this year, Virgin America will also introduce New York-Los Angeles and Los Angeles-Washington Dulles service, as well as flights linking San Francisco with Washington Dulles and Las Vegas.
Seat pitch in Virgin America's economy-class cabins is 32 inches and in its first-class cabins 55 inches. Passengers in both classes are offered complimentary refreshments and meals, though alcoholic beverages and certain foods are not free.
Reid believes that, together with its low fares and its frequent flier program, further expansion of Virgin America's network will strengthen its following. The airline has already identified more than 40 additional U.S. destinations it is considering serving in the future as it adds aircraft to its fleet.
Virgin America has ordered 18 A320s directly from Airbus and has committed to lease 15 new A320s from GE Capital Aviation Services.
Reid hopes Virgin America's network eventually will extend throughout and beyond the United States. "I would like to see it very national in scope … (and) I'd like to see considerable service to Canada, Central America, Mexico or the Caribbean," he said.
The airline now employs about 500 people but hopes to grow to a staff of 5,000 within five years as Virgin America's network and services expand. A keystone of its growth strategy is to deliver a brand of service that offers features not provided by other low-cost carriers.
Reid's greatest hope is that, as his legacy as CEO, the public finds Virgin America's service "unique and innovative." The airline will "jump through rings of fire to make it better," he said.