For the past few years, it's been hard to turn on the television during the NFL season without seeing Peyton Manning — in a commercial. Whether encouraging a poor-throwing paper boy in a MasterCard spot or getting decked out as a mustachioed Peyton Manning fan for Sprint, the Indianapolis quarterback, on any given Sunday, has often pitched more products than touchdown passes.
But the Super Bowl MVP, entering his 10th NFL season, is facing some upstart competition in the commercial category. From underneath his blue cap, Manning will be able to view the rising star from the Colts' sideline during the NFL opener Thursday night, when his team's defense will try to halt a young sensation — New Orleans running back Reggie Bush.
Elusive as can be on the field, Bush has been an easy catch for marketers off it. Poised to begin his second pro season, he is already becoming a strong force in the endorsement field, having landed in the top 10 of marketing income among nearly 1,700 NFL players. He has already filmed commercials with soccer star David Beckham and the once-hefty Jared from Subway while appearing in a half-dozen other ad campaigns, from Pepsi to Adidas. Though Manning is the unparalleled marketing king in pro football these days (and is likely to remain so until he retires), Bush could be a solid No. 2 by the time he's 25.  
"He's got just about everything you need to be successful (in marketing)," says Scott Sanford, senior client director at Davie Brown Talent, a branch of The Marketing Arm in Dallas. "He's perceived as a good person. He's got the ball in his hands, he's a playmaker, he's flashy."
According to the Davie Brown Index, which helps firms quantify which celebrity is the best fit, Bush is recognized by about 40 percent of U.S. consumers — close to the rating achieved by Green Bay veteran quarterback Brett Favre, who has appeared in two Super Bowls. Despite such advantages, Sanford points out that Bush has a ways to go to reach the upper echelon of NFL endorsement income.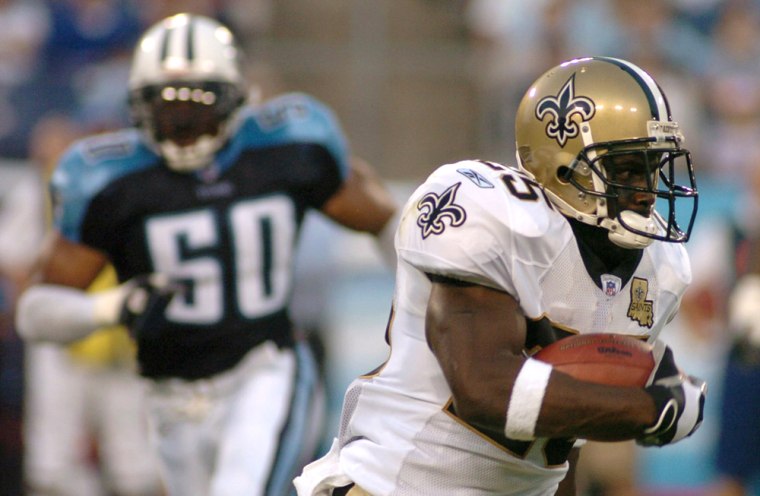 "It will take some exceptional years to break into the top five," he said. "He's there in name recognition, but he needs the success. He needs to compete for a rushing title."
His rookie statistics were pedestrian (3.6 yards per carry and six touchdowns) in part because he was sharing time with Deuce McAllister, but it's his explosiveness, potential and charm which engage marketers. He leapt over defenders and captivated fans while helping the University of Southern California reach two national championship games. He has helped New Orleans forget the pain of Hurricane Katrina, both through his moves on the field and by his charitable hand off it.
Though players' endorsement income can be hard to ascertain, Sports Illustrated in 2006 reported that Manning made about $11.5 million a year, with New England quarterback Tom Brady on his heels at $9 million, thanks to deals with Nike and Visa, among others. (Another QB, Atlanta's Michael Vick, has dropped from the marketing scene altogether, though he made millions annually before pleading guilty to a federal dogfighting charge.)
Bush's slew of deals has been reported to be worth tens of millions over the life of their contracts, more than any other running back in the league can claim, and he's probably making low seven figures a year at the moment. That will jump in the future for a few reasons:
He has already helped turn the once-putrid Saints — who made the NFC conference championship last season after years of mediocrity — into a winner, a huge plus because marketers rarely call on woebegone franchises.
Despite controversy (an alleged rent-free housing deal he received while playing at USC was made public before the 2006 draft), Fortune 500 companies have still embraced him.
His popularity among fans is sky-high. His No. 25 jersey was the NFL best-seller last year.
Not only that, the former Heisman Trophy winner has already joined forces with the best in the business. He appears these days with Manning in an NFL Kickoff commercial. A full-page ad in USA TODAY has promoted the duo.
"It's easy to play second fiddle to Peyton Manning," Sanford said. "It's not a bad move to put yourself alongside him."
Bush won't be near Manning on the field Thursday, unless they cross paths during a turnover. But when a player has chalked up more ad campaigns than touchdowns at age 22, as is the case with Bush, he is definitely poised to approach Manning's success off the field.
David Sweet, a sports business writer in the Chicago area, can be reached at dafsweet@aol.com.