/ Source: Forbes Traveler.com
Hanging by her fingertips, feet splayed on slick stone, Lynn Hill reached high to feel the small holds above her head. Her calves were tight. Forearms arched. A rope trailed from her harness, arcing out over thousands of feet of air below.
It was 1994, and Hill, a legend in her sport, was maxed out high on El Capitan in California's Yosemite Valley, where a sheer 3,000-foot route known as is widely considered the archetype of all rock climbs on the planet.
Hill clung nearly upside down, gravity's tug taking firm hold on a difficult section dubbed The Great Roof. "It was touch and go there," she said of the overhanging pitch, which juts out from El Capitan's precipitous face. "The holds were very small and insecure."
After a 23-hour push, Hill completed her climb of The Nose that day, becoming the first person—male or female—ever to free climb the route.
Climbers like Hill—now 46 years old and a resident of Boulder, Colo.—live for harrowing moments on vertical stone, fingers wrenched in a crack, feet oozing off polished walls, mind and body pushed to the limit. Indeed, in the outdoors few activities rival the sheer adventure quotient of a great rock route.
For this story we polled Hill and ten additional stars of the vertical world to create a list of the 10 best rock climbs in the U.S.
Take the , a climb in Colorado's Rocky Mountain National Park, recommended by pro climber Will Gadd of Canmore, Alberta. This 1,000-foot-long rock climb—which took spot No. 3 on our list—follows a series of vertical cracks up 14,259-foot Longs Peak. "It's remote and beautiful, just a stunning line up an impossible-looking face with a fantastic position the whole way," Gadd said.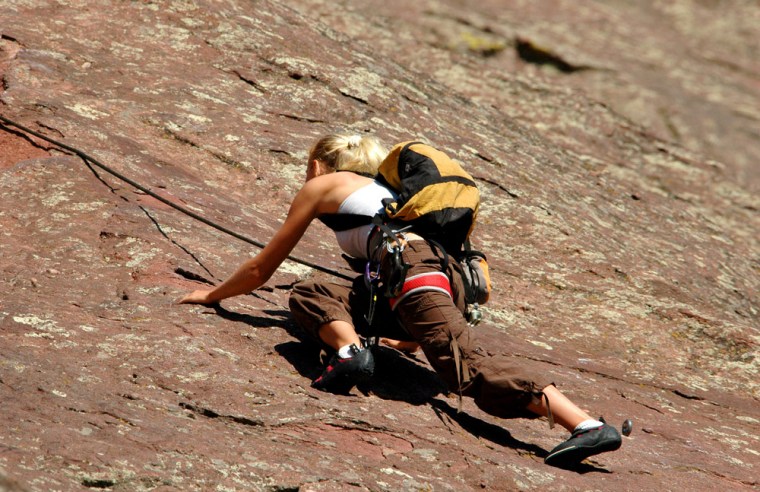 Like Longs Peak, the formation in Idaho's Sawtooth National Forest is a remote alpine face laced with climbs. Peter Metcalf, CEO and co-founder of the climbing gear company Black Diamond Equipment Ltd., recommends taking a mix of two expert-level routes—the Becky Route and Fine Line—to the top. "The rock is some of best mountain granite in the country," he said.
Not all climbs on the list are in the mountains. Duane Raleigh, the editor and publisher of Rock & Ice magazine in Carbondale, Colo., picked a granite face in Oklahoma: Amazon Woman, as the route is called, takes a stark line up Quartz Mountain, an outcrop on the rolling Great Plains in the western part of the state. "The cliff rises 200 feet straight out of a farmer's wheat field," said Raleigh.
Sport climbs, which are short, gymnastic-oriented routes, were picked by climbers like Alli Rainey and Sonnie Trotter, young sponsored athletes respectively from Ten Sleep, Wyo., and Canmore, Alberta.
Trotter's favorite route, an expert's-only crack called , heads skyward through 140 feet of overhanging terrain.
Its rating—5.13d R—qualifies it not only as extremely difficult, but also extremely dangerous. "I took a monster 60-foot fall during my attempts," said Trotter, whose rope caught him several feet above the ground, escaping unharmed.
Other climbers surveyed—including Jack Tackle, a guide from Victor, Idaho; Timmy O'Neill, a pro climber from Boulder, Colo.; expedition climber Jared Ogden of Durango, Colo.; pro climber Kevin Thaw of Joshua Tree, Calif.; and climbing legend Michael Kennedy of Carbondale, Colo.—picked routes in Oregon, California, Colorado, and Idaho.
The routes, which range from classic beginner climbs to experts-only epics, represent some of the best vertical lines this country has to offer.