/ Source: The Associated Press
Mattel Inc. tried to save face Friday with Chinese officials, taking the blame for the recent recalls of millions of Chinese-made toys as it strives to mend a strained relationship with the nation that makes most of its toys and fattens its profit.
The world's largest toy maker sent a top executive to personally apologize to China's product safety chief, Li Changjang, as reporters and company lawyers looked on.
"Mattel takes full responsibility for these recalls and apologizes personally to you, the Chinese people, and all of our customers who received the toys," Thomas A. Debrowski, Mattel's executive vice president for worldwide operations, told Li.
The unusual move reflects how invested El Segundo-based Mattel has become in China.
"Mattel certainly must have been facing some pressure to do that, because you can't imagine why they would be trying to push this story along any further," said Eric Johnson, a professor of operations management at Tuck School of Business at Dartmouth College.
He suggested Mattel may want to prevent China from imposing more taxes or regulations.
"China's embarrassment in all this could lead to that, and I think they were trying to head that off with this apology," Johnson said.
Peter Navarro, a business professor at the University of California, Irvine, and the author of "The Coming China Wars," also suggested Mattel was trying to avoid punitive measures.
"Mattel is worried that the Chinese government is going to make it difficult for them to produce, put their costs up and hurt their stock price," Navarro said.
In a prepared statement issued later Friday, the company said some media accounts of its meeting with Chinese officials had been mischaracterized.
"Since Mattel toys are sold the world over, Mattel apologized to the Chinese today just as it has wherever its toys are sold," the company said.
Mattel stock has fallen from the mid-$23 level following the first recall in early August to a low of $20.97 on Sept. 10. Shares have since rebounded, increasing 38 cents, or 1.6 percent, to $23.94 on Friday.
The apology came ahead of an expected visit to China by Mattel's Chairman and Chief Executive Robert A. Eckert. The timing of the trip has not been announced.
Mattel ordered three high-profile recalls this summer involving more than 21 million Chinese-made toys, including Barbie doll accessories and toy cars because of concerns about lead paint or tiny magnets that could be swallowed.
Mattel previously said many of the toys were recalled because of design problems. It also said certain vendors in China or their subcontractors violated Mattel's rules by failing to use safe paint or to run tests on paint.
On Friday, Debrowski acknowledged that the "vast majority of those products that were recalled were the result of a design flaw in Mattel's design, not through a manufacturing flaw in China's manufacturers."
Lead-tainted toys accounted for only a small percentage of all toys recalled, he added.
In a statement issued later, Mattel said its lead-related recalls were "overly inclusive, including toys that may not have had lead in paint in excess of the U.S. standards."
"The follow-up inspections also confirmed that part of the recalled toys complied with the U.S. standards," the statement said, without giving specific figures.
In Beijing, Debrowski said, "we understand and appreciate deeply the issues that this has caused for the reputation of Chinese manufacturers."
Li upbraided Mattel for maintaining weak safety controls and reminded Debrowski that "a large part of your annual profit ... comes from your factories in China."
"I really hope that Mattel can learn lessons and gain experience from these incidents," Li said, adding that Mattel should "improve their control measures."
Since the recalls, Mattel has announced plans to upgrade its safety system by certifying suppliers and increasing the frequency of random, unannounced inspections. It has fired several manufacturers.
Chinese food, drugs and other products ranging from toothpaste to seafood are also under intense scrutiny because they have been found to contain potentially deadly substances.
On Friday, the Consumer Product Safety Commission said about 1 million Simplicity and Graco cribs were being recalled after three children became entrapped in their cribs and died of suffocation. The products were made in China.
China has bristled at what it claims is a campaign to discredit its reputation as an exporter. It accuses foreign media and others of playing up its product safety issues as a form of protectionism and has stepped up inspections of food, drugs and other products in response to the concerns.
Manufacturing toys in China has helped Mattel and other U.S. companies lower manufacturing and labor costs, helping boost profits.
Mattel established a presence in China 25 years ago and now makes about 65 percent of its products there. More than 80 percent of all toys sold in the U.S. are made in the Asian nation.
Mattel's apology garnered praise from some parents, including Arianna McRoberts, 41, of Los Angeles, the mother of two boys, 7 and 14.
"It's unfortunate China got the bad rap, but I also think China needs to pay attention a little more carefully to their standards so they comply with American standards," McRoberts said.
Johnson said the staging of Mattel's apology as a public event was telling.
"This was all about saving face, which is very important in the Chinese culture," he said.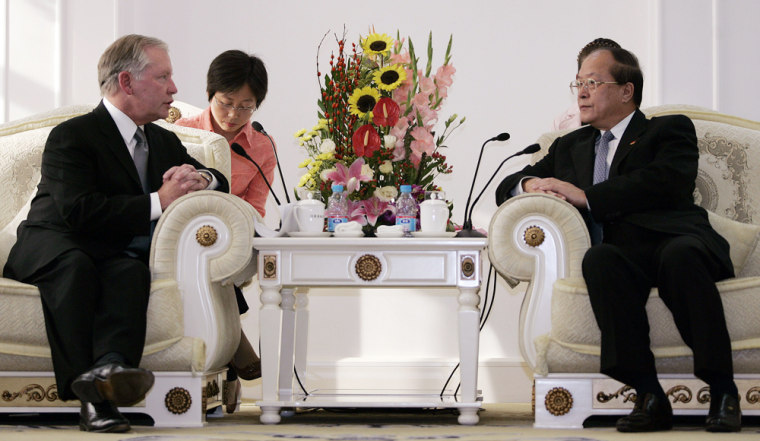 The mea culpa could help reshape the debate surrounding Chinese-made toys.
New research from two business professors shows that recalls due to problems with the designs of U.S.-based companies accounted for about 76 percent of the 550 U.S. toy recalls since 1988.
The report was released earlier this month by Paul R. Beamish, an international business professor at Canada's University of Western Ontario, and Hari Bapuji, business professor at University of Manitoba's I.H. Asper School of Business in Winnipeg, Canada.
It found that recalls blamed on design problems and manufacturing defects, such as lead paint or poor craftmanship, both rose in the past two years as U.S. makers have shifted more of their production to China.
But they noted that, "if shifting manufacturing to China resulted in poorer quality goods, then the number of toys recalled due to manufacturing should be greater than the number recalled due to design."
The report said that was not the case.
"Nobody gets a free ride on this," said Beamish, arguing that toy makers' obsession to quickly get new products to market before they are widely copied has resulted in a lot of cost-cutting and inadequate testing.