/ Source: The Associated Press
State workers on Tuesday began pouring a toxic chemical into a lake nestled in the mountains of the Sierra Nevada as part of California's decade-long effort to exterminate a predatory northern pike.
A fleet of 25 boats set out on Lake Davis near Portola in what now amounts to the state's most expensive battle to date against an invasive species.
More than 500 officials with the state Department of Fish and Game are pouring 16,000 gallons of the fish poison Rotenone into the 7-mile-long lake and its tributaries. Several hours after they began Tuesday, dead fish were already washing up on the shore.
"We felt we really want to make sure we got those guys," said Department of Fish and Game spokesman Steve Martarano.
If left alone, biologists say, the toothy northern pike could take over Lake Davis and possibly escape to the Sacramento River system, devouring trout and salmon all the way to San Francisco Bay.
It is the second time the department has poisoned the lake, a nationally known reservoir for trout fly fishing in the Sierra Nevada back country about 150 miles northeast of Sacramento.
California first poisoned Lake Davis in 1997 but pike reappeared 18 months later, either reintroduced illegally by a rogue angler or having survived the first poising attempt.
This time, wildlife officials are using a new formulation of liquid Rotenone, an aquatic insecticide that has successfully killed northern pike in other reservoirs. They also have mapped out the area with global positioning technology, Martarano said.
Department of Fish and Game officials treated 137 miles of streams and tributaries in the area the week of September 10.
Wildlife officials have tried overfishing, nets, electric shocks, traps, even explosions to try to kill off the pike population in the last seven years, which nonetheless has exploded and threatens the lake's trout.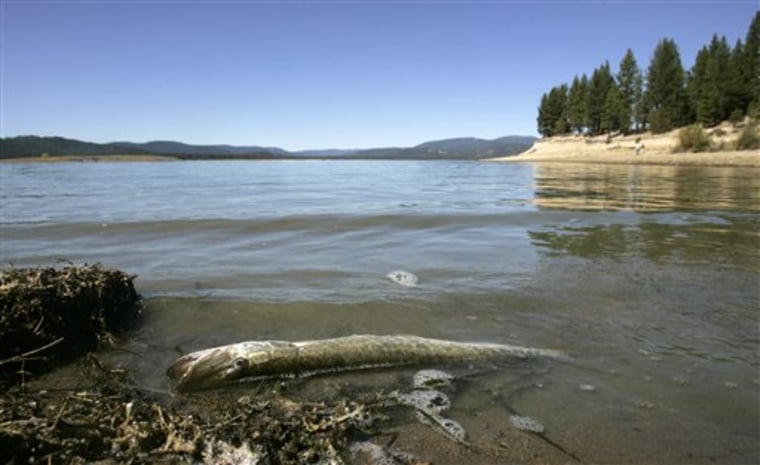 The pike — which are native to the Midwest and Canada — typically grow to weigh about 55 pounds. For every pound, the pike spawns 10,000 eggs, according to state wildlife officials.
"We've taken 65,000 pike out and it hasn't made an impact," Martarano said. "Now we just have to hope we get all the pike, which we're pretty confident we will."
The state has spent about $20 million on pike eradication efforts in Plumas County since 1989, when the fish were first discovered and successfully removed from Frenchman Reservoir, east of Lake Davis. This latest effort is expected to cost up to $16 million.