Spending $150 on a meal might seem steep for some.
At Masa, the sushi temple in Manhattan's Time Warner Center, it's merely the cost of canceling your dinner reservation last-minute.
Should you dine, plan to shell out a minimum of $500.
Costly, for sure. But the $400 prix-fixe dinner at Masa is comprised of about 25 courses. That doesn't include tax or the automatic 20 percent gratuity—kaching! Nor does it cover a beverage. The least expensive sake on the menu is the Otokoyama Momenya. An eight-ounce pour costs $24.
Expensive eats
The restaurant is the most expensive in New York City (even Per Se down the hall in the posh mall seems affordable by comparison). But not compared to other food capitals like Paris or Tokyo.
At Aragawa in Tokyo, you'll pay Masa's prix-fixe for an eight-ounce piece of Kobe steak from a sake-fed Wagyu cow that's been massaged more than a Beverly Hills heiress.
While Tokyo may have the rest of the world beat in the "costliest cut" category, it's third to London and second to Paris when it comes to the most expensive city in which to dine. The average dinner guest check in the U.K. capital, according to the 2008 Zagat survey, tops $79 per person.
An evening meal in Tokyo and Paris will, on average, set you back $70 and $74, respectively, and just $39 in New York.
But Tokyo still has London beat in the "average-price-per-person at its 20 most expensive restaurants" category: $205, vs. $178 in London. That's about what you'll pay at places like the Restaurant Gordon Ramsay, where the seven-course tasting menu is $224—and climbing.
Behind the numbers
In scouring the food capitals of the world to find their priciest restaurants, we based our list on entrée prices and, in most cases, we looked for the least expensive bottle of wine (or sake) to gauge the bare minimum one might be expected to fork over for alcohol.
In some cases, as in Tetsuya's in Sydney or L'Arpege in Paris, the degustation menu is the only dining option, and can set diners back several hundred dollars.
At others, entrées alone fetch $40 to $50 and beyond.
Tom Colicchio, Bravo's "Top Chef" lead judge, blames these soaring prices on "center of the plate" costs, or pricey ingredients.
"People who know food and dine out a lot," he says, "understand that."
The ingredient-driven chef has been known to fly produce from the Santa Monica Farmers Market in California to his Craft restaurant in New York. At Craft, where you mix and match your own meal, an entrée can easily come to $50 or $60 by the time you factor in a starch and a vegetable that might have traveled via FedEx.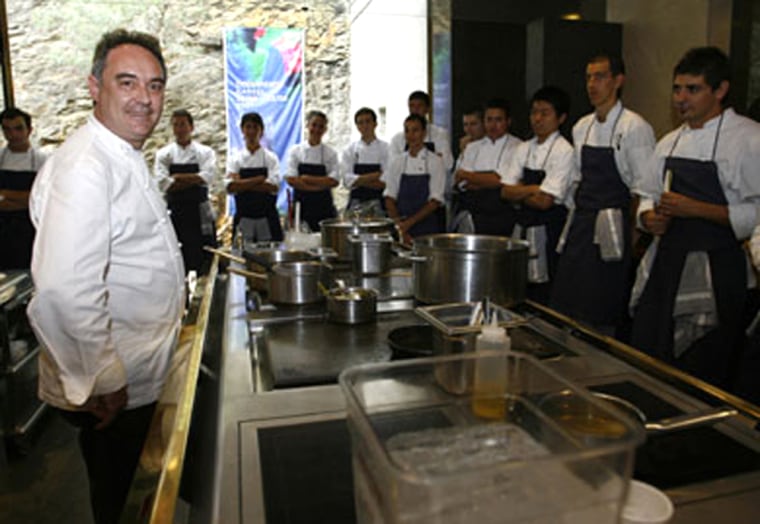 Bret Thorn, food editor at Nation's Restaurant News, says it's interesting and a little ironic that restaurant prices have been creeping up at a time when formality is on the wane.
Thorn says U.S. diners can blame, in part, rising fuel costs, which also spike the cost of shipping a sea urchin from Tokyo. Soaring real estate prices are also at fault.
Proteins have gotten more expensive stateside because of the nation's corn supply being diverted toward ethanol, thereby driving up the cost of animal feed.
But prices are also going up here and everywhere, says Thorn.
That's because "people have shown they are willing to pay it," he says. "For the past century and a half, we in the United States and in the U.K. have disdained food. Now that we've 'discovered' it, we're kind of losing our minds over it."
Clearly. Those willing to pay dearly (about $300) for an over-the-top dining experience head to El Bulli, Ferran Adria's famously experimental restaurant in Catalonia. It's already booked through the 2008 dining season.
And good luck getting a reservation within two months at The French Laundry, or Alinea, where the 24-course "culinary journey" menu ($195) has obtained cult status.
But with a weakening U.S. economy expected to worsen, will diners shy away from such pricey tabs?
No, says Thorn. In times like this, these very high-end restaurants are even more appealing to people of moderate means.
"You might be more likely to spend on a little luxury," he says, "like going to a great restaurant, than going on a vacation say, to Italy."