/ Source: The Associated Press
O.J. Simpson firmly pleaded not guilty Wednesday at his arraignment on charges of kidnapping and armed robbery of two sports memorabilia dealers.
Simpson stood and entered his plea before Clark County District Court Judge Jackie Glass, who will preside at his trial along with co-defendants Clarence "C.J." Stewart and Charles "Charlie" Ehrlich.
Ehrlich and Stewart also entered pleas of not guilty, and a trial date was set for April 7, 2008.
Twelve charges were lodged against the trio two weeks ago after a justice of the peace held a preliminary hearing and determined there was enough evidence for them to stand trial.
That hearing offered a nationally televised glimpse of what could come at trial — with sometimes stunning testimony from witnesses including the two men who say they were robbed at gunpoint in a Las Vegas hotel room and three former co-defendants who accompanied Simpson but took plea deals in return for their testimony.
Simpson, Stewart and Ehrlich each face kidnapping, armed robbery, assault with a deadly weapon, burglary, coercion and conspiracy charges. A kidnapping conviction could bring a life sentence with the possibility of parole. An armed robbery conviction carries mandatory prison time.
Defense attorneys lost a bid during an earlier hearing to get any charges dismissed, despite claims they were based on accounts by "crackheads and groupies and pimps and purveyors of stolen merchandise and gun carriers and con artists and crooks."
Prosecutor Chris Owens responded that Simpson surrounded himself with the men who testified.
Judge blocks challenge
During Wednesday's brief arraignment, the judge cut short an effort by one defense attorney to challenge an amended complaint filed Monday listing Stewart and Ehrlich as possible witnesses, but not Simpson.
A spokesman for Clark County District Attorney David Roger called omitting Simpson's name a "clerical oversight." He said co-defendants are routinely listed as possible witnesses in criminal cases and that Simpson's name would be added to the list.
The new document makes no changes in the charges against the three men, but drops Michael McClinton as a defendant. McClinton, who testified that he brought guns to the Sept. 13 confrontation with sports collectibles dealers Bruce Fromong and Alfred Beardsley, is on the list of 78 potential trial witnesses.
Stewart's attorney has said he might move to separate his client's case from Simpson's.
Neither Stewart, 53, a Simpson friend and golfing buddy from North Las Vegas, nor Ehrlich, 53, a friend from Miami, are accused of wielding weapons during the alleged heist.
Simpson and his lawyers contend that he never asked anyone to bring guns to the hotel room at the Palace Station casino and he did not know anyone had guns.
Two pleaded guilty earlier
McClinton and Walter Alexander, two former Simpson buddies who say they had guns, pleaded guilty to lesser offenses and testified in return for a chance at probation.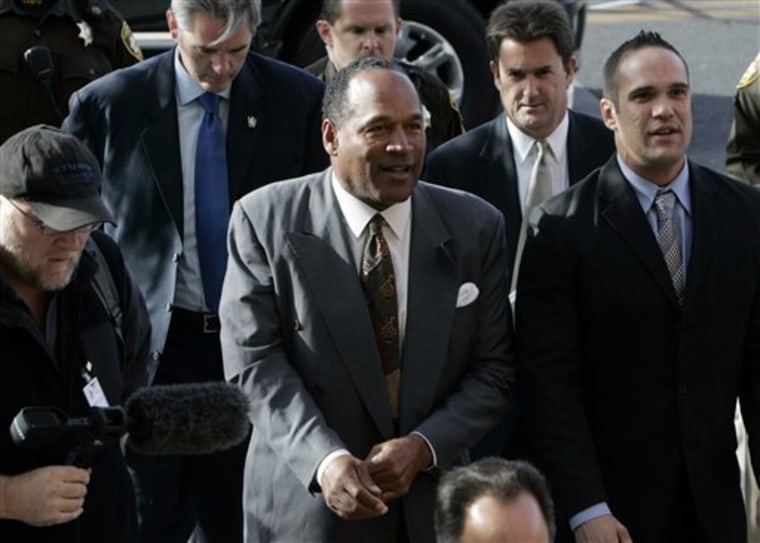 Alexander stunned the courtroom when he testified that he had offered to slant his testimony in Simpson's favor if he was paid.
Simpson attorney Yale Galanter, who in cross examination accused Alexander of running an Internet prostitution ring in Mesa, Ariz., accused Alexander of offering his testimony for sale.
Simpson, 60, of Miami, has maintained that he intended only to retrieve items that had been stolen from him by a former agent, including photographs, football awards and the suit he wore the day he was acquitted in 1995 of murdering his wife, Nicole Brown Simpson, and her friend Ronald Goldman.
Prosecutors allege the heist netted tens of thousands of dollars of sports collectibles that bore no connection to Simpson.