As the restaurant critic for The Seattle Times, Nancy Leson knows her way around the coastal city's restaurant scene. When it was time to treat her husband on his birthday, she took him to Canlis, the city's most expensive a la carte restaurant.
For once, the meal was entirely on her dime "and it was worth every penny of it," she says.
A meal at Canlis, which opened nearly 60 years ago and is often credited for defining if not "birthing" Pacific Northwest cuisine, will set you back about $75 a person — without any of that great Willamette Valley wine.
That's pocket change in New York City where taking your spouse to the most expensive restaurant in town — Masa at the Time Warner Center — will set you back at least $1,000 (it's $400 a person right off the bat for the 30-course Omakase menu. And that doesn't include tax, tip or one of their superior sakes.)
According to the most recent Zagat Survey of America's Top Restaurants, New York City continues to lead the way as the most costly U.S. city in which to dine out, with an average tab of $39.46. By comparison, Zagat's national average is $33.29, while New Orleans ($26.18) and Austin ($25.30) are the least expensive cities. Of course, U.S. restaurants cost roughly half of what their peers do in cities such as London ($79.46), Paris ($74.24) and Tokyo ($69.58).
Succulent spots
To compile a list of the country's top tables, we selected what are commonly thought to be the 10 most expensive restaurants in 10 "foodie" cities across the United States. We narrowed our selection by calculating what the minimum "price of admission" would be to dine at each, that is: how much it would cost to dine there if you were to order the least expensive item on the menu. Those with the highest tabs made the list.
Obviously, most people don't go to a fancy restaurant and order the least expensive item on the menu (Why go to Canlis and order the $28 polenta entrée when you can enjoy the Pacific Ahi Tuna pan seared with furikake, Thai cucumber salad and chive oil for $37?), so guest tabs would most likely be much higher than our math suggests. Some restaurants, like Masa and French Laundry have set prix-fixe menus. They were included if their prix-fixe was higher than the guest check average would be at a la carte restaurants in their region — and league.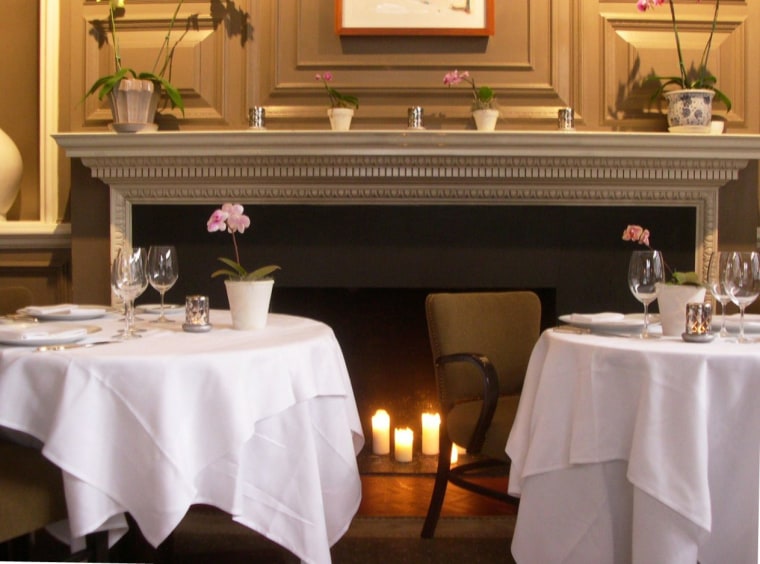 What we found is that many of the country's most expensive restaurants are also some of the oldest, such as Canlis or Antoine's in New Orleans, which first opened its doors an astonishing 160 years ago. And, many on our list turn out fine French cuisine, as in the case of L'Espalier in Boston.
But old — and French — don't necessarily combine to mean stuffy. In fact, 20 years after Chef Frank McClelland took over L'Espalier in an 1880 Back Bay townhouse, his French cuisine with a New England twist, remains as fresh and innovative as ever. Last May, McClelland was named Best Chef Northeast at the James Beard Awards. And, next summer, L'Espalier, the "go to" restaurant for wedding proposals in Boston (they average about one a month) will be moving to spacious new modern digs at the Mandarin Oriental on Boylston Street. No worries: McClelland is taking his cutting-edge foie gras preparations with him, as well as the restaurant's signature iron gate.
People seem to like their luxury laid back these days, so it's no surprise that only three restaurants on the list require jackets — Joel Robuchon at the Mansion in Las Vegas, The French Laundry and The French Room at the Adolphus Hotel in Dallas. At least two of them, Masa and Urasawa, recommend more comfortable clothing as meals can stretch on for hours.
Antoine's, which serves French Creole cuisine in the heart of the French Quarter has stopped requiring a jacket and tie in its 15 lavish dining rooms. (That makes eating their alligator soup a lot easier). As legendary as this place is, only one entrée has crept into the $40-and-up territory, and the signature Oysters Rockefeller, which were invented there are still only $13.
Tom Fitzmorris, who has been hosting a daily three-hour radio show all about food in New Orleans for 20 years, says as food-obsessed as the culture is, restaurants there remain surprisingly inexpensive compared to other parts of the country.
Part of it is that many ingredients in French-Creole cuisine — rice, beans and andouille sausage — are inherently affordable. And much of the seafood is readily and locally available. But Fitzmorris says entrée prices are starting to climb as more and more local ingredients like shrimp and soft-shelled crabs get shipped to other parts of the country (particularly the Northeast), driving up prices locally.
But diners appear ready to pay premium prices for worthy ingredients. In the aforementioned Zagat Survey, 55 percent of diners polled said they'd happily pay more for a meal that was, in fact, sustainable and/or organic.
At The Inn at Little Washington , which continues to serve the most expensive meal in the Washington D.C. area, Chef/Proprietor Patrick O'Connell prides himself on his "cuisine de terroir," or regional cooking. Using local ingredients whenever possible is virtuous, and makes economic sense.
O'Connell says the low value of the dollar against the euro is driving up the price of imported products from truffles to balsamic vinegar, cheese and sea salt. Case in point: Last year, white truffles were selling for $2,000 a pound. This year his kitchen paid $3,500. A year ago, the restaurant spent $8.50 a pound for its imported parmesan. Today, they're paying $11 a pound — to the tune of 200 pounds a week.
Even locally, purveyors are tacking on surcharges of 3 percent to 7 percent to compensate for soaring gas prices, says O'Connell. Rising oil prices also affect all petroleum-based products — like trash bags — which have almost doubled in price.
All this helps explain how a meal at the cozy Inn can start at $148 mid-week and jump to $168 on a Saturday.
Of course, a meal can easily be five times that should you decide to sleep at the stunning Inn after your meal.
The ability to roll right into a sumptuously dressed bed right after a decadent dinner? No price tag on that.