/ Source: Forbes Traveler.com
You've always dreamed of flying, the wind rushing by, the world far below, weightless and sailing next to stars. But you're grounded in reality.
So you ski.
But you don't just coast downhill. You push off at the top with your poles and tuck. Speed picks up, and it quickly overtakes. You fly. Take air, go weightless.
You defy gravity — if only until the next chairlift ride. Skiing can be an ultimate reality. Good gear doesn't hurt, either. Imagine skis that mutate to handle any type of mountain terrain; goggles that adjust tint on their own; or boots that match your body's stance.
Ski gear this year can do all these things, and much more. The following setup — our head-to-toe fantasy pack — highlights some of the best new gear and apparel that you'll see on the slopes this year. Take the new Volkl Tigershark 12 Foot skis as example. While they're not literally 12 feet long, these all-mountain boards have a technology that physically alters ski stiffness with the literal flick of a switch: The company's patented "Power Switch" is an actual on/off switch mounted on the ski's top sheet.
Volkl's Power Switch technology moves springs and carbon rods inside the body of the ski. This process manipulates ski-tip flex on the fly to accommodate multiple types of mountain conditions — from a bullet-hard trail to moguls to glade runs on soft snow.
For boots, we went with the Atomic Hawx 110, which the company touts with such superlative claims as "the most significant innovation to downhill boot technology in 25 years" and "the next revolution in skiing is not a ski." (It's a boot.) But what the Hawx does is significant: This boot promotes natural forefoot flexibility and movement by incorporating a shell that bends in unison with the metatarsal zone of the foot.
The Hawx technology allows a skier to balance and transfer power through the ball of the foot, which is the body's natural balance point. Further flex and power with the Atomic Hawx 110 comes from a rebounding spring set underfoot in the boot's sole.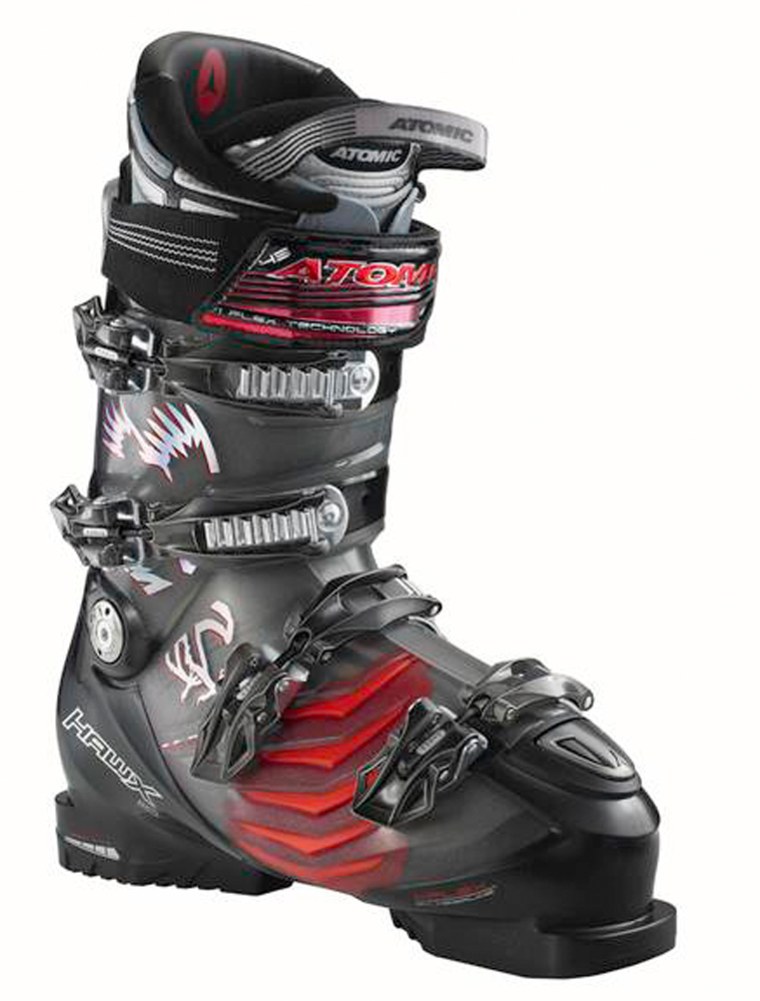 Good vision is imperative while flying downhill. As such, our setup includes the Zeal Optics Spherical PPX goggles, which are polarized and photochromatic. The polarized tint provides an enhancement of detail on the slope. The photochromatic lens automatically tints to an optimal shade depending on light conditions, going from almost clear in low light to a deep tint when it's sunny. Together, the PPX's shifting, detail-accentuating lens helps optimize vision in all light and snow conditions.
Poles are often an overlooked item. But our pick — the LEKI Vision Venom SL Trigger S — have a trigger-release hand harness to keep you connected at all times to the grip. They are made of carbon fiber and aircraft-quality aluminum, a stout combination that allows LEKI to provide a two-year guarantee against shaft breakage.

Want music while shredding that alpine bowl? Our helmet pick — the Giro G9 Wireless Audio Series — has built-in headphones and can connect wirelessly to a portable audio player (or cell phone) stashed away in a jacket pocket. Further, our gloves, the Kombi iRip, have an integrated joystick control to manage iPod tunes wirelessly. You can skip songs, repeat a tune, or pause the music to talk — all without ever removing your glove or the iPod in your pocket.
Together, our picks, which also include items like an altimeter watch and a one-piece ski suit from The North Face, create a near-$4,000 package ready to equip a skier in search of their own ultimate reality. Now gear up, spread your wings, and get ready to fly.