/ Source: Forbes Traveler.com
Committed golfers know: It never rains on the golf course. But even the most passionate players don't savor the prospect of chasing day-glo orange Top-Flites through snow drifts. Take heart. But somewhere in the vicinity of the 35th longitudinal parallel, you can rest fairly assured that you'll be spared frozen precipitation. As luck would have it, some of America's finest golf resorts rest south of the winter golf border.
To help plan your escape, we asked a few golf travel experts to share some of their favorite winter destinations.
Though it's situated at the northernmost point of our panel's short list, Pinehurst (in the Sandhills region of North Carolina) is a favored aficionado's destination—whatever the season. Part of the allure is the resort's rich history. Dating back to 1895, one can make the case that Pinehurst is the original home of golf in America. (The village was originally established as a winter getaway for Northerners with health issues.) It's now the site of eight courses—including Pinehurst #2, Scottish-born architect Donald Ross's master work—and has played host to many championships, most recently the 2006 U.S. Open.
"You feel the tradition of golf at Pinehurst, even more than at most private clubs," says Hunki Yun. "There's a wonderful sense of serenity there." If serenity and U.S.-Open-caliber golf aren't enough, Pinehurst offers some generous incentives to lure winter visitors to its somewhat northernly southern locale.
Another resort that rates highly is Sea Island, on St. Simon's Island off the coast of Georgia. St. Simons is also home to the Cloister, a favorite gathering place for elites—golfers and non-golfers alike.
"Sea Island is a place that checks off all the boxes," says Gordon Dalgleish. "The accommodations are phenomenal, there's great golf, exceptional service and amenities are deluxe at the highest level."
But, adds Mike Lardner, "Sea Island not for buddy trips where the guys want to smoke cigars and drink beer. It's for country club couples who want to relax." There are two 18-hole courses and a 9-holer. (The Seaside Course was designed by Harry Colt and Charles Alison and updated by Tom Fazio in 1999.) Sea Island is consistently ranked in golf industry "top 100" lists.
In the Southwest, the desert offers more than just a cloak of warmth for Northerners hoping to flee the January freeze. There's also some first-rate golf.
"La Quinta, in Palm Desert California, is an unbelievably beautiful five-star resort, and has an incredible assemblage of great and difficult courses," says Jeff Wallach. The five courses include the La Quinta Resort Mountain Course and the PGA WEST Stadium Course, both occasional stops on the PGA Tour. "You also have The Boulders, near Scottsdale," Wallach continues. "You have two classic desert courses (both designed by Jay Moorish), and accommodations are in well-appointed casitas."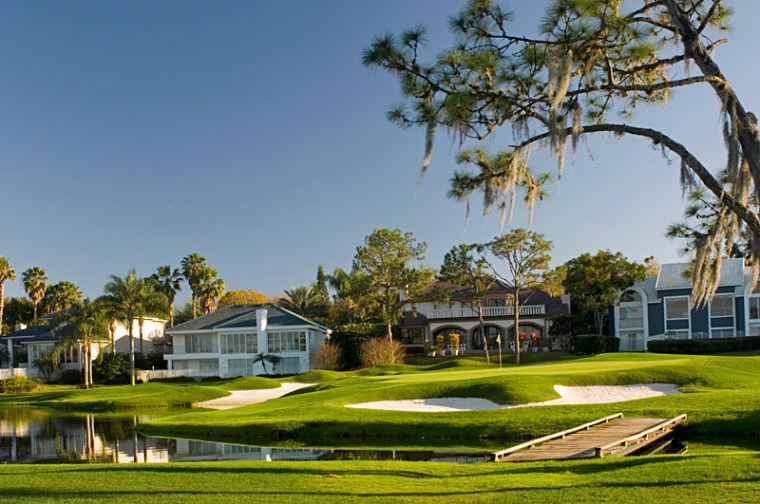 For golfers and non-golfers like, few destinations say "winter escape" more profoundly than Hawaii. Linksters eagerly flock to Kapalua Resort, on Maui, to play the site's Bay and Plantation courses.
"You can't go wrong anywhere in Hawaii in the winter time," Hunki Yun says. "And the Plantation Course at Kapalua is an epic layout, with huge elevation changes and a fabulous setting. It's a treat to be able to play a Ben Crenshaw/Bill Coore-designed course at a resort." The PGA Tour agrees—its season-opening event, the Mercedes-Benz Championship, tees off at the Plantation Course in January.