/ Source: The Associated Press
Rarely in Africa has the human cost of war and greed been clearer than in this dingy, broken, sweltering corner of hell. Yet nowhere has the expectation of change created so much hope.
After 14 years of darkness, street lights shine amid the shattered buildings. And the new president — the first woman elected to head an African country — stands under an umbrella in the driving rain to launch repairs to a street that seems to have more holes than pavement.
Liberia last year began a grand experiment to overcome its past through a sea change in how it is run. The new leaders are elected. Parliament is controlled by the opposition, for the first time in its history. And President Ellen Johnson-Sirleaf promises a new deal funded by donors and investors lured by peace and good governance.
"This country will never be what it was before," said Augustine Toe, a lawyer who directs the Roman Catholic Peace and Justice Commission. "People are starting to hold the government accountable more than ever before in our history. For the first time we are beginning to have a semblance of checks and balances."
Two-thirds of African countries now hold elections that are considered democratic, but democracy is a loaded word in Africa. In Zimbabwe, for example, President Robert Mugabe claims he is democratic despite elections widely viewed as fraudulent, and last year's election in Sudan did nothing to curb conflict there.
Polls by the Pew Global Attitudes Project and the Afrobarometer research group find enthusiasm for democracy in Africa is still high but fading, as Africans discover it is a lot messier in practice than on paper.
Liberia is trying to do something Africa has little experience with — forge a system that can survive one leader and contain the excesses of a ruling class. The attempt goes against a history of leaders in Africa who cling to power long after their expiry date.
War-torn nation votes for change
Liberia — its name comes from liberty — was founded by slaves freed by the United States more than a century and a half ago. But despite the mantle of freedom, the leaders of this West African country of 3.2 million people often came to power by force rather than a ballot box. The loser was sometimes tortured and killed under the dispassionate gaze of the winner.
Even on a continent long plagued with violence, the civil war in Liberia stood out for its luridness and for the naked greed that drove it without any cloak of tribal or ideological concerns.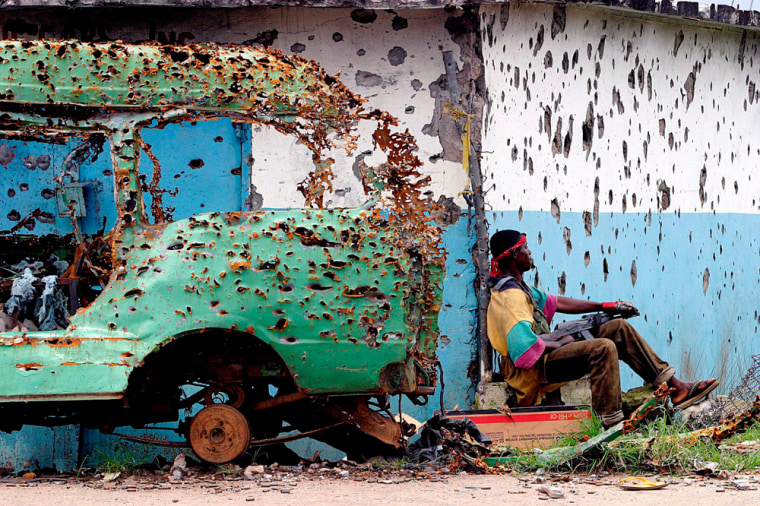 Soldiers for toppled President Charles Taylor, now facing trial for war crimes in the Hague, Netherlands, ate the hearts of slain enemies and decorated checkpoints with human entrails. They sliced open pregnant women and bet on the sex of the unborn child.
Johnson-Sirleaf, 69, was jailed twice under previous leaders and fled into exile. The Harvard-trained economist, who has worked for Citibank and the World Bank, won election in 2005. No public building was in good enough shape to host the inauguration ceremony, so guests sat on white plastic chairs on the grounds of the Capital Building and cheered, "Queen of Africa!"
"We know that your vote was a vote for change, a vote for peace, security," said Johnson-Sirleaf, a mother of four who is known as both Ma Ellen and the Iron Lady. "We have heard you loudly."
Changes start to take hold
Early results are promising. Liberia's economy grew about 8 percent last year, after a freefall of more than 90 percent the preceding two decades. Inflation is in single digits, and growth this year could reach 11 percent.
But one look at Monrovia shows how far there is to go. Dozens of buildings are no longer habitable, and many others are covered in grime and a dull black mold. Electrical power goes up and down like a bucket from a well. Tropical downpours create pools of mud and stagnant water that stink in the heat.
Almost 90 percent of Liberians are unemployed. From early morning until late at night, the streets are clogged with legions of ragged people who seem to drift aimlessly in search of a way to make enough money to buy food.
The government and the United Nations have created 21,000 jobs through projects to repair roads, remove garbage, clean drains and carry out other basic tasks. Foreign investment promises to create thousands more. A billion-dollar payment by steel giant Arcelor-Mittal for an iron ore concession could create 3,500 jobs by itself.
Memory sticks replace rifles
Momolu Norman, a former child soldier, enrolled in a computer school under a U.N. program to retrain combatants. He now teaches at the school in the mornings and studies criminal justice and administration at the university in the afternoons. Instead of a Kalashnikov, he carries a computer memory stick tied to a lanyard looped around the button-down collar of his pink and white checked shirt.
Seven years ago, when Norman was 15, he was selling used clothes on the street when a truck came to round up boys for the army.
"I gave my clothes to someone I knew and tried to run," says Norman, now 22. "But they caught me and put me on the truck. My family didn't even know then what had happened to me."
Five years of terror followed, during which Norman saw friends lose their arms, legs and lives.
"I had to kill people — I had no choice," he says. "I never wanted to be a soldier. When the U.N. intervened to end the war, I could finally do something for myself."
Barrier to trust
More than a half million Liberians have returned to their homes, according to the United Nations. And in November, Johnson-Sirleaf persuaded the International Monetary Fund to begin relief on Liberia's debt of $3.5 billion.
The new openness at the top is obvious just from switching on the radio. Government officials are guests on talk shows almost daily, explaining policies, taking suggestions and fielding angry complaints. The justice minister tells a caller frankly that some police are corrupt. Every new initiative is presented for public comment.
At the Information Ministry, deputy Gabriel Williams is constantly interrupted by telephone calls and passers-by who open his office door to ask directions. He apologizes as he answers the phone for the fourth or fifth time in a few minutes, explaining that government must be accessible.
As he speaks, the lights flicker and die. The generator is turned off for the night.
"We only budget for so much fuel a day," says Williams. He pauses briefly, then picks up his train of thought. "We inherited a system where there was no public trust in government. ... We are trying to change that."
One barrier to that trust is corruption, which costs Africa about $148 billion a year, according to African Union estimates. Four years of corruption is enough to eat up all the foreign aid sent to Africa in the last 60 years.
Liberia used to be among the worst offenders. Money for government workers went instead to buy SUVs for politicians. There were secret no-bid contracts for mining rights. The families of many schoolchildren paid tuition at the central bank because successive school administrators fled the country with hundreds of thousands of dollars.
Liberia has now canceled concession contracts for rubber and timber, given with dubious transparency. And it insists new contracts follow international business practices and give the country a cut for its exports.
"Firestone has been here for 97 years but we don't produce enough rubber locally to make a condom," says Sandra Howard-Kendor, deputy chairwoman of the Governance Commission established to direct reform.
Role of opposition
The government is also decentralizing power to get rid of the old system of patronage. Every major government transaction is examined by both a Liberian manager and an international expert. Experts from Europe, the U.S. and elsewhere in Africa help with financial management and train Liberian staff.
The business community in general is responding. Tony Hage, leader of the economically powerful Lebanese community, for example, says governance is improving. But the Liberian Business Association complains that foreign businesses are gaining more than locals, and it wants more and faster change.
Perhaps the clearest sign of change is the role of the opposition. Former soccer star George Weah, Johnson-Sirleaf's opponent in the runoff election, sat in the front row at her inauguration.
Even opposition politicians concede the government is bent on reform, and grumble mostly about the pace or the manner of change. One former presidential candidate complains that Johnson-Sirleaf is too tied to foreign investors. Another, lawyer Winston Tubman, says he would pursue the same good governance goals but reunite the country first.
"They are serious about what they are doing, but they are on the wrong track," says Tubman, the nephew of one-time president William Tubman and a lawyer who quit as the U.N. special envoy for Somalia to run for the presidency.
High praise for female leader
Overseas, Johnson-Sirleaf wins high praise and awards from the United Nations, the United States and the European Union. At home, she draws guarded hope. Many Liberians are somewhat wary of her close ties with the World Bank and her early support for warlord Taylor, whom she later rejected, but still believe she is their best chance for a better life.
Norman, the reluctant one-time boy soldier, pushes his sunglasses up on top of his head and briefly surveys the chaos on the broken streets of Monrovia. Now that the country is at peace, people can work, go to school and dream again about a future, he says.
"The changes in Liberia are taking place a little slow," he adds. "But we expect this government to do something. We have faith it is doing its best to improve our lives."
"The difference," says Norman, leaning forward and speaking softly to emphasize his point, "is that we put this government into power."