/ Source: The Associated Press
Mindy Roberts watches as two scientists draw water samples into a long, clear tube while a 25-gallon aquarium is lowered upside down onto the bottom of an inlet in Puget Sound.
On this particular day, the Department of Ecology is testing for dissolved oxygen in the water, data that will be used to figure out how human factors such as stormwater runoff negatively impact oxygen levels in the water.
Roberts, a project manager at the department, said the information will help create the equivalent of a flight simulator, letting scientists test how different factors — such as a projected population boom — will impact the sound.
"It's not just studying it for studying's sake, it's studying it to understand who's contributing what," she said. "Once we do that, we can then do different what-if scenarios."
Such research and hundreds of other studies being done by various agencies are meant to determine how to best clean up the troubled waters of Puget Sound. While research has been ongoing for decades, a cohesive, organized plan to reverse the decline of the sound has been more evasive.
Now the Puget Sound Partnership hopes to succeed where others have failed.
"We know a lot about the problems in a lot of parts of Puget Sound," said David Dicks, executive director of the new agency. "What's never really happened is somebody standing above it all and rolling that all together."
2020 deadline to act
The new agency is responsible for determining the current health of the sound and setting priorities so the state can meet the goal of a healthy sound by 2020. A preliminary report is due to lawmakers by September.
The partnership recently named a nine-member independent science panel to offer advice and help measure progress.
"What does a healthy Puget sound by 2020 mean?" Dicks asked. "We've got to define that term in a very meaningful, objective way."
And more importantly, Dicks said, is how to translate that to a public that hears there's something wrong with the sound but doesn't necessarily believe it.
Recent surveys show that most residents believe the sound is in good health. A public affairs firm last year found that more than 70 percent of those polled thought the environmental health of Puget Sound was excellent or pretty good, and even after learning about issues facing the sound, nearly 60 percent thought the same. Another survey done by pollster Stuart Elway found that more than 50 percent thought the sound was healthy.
For Roberts, of the Department of Ecology, that misguided rosy picture is the biggest problem.
"If there were fish floating upside down, you have a very acute problem, people are willing to do something about it," she said. "The hard part is you want to avoid fish floating upside down. Getting people's attention, that's the key for us in this aesthetically beautiful area. It's really hard."
Two earlier attempts
Attempts to fix the sound are nothing new. In 1985, the Puget Sound Water Quality Authority was formed. It was disbanded and replaced by the Puget Sound Action Team in 1996. The Puget Sound Partnership was created by lawmakers this year.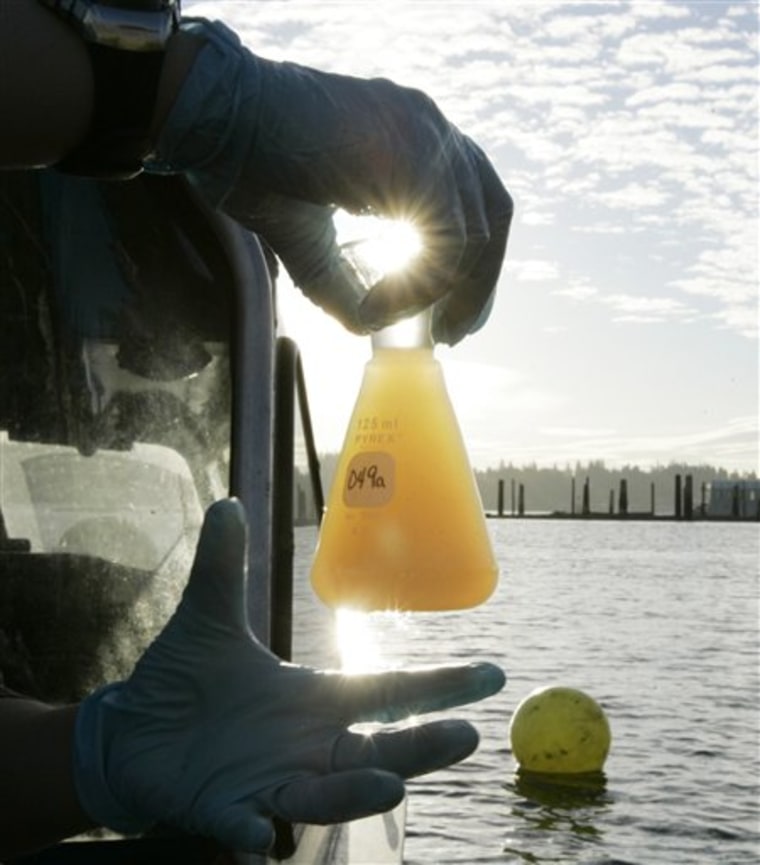 Josh Baldi, special assistant to Department of Ecology head Jay Manning, said things are different this time around, particularly because of the 2020 deadline.
He also noted that the agency has greater authority than previous groups did, and over more groups, including federal, tribal and local governments. While it has no regulatory authority, it has the power to hold the various groups accountable by directing who gets money, he said.
State Rep. Joel Kretz, who voted against the bill creating the partnership, said the group's goals were good, but he's worried that it "will become a cumbersome new bureaucracy that won't function so well."
"I'm really concerned that it's going to be more of the same mentality, the more money we throw at it, the better it must be," said Kretz, a Republican. "I'd like to see these things measured in results, rather than money spent."
Kathy Fletcher, who led the Puget Sound Water Quality Authority in the 80s and is executive director of People for Puget Sound, said success will be measured by a change of thinking on development, enforcing water quality permits and turning down projects that may be harmful to the sound.
"It's not just money and ribbon cutting for projects," she said. "It's actually getting tough and making changes that are controversial. There is no way, with our growing population, that we're going to save Puget Sound if we don't take a dramatically different approach."