/ Source: The Associated Press
A victorious Barack Obama portrayed his decisive first-place finish in the Iowa Democratic caucuses as a "defining moment" that he said would lead the way to change in Washington and an end to the war in Iraq.
The first-term senator from Illinois promised "a nation less divided and more united" and told those at a victory rally they could some day "look back and say this is the moment where it all began."
Obama, 46, is bidding to become the first black president. He garnered about 38 percent of the vote, comfortably ahead of former North Carolina Sen. John Edwards and Sen. Hillary Rodham Clinton, the former first lady.
"They said this day would never come. They said our sights were set too high. ... But on this January night, on this defining moment in history, you have done what the cynics said we couldn't do. You did what the state of New Hampshire can do in five days," Obama said.
Obama vows to end war
If elected, Obama vowed, "I'll be a president that ends this war in Iraq and finally brings our troops home, who restores our moral standing, who understands that 9-11 is not a way a way to scare up votes but a challenge that should unite America and the world against the common threats of the 21st Century."
"Hope is the bedrock of this nation, the belief that our destiny will not be written for us but by us, by all those men and women who are not content to settle for the world as it is but who have the courage to remake the world as it should be," he said. "That is what we started here in Iowa and that is the message we can now carry to New Hampshire and beyond."
He appeared at the rally with his wife, Michelle, whom he called "the love of my life," and daughters Malia and Sasha.
As he came to the podium, he repeated "thank you" over and over to a crowd of supporters. Then, he added: "Thank you, Iowa."
Pledge of change draws new voters
An influx of new caucus-goers helped to boost Obama to victory in Iowa.
"We came together as Democrats, as Republicans and independents, to stand up and say we are one nation, we are one people and our time for change has come," Obama said as he launched his victory speech.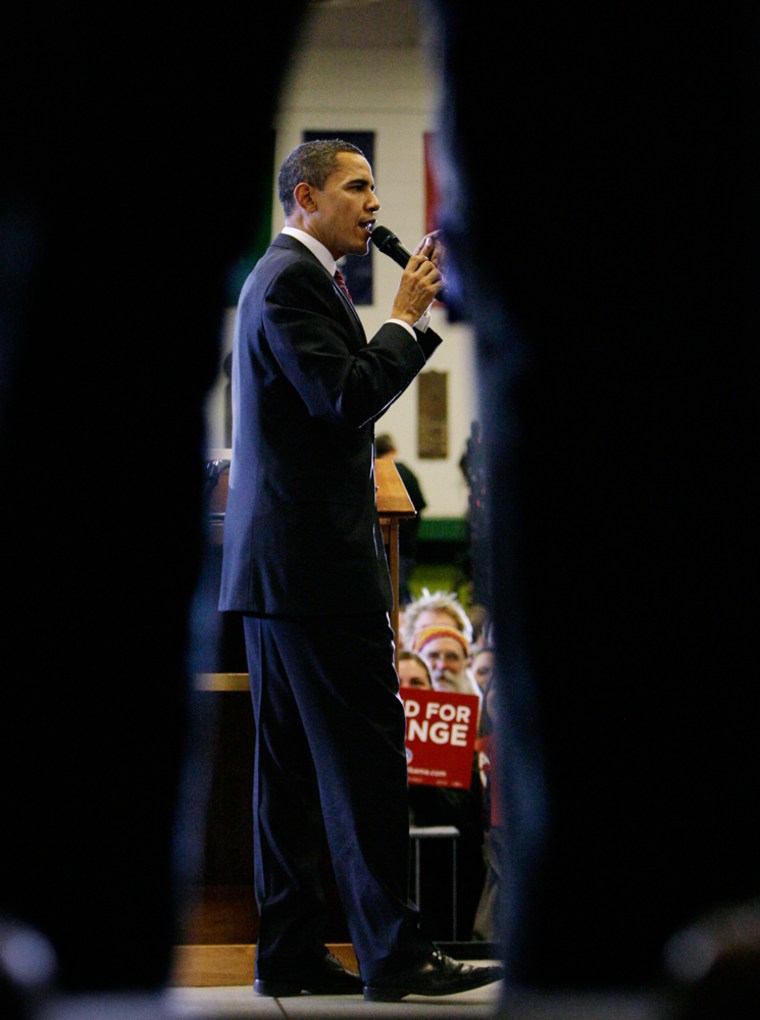 The freshman senator from Illinois was able to convince Iowans that he could do the most to shake up Washington, a feat that Clinton and Edwards had argued they'd be best able to accomplish.
Iowa was a three-way race for the Democratic contenders for months leading up to the caucuses, the first of the presidential nominating contests. Obama's win there gives him crucial momentum heading into New Hampshire, which holds its first-in-the-nation primary on Tuesday.
Obama repeatedly sparred with Clinton during the campaign over who was ready to lead the country. She accused him of being naive and inexperienced; he said her decades of Washington experience would mean more of the same if she were elected. Edwards faulted Obama's health care proposal, saying it would leave millions without coverage.
The Harvard Law School graduate launched his career by organizing black churches on the industrial South Side of Chicago. A turning point in his life came when he was chosen as the keynote speaker at the 2004 Democratic National Convention. He was elected to the U.S. Senate just four months later and became only the third black U.S. senator since Reconstruction.
After just two years in the Senate, Obama announced on the steps of the Old Capitol in Springfield, Ill., that he was running for president.