A 100-million-year-old haul of dinosaur eggs and fossils from China and smuggled illegally into Australia is headed back to Beijing.
Australian Environment Minister Peter Garrett handed over more than 1,653 pounds of dinosaur, mammal and reptile fossils, estimated to be worth millions of dollars, to Chinese ambassador Zhang Junsai in Canberra.
"I am delighted to return them to their rightful place. Australia will not tolerate illicit trade in cultural heritage objects," Garrett said.
The fossils belonged to a cache seized by police after raids in Western Australia state between 2004 and 2007, mounted with the help of Chinese authorities.
The best would attract black market prices of up to $90,000, although they were culturally priceless, Garrett said.
The hoard included 1,300 fossilized dinosaur eggs and skulls, dinosaur nests and fossilized fish. Some of the oldest Trilobite examples were up to 450-million-years-old.
Clusters of meat-eating velociraptor eggs lay petrified alongside nests from dome-headed Nithopods, which roamed earth between 70 and 122 million years ago.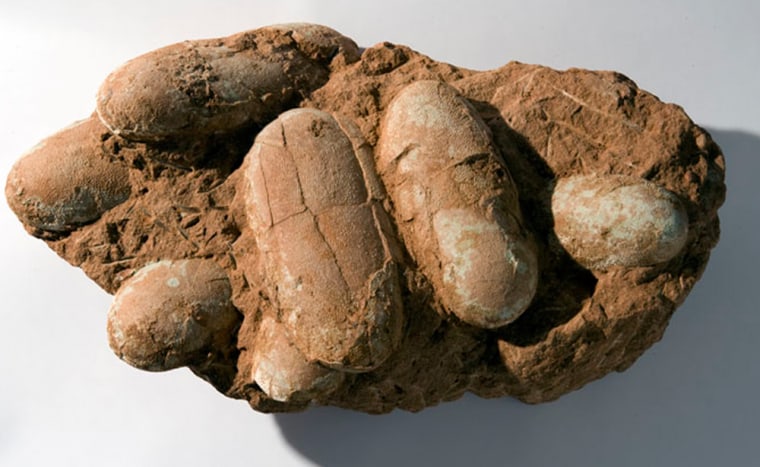 A complete skeleton of a Keichousaurus, a marine reptile from the Triassic period 230 million years ago, was also among the group, most of which came from Liaoning Province in northern China, an area renowned for fossils.
"They are key to understanding the evolutionary phases of life on earth," Garrett said.
Zhang said there was no evidence Australia was a hub for illegal trade in fossils, although a hoard of 10,000 fossils was returned to China in 2005 and another the previous year.
"China is working very hard and seriously on the conservation of its natural and cultural heritage. Such reckless risk-taking will not escape the punishment of the law," he said.
Australia in 2005 returned to Egypt's ambassador a bronze axe head, bowl and jewelry unearthed in tombs and dated to between 664 and 332BC, after they were discovered at a Melbourne gallery.
Another 130 kilograms of dinosaur and plant fossils were returned to Argentina in 2007.