/ Source: Forbes Traveler.com
Step inside an "extreme design hotel" and you enter a designer's dream that, for a while at least, becomes your reality. Clean white lines and copycat minimalism are no longer the makings of hip hotels; today, individualism is in. Whether in the shadow of China's Great Wall or rising over the brick sea of Manhattan's Lower East Side, extreme design hotels are so different they electrify the sense of place around them—and they tend to charge you up, too.
A strict definition of the extreme design hotel may be elusive, so it helps to start with its immediate predecessor: the design hotel. Says Ian Schrager, the 61-year-old New York City native who's widely considered a pioneer of the genre, "I think it's something that breaks from the norm and is visually provocative, and it doesn't fit in with the generic, commodified hotels that have been done for the last 50 years."
With designer Philippe Starck, Schrager broke the mould with Morgans and the Royalton in the '80s. But with his latest venture, the Gramercy Park Hotel, he takes the minimalism that featured so prominently in those hotels and turns it on its head. The 185-room hotel is a collaboration with New York art scene fixture Julian Schnabel, and is eclectic to the max. The lobby is a wholly original interplay of Renaissance colors and diverse textures, from red velvet curtains to reclaimed lumber and a glittering matador's jacket, and Damien Hirst artwork in the bar. Guestrooms, though resolutely plush, have a soupçon of imperial Spain.
Schrager says his intention with the Gramercy Park Hotel—a renowned literary magnet in its previous life—was to "rethink the genre." When he first started, his work was the exception to the rule. Then, as happens with pioneers, it became the rule. "A lot of hotels were derived from and predicated upon that kind of [minimalist] approach," he says. For Schrager, design is just one of the elements that goes into creating a unique experience. "I think there are two priorities, the great service and the great visuals," he says. "At one point [in the '80s] we might have sacrificed some functionality because we were looking to get a rise out of people and we didn't want to follow the standards. So now, we've learned you can still be visually provocative, but it has to be comfortable, it has to function." Moreover, he adds, "people are not going to tolerate staying in the coolest place in town unless it also has the best service in town."
Service may be key these days, but on purely aesthetic levels many hotels continue to push the design envelope. And if design hotels have the kind of innovative touches that corporate chains love to co-opt, extreme design hotels are virtually untouchable in their audacity.
The Hotel Puerta America is a shining example. At this $94 million, 342-room property, the rage for all things design reaches its apotheosis. Each of its 12 guestroom floors was designed by a different high-profile architect or designer, and the difference between floors is nothing short of, well, extreme. "The idea was to have the work of the best architects in the same building," says hotel spokesperson Marta Cabello. "They had no limit in the budget or in the use of color or materials, so this was a dream for them."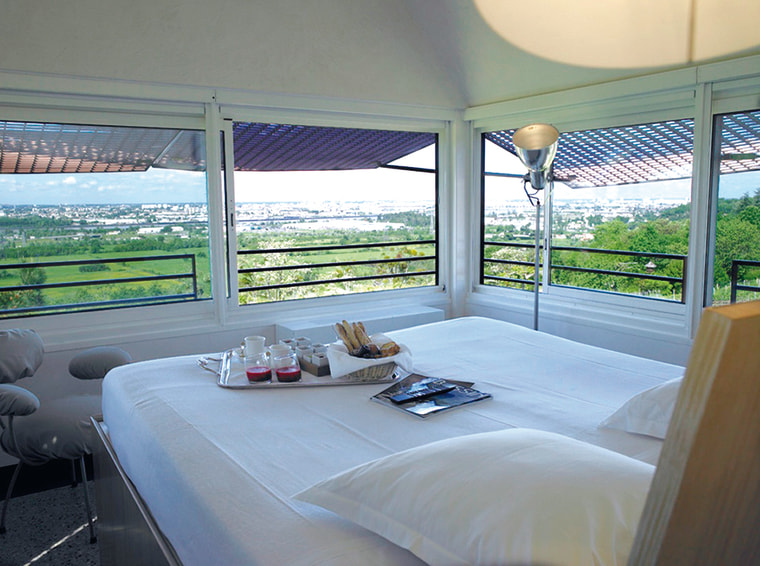 Among those who worked their magic are rock stars of the design world Norman Foster, Jean Nouvel and Marc Newson (one of whose chairs, a Lockheed Lounge, sold for $968,000 at Sotheby's last year). Together yet independently, they crafted a realm of originality that's difficult to fathom for the uninitiated but easy as pie to appreciate. Consider Newson's guestrooms, where the beds were conceived as islands wrapped around by cushiony leather and bathroom sinks and tubs carved out of Carrara Statuario Venato marble.
The most popular floor, according to Cabello, was designed by Zaha Hadid. The sinuous curves, smooth textures and soft recessed lighting in Hadid's guest bedrooms suggest a voluptuous marriage of Antonio Gaudi and what might be called spaceship chic. Delight in bathrooms that are entirely orange, but don't bother looking for the towel racks, because there aren't any. The floors are so strikingly different that guests staying more than one night could easily undergo option paralysis, but this place is all about freedom. "We offer our guests the possibility to change rooms and floors, but they have to pay a surcharge of 60 euros [$87]," says Cabello.
The Puerta America is gutsy from within and without: Its rainbow exterior is inscribed with lines from Paul Eluard's poem "Liberty"—translated 19 times. But some extreme design hotels make their statements more discreetly. One of the world's best is in Brussels, where the almost secret Fashion Rooms are tucked discreetly into the outwardly conservative, five-star Royal Windsor Hotel. Each of the dozen rooms was created entirely by a Belgian designer, and they differ wildly. With its pink Schiaparelli perimeter carpet, pink velvet daybed and frosted mauve velvet curtains, one of the most sumptuous is the Nicolas Woit room. Says Woit, "my inspiration came from a 1930s boudoir and then evolved towards the atmosphere of the first forbidden nightclubs of the years of real glamour."
In New York City, the Hotel on Rivington is a dazzling 21-story tower of tinted glass that rises in sharp—but welcome—contrast above the tangle of 19th-century red brick tenements. Sleekly appointed guest rooms bask in those rarest of Manhattan commodities: light, space and air. But an extreme design hotel need not be relegated to the hippest precincts of the urban jungle. Indeed, being out in the middle of a picturesque nowhere can bring out the animal in an architect's wildest hotel fantasies.
In cities, "the outside architecture is somewhat less important than the inside architecture," says Schrager, "but that's probably not the case in resort areas and in places like Las Vegas where the exterior probably would be very important, as an opportunity to distinguish yourself." Michel Bras, in France's relatively desolate Aubrac region, the Hotel Basico in Playa del Carmen, Mexico, and the Anassa in Cyprus are all examples of extreme design at work in places most people wouldn't expect it.
Ultimately, extreme design hotels may not only be the manifestation of an architect's imagination, but rather a sign of the times. "I think this is a sort of brands-on-steroids era," says Schrager. "Luxury is available and accessible to lots of people, and I think the only way you can really distinguish yourself is by having something on a very individualized basis." Design per se "was not really the gravitas behind [the Gramercy Park] or its ethos—there has to be some kind of idea behind it that captures that cultural wind."
He turned to Schnabel to help tune into the zeitgeist, creating with his latest venture a look he likens "to the special effects in a movie." Around the world, different artists and design visionaries are bringing their own daringly individual styles to the luxury hotel experience. Checking in was never so dramatic.