/ Source: The Associated Press
Tens of thousands of Palestinians on foot, in cars and even in donkey carts poured into Egypt from Gaza Wednesday after militants blasted down a border fence — puncturing a gaping hole in Israel's airtight closure of the Gaza Strip and giving a boost to Hamas.

In a shopping spree that was both festive and frenzied, Gazans cleared out stores in an Egyptian border town, buying up everything from TV sets to soft drinks to cigarettes.
As waves of people swarmed through the destroyed barrier — some estimated the crowd in the hundreds of thousands — Egyptian security forces lined up on one side of the border and Hamas forces lined up on the other side. None of them interfered in any way, and it appeared Hamas militants actively participated in the border breach.
That breach, though likely temporary, seemed certain to strengthen Hamas in its showdown with Israel, the West and its Fatah rivals — relieving some of the pain of an international blockade of the Gaza Strip following Hamas' violent takeover of the coastal territory in June.
It also raised Israeli fears of an influx of weapons and militants to Gaza and threatened to undermine crucial Egyptian participation in a Mideast peace push by President Bush.
Official reaction to the day's events ranged from dismay to embarrassment to outright anger.
The United States expressed concern about the border breach. Israel demanded that Egypt take control of its border. Hamas called on its rivals to help come up with new arrangements for Gaza's crossings.
Egypt's leader said he had no choice but to let in the beleaguered Palestinians. But Arab and U.S. officials in Washington said the Egyptian government assured the United States the border would be closed quickly.
Even Fatah members praise Hamas
For ordinary Gazans, it was a day of joy and plenty.
Osama Hassan, 25, said the border opening will enable him to marry his 17-year-old fiancee next week, because they were able to get items they need to set up a household. He bought a special mattress for his injured back and she assembled kitchen supplies.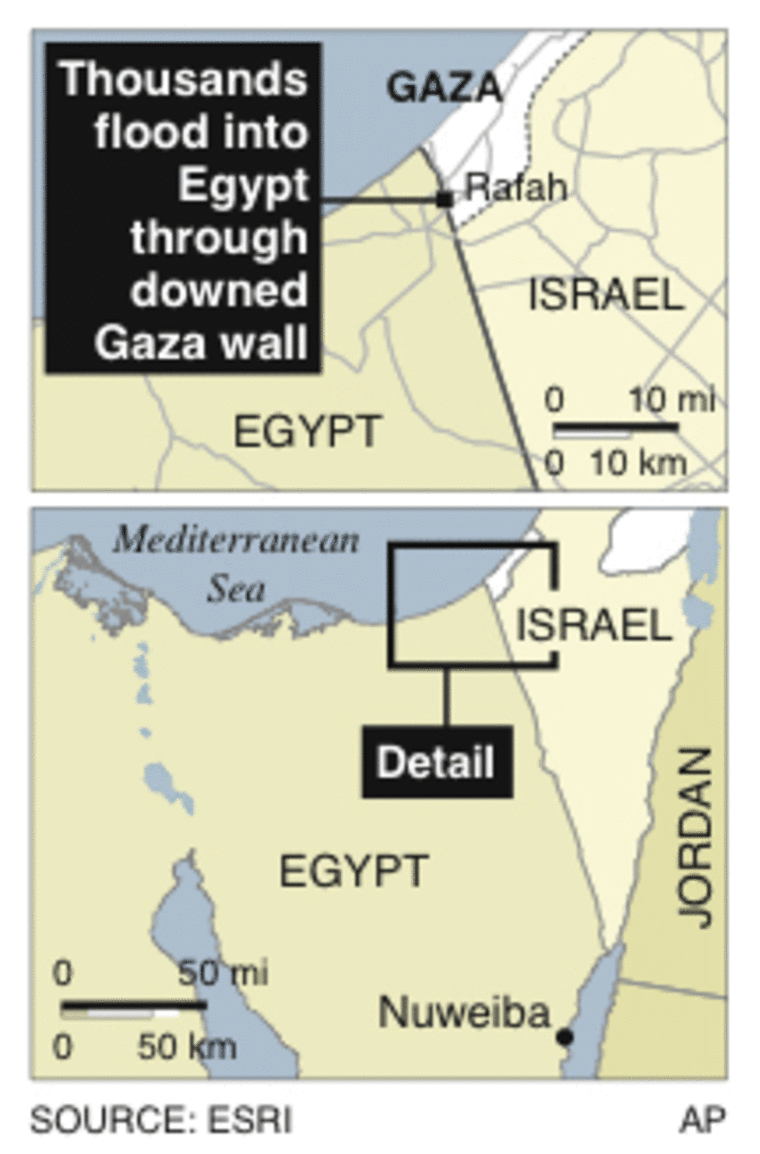 Hassan said he belongs to Fatah, not Hamas, but still wants to "kiss the forehead" of Gaza's Hamas prime minister.
Hamas did not take responsibility for a series of explosions that destroyed the fence, but it seemed unlikely the systematic operation could have happened without its approval, if not active involvement. Residents said Hamas-linked militants cut through the metal wall with blow torches a month ago — weakening the structure so that it could fall easily when the blasts went off.
The appearance of the fallen wall backed up that assertion. It was neatly sliced at knee-level, with the bottom section still standing and the rest toppled over.
Hamas police quickly took control of the shopping exodus, channeling the crowds through two sections of the frontier.
"Freedom is good. We need no border after today," said Mohammed Abu Ghazal, a 29-year-old out-of-work Gazan.
Children bought soft drinks and chocolate, women scooped up cheese and cleaning products, and men stocked up on cigarettes — all expensive or simply unavailable in Gaza because of Israel's shutdown of cargo crossings.
Other Palestinians staggered over toppled metal plates that once made up the border fence, carrying TV sets, cell phones, tires and plastic bottles filled with fuel. Some brought in goats and chickens.
'Today, they were like locusts'
Four Palestinians in wheelchairs were pushed over the border, where ambulances picked them up for treatment in Egypt. At one point, a dozen people crowded around a motorcycle to lift it over a low border wall in Egypt.
Shoppers depleted stores in the border town of Rafah, prompting Ashraf el-Sayyid, an Egyptian, to ride his motorbike into the Gaza Strip — going against both traffic and logic.
"I need to buy bread for my children," he said. "The Palestinians left us with nothing. It's true, they are dear to us, but today, they were like locusts."
Masked gunmen used 17 explosive charges before dawn to tear down the border fence — erected in 2001 by Israel when it controlled Gaza.
After news of the breach spread, people across Gaza boarded buses and piled into rickety pickup trucks heading for Egypt. It was a rare chance to escape Gaza's isolation.
Moussa Zuroub, 28, carried his young daughter, Aseel, on his shoulders through the muddy streets of Rafah, which is divided by a wall into Egyptian and Gazan segments. "I'm coming just to break that ice — that all my life, I'd never left Gaza before," he said.
By nightfall, more than 1,000 Gazans reached El-Arish, an Egyptian town about 37 miles south of Rafah, walking the streets and shopping in stores that stayed open late.
Mohammed Alyan, an unemployed father of six sitting at a bus stop with six friends, complained that Egyptian shopkeepers were rapidly raising prices.
Pressure on Egypt not to crack down
Egypt is in a bind over how to respond. It has largely kept its border with Gaza closed since the Hamas takeover amid concerns of a spillover of Hamas-style militancy into Egypt. But Egypt's government is also under popular pressure at home to help impoverished Gazans.
Egyptian President Hosni Mubarak said he told his border officials to let the Palestinians cross because they were "starving" under the Israeli blockade. However, not only have there been no cases of starvation reported, but there are no claims of starvation from officials or aid workers, and none are visible to anyone who lives or works in Gaza.
There are acute shortages of fuel in Gaza, and supplies of fresh meat and produce are running low, which have raised the specter of a humanitarian emergency.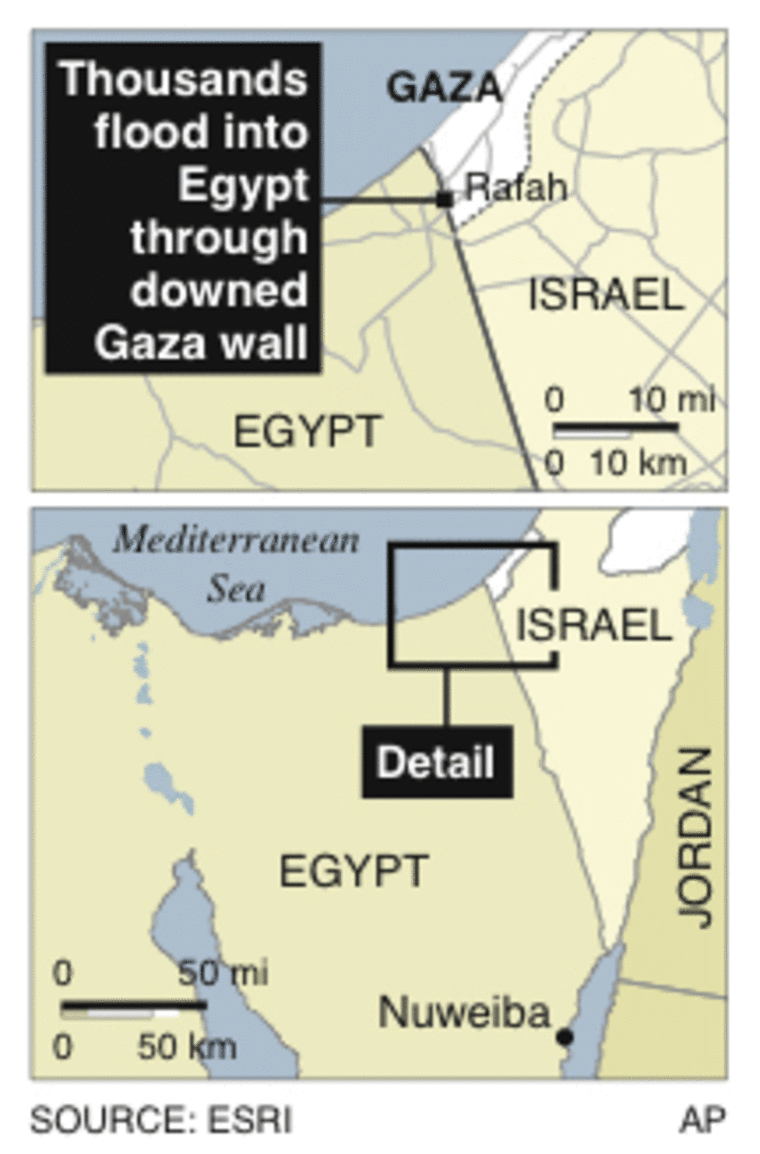 The supreme Hamas leader, Khaled Mashaal, said his group is willing to work with Egypt and Hamas' rival, moderate Palestinian President Mahmoud Abbas, on a shared border arrangement.
"We are concerned about that situation and frankly I know the Egyptians are as well," State Department deputy spokesman Tom Casey said.
David Welch, assistant secretary of state for the Middle East, and U.S. diplomats in Cairo talked to Egyptian authorities about the situation, Casey said. He said the Egyptians take border security seriously and he had no indication the situation was affecting Israeli-Palestinian relations for now.
An Arab diplomat in Washington said Egypt indicated to the U.S. that the flow of people would end by midday Thursday and pledged to rebuild the smashed barrier. A senior U.S. official, however, said Egypt was not specific on when the border would be closed but promised the situation would not continue for long.
"They will make an effort first to contain the crowd on their side of the border so they don't go anywhere, and then coax people back. We'll see tomorrow how that has worked," said the official, who like the Arab diplomat, insisted on not being quoted by name in return for describing the conversations between the two governments.
White House press secretary Dana Perino earlier blamed Hamas for the chaos in Gaza and called the instability "very troubling" for Israel.
Constant targeting of Israel by militant rocket squads in Gaza "has caused Israel to implement the blockade," Perino said. "Hamas is not in control of the situation, they are not governing well, and the people of the — the Palestinian people are starting to realize that they do have a choice."
Olmert: Gazans won't live in 'quiet normality'
Israeli Prime Minister Ehud Olmert said he won't allow Gazans to live ordinary lives while Israelis next to Gaza are suffering from daily rocket attacks.
"We will not allow under any condition, or any situation, creation of a humanitarian crisis. We will not hit food supplies for children or medicines for the needy," he said.
But Olmert added: "Does anyone seriously think that our children will wet their beds at night in fear and be afraid to go out of the house and they (Gazans) will live in quiet normality?"
Israel, which withdrew its troops and settlers from Gaza in 2005, also expressed concern that militants and weapons might be entering Gaza, and said responsibility for restoring order lies with Egypt.
"We expect the Egyptians to solve the problem," said Foreign Ministry spokesman Arye Mekel. "Obviously we are worried about the situation. It could potentially allow anybody to enter."
But there was some indication the new situation along the border could suit Israel, which would prefer to have responsibility for the coastal territory moved elsewhere. One senior Israeli government official spoke positively about Egypt taking on that role.
Louise Arbour, the U.N. high commissioner for human rights, said in Geneva that the "level of desperation" among the Palestinians was made apparent by the breach, and that Israel must lift restrictions on delivery of humanitarian aid.
"The 1.4 million people of Gaza live under abhorrent conditions," she told the 47-member U.N. human rights council.
Israel's tight blockade
The chaotic scenes came almost a week after Israel imposed a tight closure on Gaza, backed by Egypt, in response to a spike in Gaza rocket attacks on Israeli towns. On Tuesday, Israel eased the blockade slightly, transferring fuel to restart Gaza's only power plant.
But true relief came with the toppling of the wall. Egyptian shopkeepers took advantage of the surge in customers, swiftly raising prices of milk, taxi rides and cigarettes. Shops quickly ran out of most of their goods.
In Gaza City, the price of cigarettes, which had skyrocketed during the closure, started to drop. Local money changers began charging extra to change Israeli shekels into dollars, as Gazans were using the U.S. currency in Egypt.
Crowds waited along roads in Gaza City, trying to catch rides to the border. Taxi driver Mahmoud Abu Ouda made one trip to Rafah, but stopped because he had no more fuel.
"The city is empty of cabs. They are all in Rafah," he said.